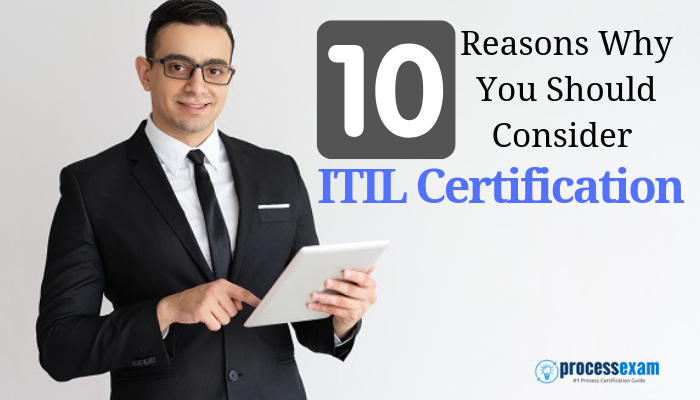 For years now, ITIL (IT Infrastructure Library) has remained the foundation and industry-standard best practice framework for managing, supporting, and aligning IT Service Management with the requirements of the business. Trademarked by AXELOS, ITIL serves as a governing agent for IT and practices the ITIL Service Lifecycle to plan the entire journey from client demands and requirements through continual development of services.
ITIL is vital in today's IT environment, and it's still extensively utilized among many IT organizations of all sizes. For these reasons, it's essential that employees within these organizations have a profound knowledge of ITIL's foundations to achieve maximum benefits from its implementation. Knowledge and mastery of ITIL are so crucial in fact that many organizations are even spending in certification sponsorship programs to encourage employees to earn ITIL certification.
The Top Ten Reasons Why You Should Consider Getting an ITIL Certification:
1. Excellent Skillset
ITIL certifications are split into five key levels that prove varying degrees of mastery of the material:
Level 1: ITIL Foundation: This is the entry-level certification exam that familiarizes professionals with the current concepts, elements, and terminology applied in the ITIL Service Lifecycle and its connected lifecycle stages.
Level 2: ITIL Practitioner: The latest certification designed just as recent as 2016; the ITIL Practitioner level concentrates on how to start modifying and adopting the ITIL framework during ordinary circumstances and scenarios.
Level 3: ITIL Intermediate: This level is split into several modules that take a fresh way to ITSM by going more in-depth than the prior certification levels. This certification is accepted as a general industry-wide qualification for many prospective IT job profiles.
Level 4: ITIL Expert: This level demands a macro approach to the ITIL Scheme in full. This level is usually considered to be a hugely respected certification for ITIL knowledge and best practices.
Level 5: ITIL Master: This fifth and ultimate certification level confirms a thorough and comprehensive understanding of the principles, practices and advanced techniques of ITIL and its supporting management means. Obtaining this level of certification will put you among the best and most relevant in your field of expertise.
Achieving certification in any or all of these levels will develop your skill set and help you to obtain a better understanding of how ITIL is managed and executed across most IT infrastructures. Your revolutionary knowledge of ITIL best practices will present you like a much-needed asset among your colleagues and enable you to take more confidence in your position within the organization.
2. Higher Paying Opportunities
If on-site sponsorship opportunities aren't possible for you, it's still well deserving the investment to earn an ITIL certification on your own time. Not only will you be promoting your resume and giving more value to the business, but you'll probably receive more profitable job opportunities as well. ITIL is perceive as one of the highest paying IT certifications, and it's not surprising for certified ITIL program managers and IT architects to receive well over six figures in their respective pay scales.
3. Prepared for the Future
ITIL has significantly been invaded into the fabric of enterprise IT for some time now, and despite the nascent contrarian opinion now and then, it's safe to assume that the framework's popularity isn't going to diminish any time soon. AXELOS is continually developing and updating their certification courses to keep up with the times and shape ITIL's usually established principles to manage today's advanced technology and emerging trends. That said, earning ITIL certification is a safe bet to remain prepared for the future, and the need for qualified ITIL experts in the fields of service management, incident management, change management and other ITSM related areas.
4. Gain Knowledge and Credibility
It's a basic confidence-building mantra that helps people take on new challenges that they may not have the most knowledge in. This mentality is crucial for new job roles; however, for the certified ITIL professional, there's no requirement to "fake" anything. Your hard work in mastering the ropes of ITIL and studying for its rigorous exam will pay off as you can instantly jump into a new job position with a satisfactory perception of the framework's implementation, management policies, and guiding principles.
Not only will you be able to take on your new IT job confidently, but your ITIL expertise will give you reliability among your peers and leading supervisors. They will most likely come to you about technical questions and strike your brain from the moment you're employed. Knowing that you're an expert in your field can be a great feeling.
5. Increase Your Chances Of Getting The Right Job
Just like obtaining an ITIL certification gives higher paying job opportunities and reinforces a resume, the expertise acquired will also often give you more opportunities in terms of job roles within the organization. Applicants with proficiencies in any of the upper-level ITIL certification will have their pick of the litter immediately when it comes to where they wish to go and what they want to do. So usually in IT, employees must "pay their dues" so to address, and settle on low-level roles or contractor positions until they explain themselves and prove the understanding and skill set expected for more rewarding opportunities. With an ITIL certification, employees can often avoid this method, and recruiters may decide to take input from the certified professional on where he or she wants to go right away at a competing starting salary.
6. You'll Stand Out Among the Group
Along with being more confident in your skills and expertise, but your management will be impressed as well. Obtaining an ITIL certification at any of the more advanced levels will give you a certain edge over other applicants in a job hiring scenario. Not only does it explain to employers that you are incredibly skilled and educated in industry best practices, but it will also make their stake in you more profitable as you'll be able to breeze through the learning process and give value from the day you're brought on board. Though becoming ITIL certified may expensive, the long-term benefits for job growth may be worth the expenses.
7. Plenty of Flexibility
The good thing about being knowledgeable in such a broad, complicated framework like ITIL is that your understanding of the inner-workings of the complete IT infrastructure increases and you receive more versatility in your ability to wear many hats, making you more worthy to the organization. The higher your certification level is, the higher responsibilities you will be qualified to take on.
8. It's Practiced Virtually Everywhere
A significant influence that ITIL has is that it's practiced globally, and executed in just about every industry that relies on extremely governed IT services, which is just about everywhere nowadays. With over 10,000 organizations that are practicing ITIL globally, it approaches is definite. This implies that the certified ITIL professional; there is lots of opportunity for job growth within the market. The market for qualified professionals that know the ITIL framework only remains to increase, and the most sought-after applicants will have many options in terms of industry, location, and negotiable pay plus benefits.
9. Low-Risk Effort
Many times in your career, it is a intelligent choice thing to take a step backward and re-evaluate some of your objectives and current efforts to recognize if you need to make any moves or decisions that will influence you in the long-term. Investments, like obtaining a Master's degree or obtaining a certification, can be scary because you often don't know if you risk wasting time and effort on something that may not be all the benefits to you in long-run of your professional career.
10. Give a Better ROI
The ROI is much higher for someone that already has the expertise and ITIL certification required to start providing preference right away, and may also be able to bring new ideas and approaches learned from preparation of certification exam. And with more proficiency, the more that businesses save on cost. After all, IT is not usually not considered a revenue-generating department, so cost-savings are always top of mind.
Nonetheless, when it comes to the IT profession, earning your ITIL certification is addressed to be a very low-risk effort, and many will tell you that you'd be doing yourself a tremendous disservice to write it off. Certified ITIL professionals are an extremely sought-after commodity, and the job market is persistent enough where an ITIL certification in any of the higher levels will be in demand for quite a long time.