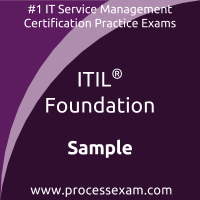 You have to pass the ITIL Foundation exam to receive the certification credential. To increase the effectiveness of your study and make you familiar with the actual exam pattern, we provide the following sample questions. Our Sample ITIL Foundation Practice Exam will give you more insight about both the type and the difficulty level of the questions on the ITIL Foundation exam.
However, we are strongly recommending practice with our Premium ITIL Foundation Practice Exam to achieve the best score in your actual ITIL Foundation Exam. The premium practice exam questions are more comprehensive, exam oriented scenario-based and exact match of ITIL Foundation exam questions.
ITIL Foundation Sample Questions:
01. Which of the following is concerned with policy and direction?
a) Capacity management
b) Governance
c) Service design
d) Service level management
02. Software and technology are examples of which of the four Ps?
a) Processes
b) Performance
c) Products
d) Partners
03. Who normally chairs a change advisory board (CAB)?
a) Change initiator
b) Service owner
c) Change manager
d) Business relationship manager
04. Which process will regularly analyze incident data to identify discernable trends?
a) Service level management
b) Problem management
c) Change management
d) Event management
05. What is the MAIN reason for a service provider to understand the five aspects of service design?
a) To prevent security breaches in mission critical services
b) To ensure a holistic, results-driven approach
c) To allow service design to cut costs
d) To prevent breaches of service level agreements (SLAs)
06. Which three are the characteristics of ITIL guidance that help to make it successful?
a) Prescriptive, best practice and solution specific
b) Publicly available, prescriptive and best practice
c) Vendor neutral, non-prescriptive and best practice
d) Publicly available, solution specific and vendor neutral
07. A significant, unresolved problem is likely to cause major business disruption. Where is this MOST LIKELY to be escalated to?
a) IT service continuity management
b) Availability management
c) Incident management
d) Change management
08. Which is the BEST description of a service request?
a) A request from a user for information, advice or for a standard change
b) Anything that the customer wants and is prepared to pay for
c) Any request or demand that is entered by a user via a self-help web-based interface
d) Any request for change (RFC) that is low-risk and which can be approved by the change manager without a change advisory board (CAB) meeting
09. Which is an objective of service transition?
a) To negotiate service levels for new services
b) To ensure that service changes create the expected business value
c) To reduce the impact of business critical service outages on key services
d) To plan and manage entries in the service catalogue
10. Which BEST describes hierarchic escalation?
a) Notifying more senior levels of management about an incident
b) Passing an incident to people with a greater level of technical skill
c) Using more senior specialists than necessary to resolve an incident to maintain customer satisfaction
d) Failing to meet the incident resolution times specified in a service level agreement
Answers:
Question: 01

Answer: b

Question: 02

Answer: c

Question: 03

Answer: c

Question: 04

Answer: b

Question: 05

Answer: b

Question: 06

Answer: c

Question: 07

Answer: a

Question: 08

Answer: a

Question: 09

Answer: b

Question: 10

Answer: a
If you find any errors or typos in ITIL Foundation sample question-answers, please report them to us on feedback@processexam.com