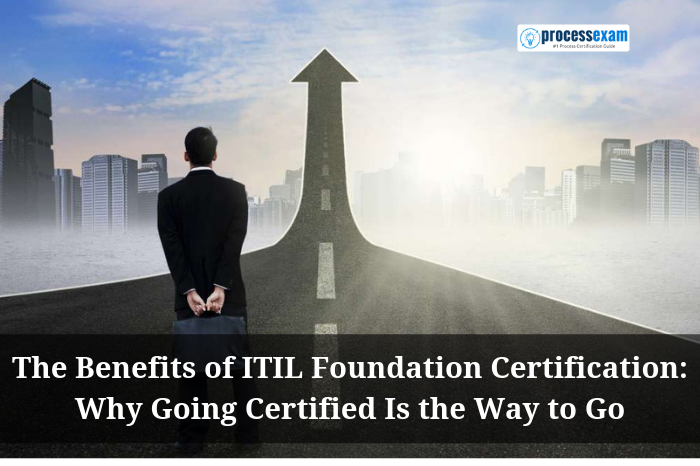 The 'Information Technology Infrastructure Library (ITIL)' is a set of ITSM practices employed by some of the most prominent organizations in the world, including IBM, HSBC, and even NASA. Originally released as a series of books, ITIL was designed to standardize the procedures for proper IT management, helping businesses to evade the common obstacles to present the excellent quality services possible.
ITIL was first developed in Great Britain almost 20 years ago to generate a set of absolute best practices for utilization in government data centers. Since then, ITIL has been adopted, revised, and developed into a broad framework for directing IT service delivery in organizations of all scales and across industries.
What is ITIL Foundation Certification?
The ITIL Foundation Certification is the entry-level certification of the ITIL qualification programme. It targets at certifying that the holder of a certificate has acquired knowledge of the terminology, structure and fundamental concepts of the ITIL framework and has an understanding of the essential principles of ITIL service management.
Who can go for ITIL Foundation Certification?
ITIL is ideal for every aspiring professional who wishes to establish their career in IT Service Management field. ITIL is for professionals who would like to learn how to strengthen the quality of IT service management within an organization. CIOs, IT Managers, IT support teams, System Administrators, Database Administrators, Application Management Team, System Analyst, Application Development Team, Process Practitioners, Process Owners and anyone who wants to be knowledgeable about and after that contribute to a continuous service improvement plans can earn this certification.
It is not required for IT managers, architects, and engineers be ITIL experts but a fundamental knowledge in ITIL framework can benefit them understand and promote the process.
Prerequisites for ITIL Foundation Certification Exam
Anyone working in an IT service management, service delivery, or service desk environment or where IT services are the primary expertise can take up this certification. Former Knowledge in IT is enough for taking the exam. Based on your professional experience, ITIL will give you many results.
Let's discuss the benefits of ITIL Certification for professionals and enterprises:
ITIL is now considered to be broadly accepted, and most advanced best practices in the service management industry and has been implemented by many organizations across the world. The several benefits of ITIL certification make it extremely accessible and popular. Its profound knowledge in many areas like service lifecycle puts it away from other IT service management certification.
Benefits of ITIL Foundation Certification for Organizations:
1. Better Perception of IT within the Organizations:
ITIL framework helps IT professionals, to recognize processes, prioritize, and manage service development opportunities to accomplish business requirements.
2. Common Terminology:
With ITIL knowledge, there will be a common terminology for ITSM (IT Service Management) so that there are no chances of mistakes while communicating.
3. Extremely Talented Team:
ITIL certified professionals can automate usual tasks and apply best practice principles to ITSM processes and thus improve the efficiency of the methods and functions.
4. Improved Client Satisfaction:
The ITIL framework strengthens ITSM professionals to implement service when and wherever required and fulfill the requirements and expectations of clients.
5. Competent Change Management Team:
The ITIL framework benefits in catching up clear communication routes for future releases, which helps to announce new and advanced IT services.
6. Inferior Interruption of IT services:
The ITIL framework assures other service prospects are in place to decrease the result of business outages because of several reasons, as any disruption can negatively impact the organization.
7. Forecast and Return Cost-Effectively:
By practicing demand management and capacity management techniques from the ITIL framework such as off-peak pricing, user profiling, and modeling, certified professionals can present an excellent level of capacity and maintain fluctuating demand.
8. Supports Advanced Technology Trends:
ITIL not only helps the ongoing IT infrastructure but also promotes advanced and forthcoming technology trends like the SMAC technology stack.
9. Appropriate for Non-IT Objectives:
The ITIL methodology for ITSM can also be implemented for non-IT business functions, such as HR, customer service/support, facilities, training, and commercial services.
10. Works Well With Project Management:
ITIL can be linked with project management methodologies for dynamic business consequences. ITIL promotes project management while beginning a project.
Why Should One go for ITIL Foundation Certification?
IT is getting updated continuously with the latest technologies, and certification is one of the means for IT professionals to stay relevant with the latest trends and go along with new opportunities. The Information Technology Infrastructure Library (ITIL) has to turn out to be the most substantial standard for IT service management frameworks, and an ITIL Foundation certification will prove your skills and give you the added advantage in your career.
Organizations are looking for ITIL certified professional as they have an in-depth knowledge of the IT scene and can identify any trouble spots immediately. ITIL certification is a valuable certification for IT project managers, who are in the IT service field.
Here's is a list of reasons for you to for ITIL Foundation certification:
1) Basic knowledge of ITIL:
The certification will present a basic understanding of the perceptions, theories, and principles of IT Service Management.
2) Understand how ITIL is being Executed:
The ITIL Foundation certification will qualify you to know how ITIL is executed in the organization and as an outcome, improve your performance.
3) High Career Growth & Salary:
ITIL Foundation Certified professionals stand apart from the group because of their skills and expertise. As a result, they get a higher salary. Their knowledge makes them much sought-after than non-certified professionals.
4) Carry Out Greater Service Delivery:
ITIL benefits the organization in many ways, like upgrading the quality and decreasing costs by applying process, people, and technology in the best way. ITIL provides flexibility in all of its management process, thereby boosting the efficiency in service delivery.
5) Improved Client Satisfaction:
ITIL management supports the service providers to perform service relentlessly on Service Level Agreements (SLAs). With the help of ITIL, professionals will be able to regain function faster and eventually reduce the break time of service given to the clients.
Many large scale organizations such as IBM, Atos, Microsoft, Caterpillar, Boeing, Shell Oil, and many more have adopted ITIL and have achieved great success, which leads to high demand for ITIL skills. Employers are on the lookout for professionals with ITIL Foundation certification to handle their ITIL framework. So this is the right time to earn the ITIL Foundation certification for remarkable career growth and job opportunities.