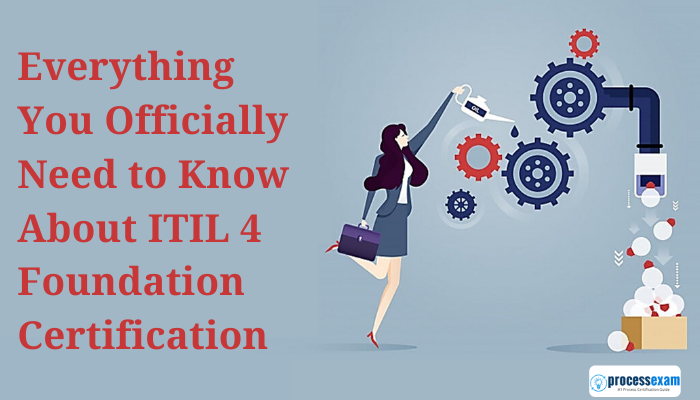 Currently, we are in the ITIL 4 Foundation version, which was upgraded in 2019. Improvisation of ITIL foundation began to the current upgrade, and your ITIL Foundation Exam will be based on that.
ITIL 4 Foundation allows candidates to look at IT Service Management through an end-to-end operating model for the creation, delivery, and constant improvement of tech-enabled products and services.
Versions of ITIL
ITIL that began in the late 1980s went through many cycles of improvements. It is now a globally accepted standard for IT Service Management used by many medium and large-sized companies to streamline their IT Service processes.
Here is how ITIL transformed over the years: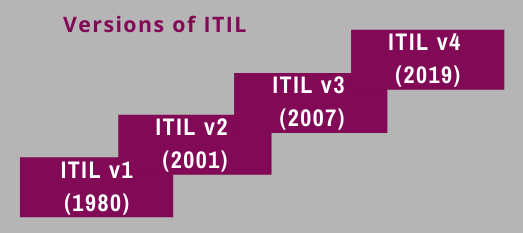 What is ITIL 4?
The structure of the latest version has been developed to manage business companies to ask new service management challenges. They also support them efficiently by applying new technology to its highest ability. Versatility, integration, and organized systems have been given prime value while making this version.
This methodology can be adjusted and covered by various types of businesses to provide the best service and increase customer experience. This will guide them in not only addressing management challenges but also solving them.
It also supervises developing the concepts so that the organization or the candidate can effectively apply them to their daily barriers and deal with them appropriately. ITIL 4 will also assist in governing as well as managing every possible IT-enabled service.
ITIL 4 is the new revamped version for ITSM to combine modern technology more holistically. This step was taken to provide the best potential outcome from all the resources available.
The target audience differs from students to professionals aiming to get familiarized with the new updates. This is coined to be a massive development as it is not only working on the weaknesses of the earlier versions but is also aiming to make the most effective methods to promote the business industry.
How is ITIL 4 Different from ITIL 3?
ITIL 4 is a growth of ITIL 3 concepts, not a replacement. The good practices from previous versions of ITIL are still valid. However, the ITIL 4 publications have been updated to include new modern methods and strategies for delivering relevant products and services to customers.
The below constitutes a summary of three significant differences between ITIL 3 and ITIL 4:
ITIL version 3
36 Processes made according to the ITSM lifecycle requirements listed below:
ITIL Service Management Lifecycle

Service Strategy

Service Design

Service Transition

Service Operation

Continual Service Improvement
4 Ps of Service Design:
People

Processes

Partners

Products
ITIL version 4
34 Practices, each of which may include some methods, loosely organized into three practice types.
Service Value Chain:
Plan

Improve

Engage

Design and Transition

Obtain/Build

Deliver and Support
4 Dimensions of Service Management:
Organization and People

Value Streams and Processes

Partners and Suppliers

Information and Technology
ITIL 4 Foundation Provides Candidates with:
A holistic path to the facilitation of co-creation of value with customers and other stakeholders in the form of products and services.

The guiding principles of ITIL 4 Foundation.

The four dimensions of Service Management.

Key concepts from Lean, Agile, DevOps, and why these are necessary to deliver business value.

How ITIL practices outlined in ITIL 4 will keep the value and importance provided by the accessible ITIL processes while at the same time grow to be integrated into many areas of service management and IT, from demand to value.
Who is ITIL 4 Foundation for?
ITIL 4 Foundation is proper for individuals who need a basic knowledge of the ITIL framework and how it may be used to enhance the variety of IT service management within an organization. The ITIL 4 Foundation certification also refers to IT professionals who work within an organization that has adopted ITIL and so wants to be informed of and add to the overall service improvement program.
ITIL 4 proceeds to support the ITSM community while opening to a broader spectrum of professionals working in the digital world, guiding how IT interfaces with and leads the more general business strategy.
Other Major Updates in ITIL 4 Foundation
The purpose of the new version is to concentrate on the practical aspects of the business. The course has been kept as obedient as possible to help the organizations towards being larger, developed, and united service providers.
The Service Value System has also been updated continuously. It now provides a whole end-to-end scenario of what is occurring behind the scenes during business transactions. This allows the students to gain a sound knowledge and contribute more to the process.
A notable challenge was not to take the ITIL 4 Foundation free from its previous versions. This will create confusion in the system between the ITIL 4 and the ITIL 3 certified professionals. Having this in mind, the version has been designed to have better compatibility with the ITIL 3.
ITIL 4 Foundation owns many of the underlying factors of the ITIL 3 Foundation as they assist the organizations in achieving efficient IT service management.
Conclusively, the brand-new version is developed to meet the ever-growing demands of the digital environment. ITIL 4 has been designed to provide a practical and flexible basis from the current complex digital environment.
Things to Consider During the ITIL 4 Foundation Exam
Taking an exam can be a stressful event, no subject how well you have prepared.
Here are some tips to aid you to get in the ITIL 4 Foundation exam successfully:
Make confident you have everything you require for the exam, including your pencil and member number.

Keep an eye on the clock, but do not worry. The hour limit on the exam gives you about 1.5 minutes to answer all multiple-choice questions.

Mark your answers correctly according to the instructions.

Pick out keywords in the construction of the question that can aid you to eliminate wrong answers.

Answer the questions from an ITIL view rather than your personal experience.

If you use your time carefully, you should have time, in the end, to review your answers and make sure you did not want any questions.
After the ITIL 4 Foundation Exam
Relax! If you prepared for the exam, you should not have much to worry about. It can take a few weeks to get your results.
Achieving ITIL 4 Foundation certification enables you to join the AXELOS community, which provides members with free leadership from white papers and blogs to case studies.
You will also get way to a full calendar of events and conferences so that you can wait up to date and network with your peers. Passing the test is the base for becoming an ITIL 4 Managing Professional or ITIL Strategist, which could open up doors to promote career development.