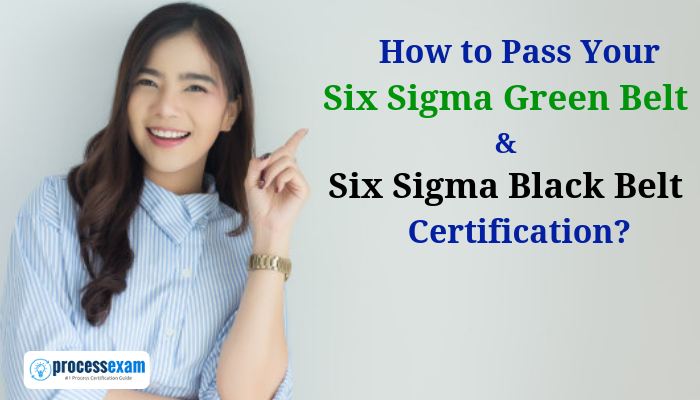 First of all, you should know about Six Sigma Green Belt Certification and Six Sigma Black Belt Certification.
What is Six Sigma Green Belt?
Six Sigma Green Belt is a certification exam wherein contestants will get an introduction to tools and methods that are required to participate in DMIAC improvement projects. This certification focuses on the basic structure of DMAIC. By using up, the Six Sigma Green Belt certification professionals can identify the problems and complete solutions to eradicate them.
Who is it for Six Sigma Green Belt certification?
Six Sigma is a people‐driven process. The Six Sigma project performance level does match the level of strength, expertise, and responsibility of the individual members of the team. While reviewing the roles that provide to the project, most of them think about the champion and Black Belts roles to expand the project. However, to increase the performance of the projects, Green Belts will also play a critical role in the process improvement.
Green belts are skilled team players, and they aim to improve process quality. They help to connect the gap between the Six Sigma theory and real-world application. Six Sigma Green Belt candidates play a significant role in promoting the process, data inspection or Project Management. Green Belt training teaches candidates the primary tools used by a project team and how to apply DMAIC skills that compare to a Six Sigma project.
Is It Right for You?
Six Sigma certification is for individuals that are involved in the terminologies such as constant change and waste minimization and work experience in any supply chain or business management. Six Sigma certification encourages the professionals to boost their subject matter learning which leads to increase value by employers and salary. This certification for professionals is accountable for controlling costs, improving outputs and contributing to better results.
These Are Some Prerequisites Want to Become a Certified Six Sigma Green Belt:
Prerequisites:
Professionals should expect three to four years of full‐time employment experience. Internship or part‐time experience in projects is not recognized. Along with the knowledge, one needs the below qualities to become successful as Six Sigma Green Belt certified:
Perseverance

A logical, analytical mind

A passion for improvement

Leadership skills
What is Six Sigma Black Belt?
Six Sigma Black Belts use most of their time in measuring, structuring and analyzing performance problems. Black Belts roles are entirely different from the other six sigma roles. The primary purpose of Black Belt professionals is to give project leadership. Black Belts are exceptionally trained in the skill of changing outcomes using lean concepts and advanced statistical analysis techniques. Black belts can learn team dynamics and can assign the roles and responsibilities to team members.
Black Belts know the idea of variation; a concept many leaders do not appreciate or ignore. Change is indeed the enemy of quality and is the primary source for emotional decision making. Reducing variation is the foundation for improvement. Thus Black Belts lead the charge in lowering change in processes so that results can more readily be improved. Black Belts take the lead in instruction and counseling operations personnel and business leaders on how to reduce variation, make right decisions and eventually better results.
Black Belts have a thoroughgoing understanding of all phases of the DMAIC model by Six Sigma principles. Black Belts can lead Green Belts and also get assistance from Master Black Belts.
Benefits of Six Sigma Black Belt Certification:
Learning Six Sigma Methodologies and using it in the workspace has excellent benefits for the future of any Business. It has increased numbers of methods to reduce costs, improve revenue, streamline business processes and increase employee buy‐in, all of which leads to tremendous growth and profits.
The Six Sigma Black Belt certification is the most desired after because it is not easily achieved. Six Sigma certification develops the ability for the individuals who help them to:
Solve quality problems

Improve decision making

Improve the overall performance of the enterprise

Manage process practices and improve performance
Most Favorable Option for Practicing Is Taking Online Practice Exam
What is Online Practice exam?
The online Practice exam is conducting a test online to contain the knowledge of the participants on an assigned topic. In the olden days, everybody had to meet in a classroom at the same time to take an exam. With Online Practice exam, learners can do the mock test online, in their own time and with their device, despite where they live. You online require a browser and an internet connection.
Benefits and Limitations of an Online Practice Exam System:
The significant advantage of Online Practice exam is the reduction of costs and time, both from the practicing student as from the experts. The most significant weakness is that you have to be online to use an Online Practice exam system. Hence the name "online."
Now, you can pass Six Sigma Green Belt or Six Sigma Black Belt Certification Exams with the Aid of Online Practice Exams which for you do not need of any training from any Institute.
Many Online Practice exams websites are available in the market, but from my experience, I would happily suggest a speedy and reputed site which is the ProccessExam.com. At home, Processexam.com provides online practice exam series of your Six Sigma Green Belt or Six Sigma Black Belt Certification Exams.
Follow specific study tips, and you should have the best possible chance at passing your Six Sigma Green Belt or Six Sigma Black Belt exams:
1. Examine Yourself on Practice Questions:
To gain your certification, you will require to pass the multiple-choice Six Sigma Green Belt exam or Six Sigma Black Belt exam. Before you take your exam, make confident you have thoroughly tested your knowledge with online practice tests to sharpen your exam technique.
2. Make Use of Six Sigma Study Guide:
There is a comprehensive series of study guides available online explicitly designed to help you study for the Green Belt and Black Belt exam.

With weight on easy to understand and even content, the Six Sigma Study Guide includes an extensive review of all exam concepts, practice questions.
3. Interest Yourself in the Methodology:
When taking a certification exam, it is necessary that you learn through your experiences with a trial version of the product or technology. With the Six Sigma methodology, that is a little difficult. Your best alternative is to learn yourself as much as you can in Six Sigma outside of directly studying for your exam.
4. Join a Six Sigma Green Belt or Black Belt Forum:
Because of the extensive and widely-applicable nature of project management, there is a full series of forums and conversations you can find online all with different levels of quality.
As with all online studies though, be conscious that not everyone is an expert and not all supplements will be applicable or relevant!
Learning as much as you can when planning for the exam, will put you in a high position to bring your knowledge into your business to better processes and decrease errors.