Acknowledging that many HR practitioners come into the profession, pursuing an HR certification can be an excellent way to prove expertise in the industry. But is getting certified worth it? And which one should you seek? Many senior HR professionals have received certification from the major players: the Society for Human Resource Management (SHRM) and the HR Certification Institute (HRCI).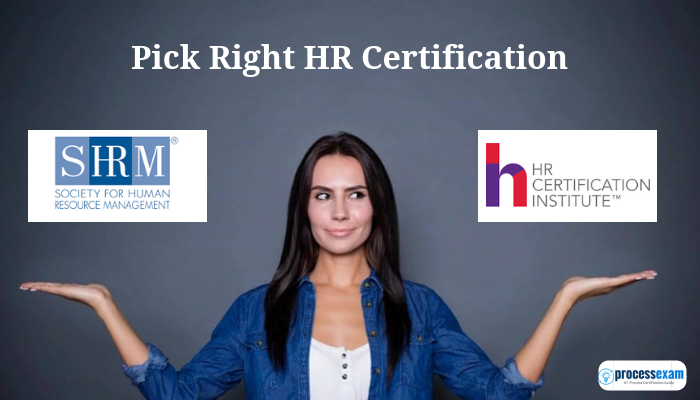 Though HRCI created as an extension of SHRM, SHRM stopped offering PHR certification in 2014 and launched its own set of exams. SHRM assigned the majority of its current membership from the standard PHR to this new SHRM certification.
Considering then, there has been competition between the two providers, but what is the real difference?
Below the extended details of each certification program:
SHRM Certification
SHRM originated in 1948 and had developed into one of the largest human resources organizations in the world. While SHRM offers a mixture of HR services, events, and resources, one of their most ubiquitous offerings is their HR certification program. After its launch, 70% of early to mid-career HR professionals and 56% of senior HR practitioners have passed their particular SHRM certification exams.
SHRM offers two Certifications:
SHRM Certified Professional (SHRM-CP): For beginning to mid-career HR professionals

SHRM Senior Certified Professional (SHRM-SCP): For senior-level HR practitioners
When thinking applying to get SHRM certified, keep these features in mind:
Exam Details: Both exams grant participants 4 hours to answer a total of 160 questions. Exams are composed of 95 knowledge items and 65 situational judgment items.

Accreditation: The exams are approved by The Buros Center for Testing.

Exam Fees: SHRM-CP & SHRM-SCP are priced at $300 for SHRM members and $400 for non-members.

Recertification: Professionals must recertify every three years by earning 60 SHRM credits during that time.
SHRM is a globally recognized organization and gives a thorough guide to certification and a high success rate.
HRCI Certification
Early in its existence, SHRM recommended the formation of a task force to establish an HR accreditation program. In 1973, this task force found the ASPA Accreditation Institute (AAI), and in 1976, the first HR exams were administered. The AAI emerged into the HR Certification Institute (HRCI), which now offers seven levels of accreditation to participants worldwide, based on the level of experience. Across the seven tests, the average pass rate is 63%.
The Certifications offered by HRCI includes:
Professional in Human Resources (PHR)

Associate Professional in Human Resources (aPHR)

Senior Professional in Human Resources (SPHR)

Global Professional in Human Resources (GPHR)

Professional in Human Resources - International (PHRi)

Professional in Human Resources - California (PHRca)

Senior Professional in Human Resources - International Professional (SPHRi)
HRCI makes it easy to find the exam that is right for you by listing aspects of HR professionals at each experience level and further by providing an interactive feature to match you to the proper test. These are the distinguishing characteristics of the HRCI certification:
Exam Details: Test format varies by certification.

Accreditation: The National Commission accredits the exams for Certifying Agencies (NCCA).

Exam Fees: Depending on test level, base fees range from $350 to $495, plus a $100 application charge for all exams.

Recertification: Professionals must recertify every three years by earning 60 recertification credits during that time.
The HRCI certifications showcase a much-defined skill set within the HR space. There is a clear pathway to develop your level of accreditation over time in the industry.
Should You Get HR Certified?
SHRM and HRCI certification is a great move to add credibility to you're on the job knowledge, advance your career, and get engaged with the larger HR community. If you're looking to rise in the field, taking a certification exam can give you credibility and demonstrate your industry knowledge.
HRCI is not planning to abandon providing PHR, SPHR, and GPHR exams to allow HR professionals to be certified. With SHRM moving away from those exams, it remains to be seen what the overall impact will be on the marketability over time for those of us with one of the traditional HR certifications.
HRCI was running to win in the short term, and SHRM would win in the long term for a few ideas.

HRCI has a current list of more than 100,000 certified HR professionals it can market to and try to keep them recertifying.

SHRM is working to turn a cruise ship, and that does not happen overnight.
What Do the SHRM-CP and PHR Certifications Include?
The PHR exam is granted by HRCI and includes some required fields of practice for today's HR leaders:
Human Resource Development (18%)

Employee and Labour Relations (20%)

Workforce planning and Employment (24%)

Risk Management (8%)

Compensation and Benefits (19%)

Business Management and Strategy (11%)
It is necessary to look at the weight of each content area because that is what HRCI PHR Exam judges are the most appropriate areas for early career HR professionals. Workforce planning and employment focus heavily on recruiting and managing workers and the legal aspects surrounding those decisions. The second most massive area is on employee and labor relations. Notwithstanding unions only being present in 10% of U.S. workplaces, this has a heavyweight because it is something that HR must run point on if collective bargaining is required.
It is straightforward to see in each area what kinds of content you would expect. In HR Development, you will find material on training and employee growth. In Risk Management, you will find information on safety and security.
Alternatively, the SHRM-CP exam is split into many types of capabilities:
Leadership: Leadership and exploration, ethical practice

Interpersonal: Relationship management, communication, and global/cultural efficiency

Business: Business intelligence, consultation, critical evaluation
Within each of these areas, we could move on a variety of HR aspects. Instead of being split out by functional area, as HR roles often are at bigger companies, SHRM looks at the HR profession through the lens of a handful of fundamental qualities that each person should have to advance and succeed in the business.
Which HR Certification is Better? An Analysis of the SHRM-CP and PHR
When SHRM formed the certifications, they did not necessarily plan them to the two options already on the table intentionally, but when they built their Pathway tool to help presently certified individuals assign their certification to SHRM for free, SHRM very much made it clear that they saw the PHR as equivalent to SHRM-CP and the SPHR equivalent to SHRM-SCP in the nature and quality of the certification.
If you want to prove your expertise and mastery of HR-related business law, an understanding of the general thoughts including theories underlying HR, and you work in HR at an organization with under 250 people, the PHR is going to be very beneficial to you. This is because in these roles to know the legal aspects, and the SHRM exam does not cover them entirely.
If you want to use the SHRM career resources, learn some intangible aspects of HR like leadership, consulting behaviors, and navigating your career, and you work at a more significant or sophisticated organization, then the SHRM-CP may be a better bet. That is because the bigger the company, the bigger the HR team, and you might not need to be a specialist on HR laws and compliance to excel and move forward.