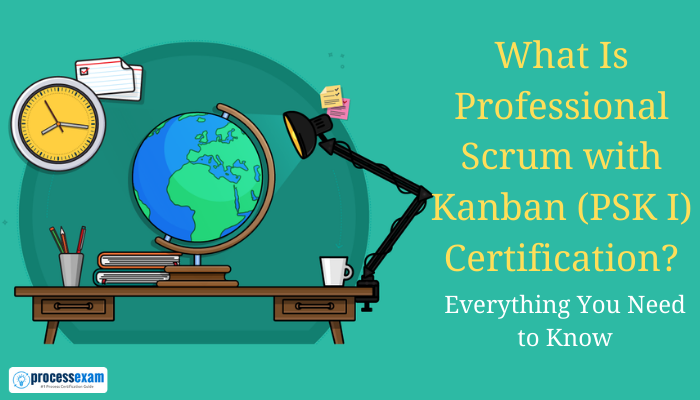 Scrum is the defacto standard for how Agile teams work. Scrum exists only in its whole and functions well as a container for other techniques and practices. Scrum Teams keep changing how they work based on what they learn by inspecting and adapting regularly.
Who Should Attend the PSK I Exam?
The Professional Scrum with Kanban PSK I exam is for anyone doing Scrum. It is particularly advantageous for those within an organization who use Scrum to deliver products to market, including Product Owners, Development Team Members, and Scrum Masters.
What Is Professional Scrum with Kanban Certification?
A pertinent question concerning the Professional Scrum with Kanban certification is that where does Kanban fit within the whole framework of Scrum?
Kanban initially started within the larger area of lean manufacturing as a scheduling system. With an expanding focus on higher efficiency and waste reduction, Kanban methods were progressively adopted by more and more players across the different parts, including IT and software. While the Kanban system is a whole practical framework using agile, lean, less waste, and a higher performance mindset, it can also be filled in within the Scrum framework to optimize the process. Kanban boards provide a visual representation of project management that can easily be integrated into the Scrum model.
Scrum teams can add some aspects of the Kanban framework to enhance their projects by adding a visibility layer. Scrum teams using Kanban visual management technique are more flexible as there is a guide in visual cues given by the Kanban board. An important parameter to view over here is the proper design of the Kanban board itself. Various factors go into designing the most optimum and efficient board, and Scrum teams must work out the best plan that adds value to their framework and helps in better execution of Sprint.
The required marks for passing this PSK I exam are 45 questions in 60 minutes, which is considered an easy target to reach. But even though it is easy to get, you still will have to spend some time preparing for the exam. Through this certificate, you will have the knowledge and skills needed to manage any project that includes the Scrum processes.
The Professional Scrum with Kanban certification will also give you the confidence to implement Scrum across various projects and sectors of your company. You will get an improved ability in agile and Scrum practices. And through this certificate, you will be a member of Scrum Alliance for two years. The Scrum Masters can get paid between $90,895/year to $71,332/year, according to the role they offer.
How Does the PSK Differ from PSM and PSPO?
To understand the difference, refer to the career track:
PSM I -> PSM II -> PSM III (Professional Scrum Master)

PSPO I -> PSPO II (Professional Scrum Product Owner)

PSD (Professional Scrum Developer)

PSK I (Professional Scrum with Kanban)
The distinction lies in role competency and exam difficulty. Though the PSPO II and PSM II are listed on two various tier levels, they follow the same role competency and exam difficulty. The PSK I itself means that it is the level 1 certification, and the level 2 does not exist for it, but the role competency and exam difficulty makes it distinct from the PSM and PSPO.
The difference in subject areas. The PSPO and PSM are trained within a few related subject areas like the Scrum framework, Scrum theory and principles, and Cross-functional self-organizing terms.
While the PSK is grounded in just related subject areas of the PSM and PSPO that is the Scrum Framework and the rest of the subject areas cover Agile metrics and others, they are entirely different from the subject areas of the PSM and PSPO.
Conclusion
Getting the PSK I Professional Scrum with Kanban exam will not be that difficult, but it will require due preparation. You need to be well aware of the scrum roles and rules and also of the agile processes. Having a PSK I Professional Scrum with a Kanban certificate will allow you to understand the project management requirements of your organization. Bearing the PSK I Professional Scrum with Kanban certificate will help the Scrum team perform their best in the company. You will also be responsible for protecting your team from external and internal distractions. You will be responsible for the team roles, events, and artifacts to support your team's progress and milestone achievement.