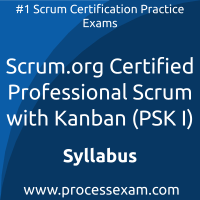 To achieve the professional designation of Scrum.org Professional Scrum with Kanban level I from the Scrum.org, candidates must clear the PSK I Exam with the minimum cut-off score. For those who wish to pass the Scrum.org Professional Scrum with Kanban certification exam with good percentage, please take a look at the following reference document detailing what should be included in Scrum.org PSK 1 Exam preparation.
The Scrum.org PSK I Exam Summary, Body of Knowledge (BOK), Sample Question Bank and Practice Exam provide the basis for the real Scrum.org Certified Professional Scrum with Kanban level I (PSK I) exam. We have designed these resources to help you get ready to take Scrum.org Professional Scrum with Kanban level I (PSK I) exam. If you have made the decision to become a certified professional, we suggest you take authorized training and prepare with our online premium Scrum.org Professional Scrum with Kanban Practice Exam to achieve the best result.
Scrum.org PSK I Exam Summary:
Scrum.org Professional Scrum with Kanban Syllabus Topics:
Topic

Details

Understanding and Applying the Scrum Framework

Empiricism

A cornerstone to Scrum and Agile. A practitioner will be able to apply the concepts of the empirical process to the problems they encounter. That means they can describe problems in terms of learning, break problems down into the smallest increments that will generate valuable evidence, and execute in an empirical way. By learning and practicing the skills in this Focus Area, a practitioner will become an expert in the application of scientific methods to complex problems, understanding why and how to apply an empirical process.

Scrum Values

For agility to thrive, the culture of the organization must support the fundamental concepts of agility. A practitioner will understand both the Scrum Values - Focus, Respect, Openness, Commitment, and Courage - and demonstrate that they can apply them in the reality of organizations whose values do not match those of Scrum. By living the Scrum Values and helping others to apply them, learners will create an environment where empirical process, self- organization, and continual improvement will be more successful.

Scrum Team

The Scrum Team consists of one Product Owner, one Scrum Master, and Developers. The skilled practitioner will understand how accountability is shared amongst team members and how they take on work in the context of their Product Goal.

Events

The Scrum framework describes 5 events: The Sprint, Sprint Planning, Daily Scrum, Sprint Review, and the Sprint Retrospective. All events are time-boxed and enable progress through adaptation and transparency. The practitioner will understand the events and be able to practice each event, but more importantly be able to apply these events in complex situations and at scale. The events are used to uphold empirical process control, through the three pillars of Scrum: transparency, inspection, and adaptation.

Artifacts

The Scrum framework describes 3 artifacts. The Product Backlog, Sprint Backlog, and Increment. These artifacts provide the team with a minimal set of materials to plan, execute, and review the Sprint. The Practitioner will understand these artifacts and how to implement them in complex, real-world situations. They will also understand the relationship of these artifacts relative to other practices and techniques and how to integrate them into an organization's own process.

Done

The objective of each Sprint is to deliver an Increment. The Definition of Done (DoD) provides a way for the team to make what done means transparent. In this Focus Area, the practitioner will be able to describe what a DoD is, apply it to their particular context, and understand how the DoD enables the benefits of agile. They will also be able to describe the implications of the necessary trade-offs and compromises required to deliver Increments within their organization.

Scaling

Scrum is designed to work at the team, product, and organization level. The practitioner will be able to apply Scrum in increasing levels of complexity and scale. They will be able to demonstrate when to scale and when not to scale and appreciate scaling practices and complementary frameworks that help organizations scale Scrum. The ultimate level of proficiency within this Focus Area is the ability to know what, and what not, to compromise in pursuit of a scaling approach by understanding the trade-offs and benefits of particular concepts and practices. Ultimately, the practitioner will demonstrate that they can scale Scrum and still keep its essential qualities of empiricism, self-organization, and continuous improvement. The practitioner should also be able to demonstrate the results of good scaling practices from both an organization and business perspective.

Complementary Practices

Kanban Practices

Questions in this focus area test your knowledge of the Kanban practices listed in the Kanban Guide for Scrum Teams.

Agile Metrics for Kanban

Questions in this focus area test your knowledge of the required metrics listed in the Kanban Guide for Scrum Teams and how to use them effectively.
Both Scrum.org and veterans who've earned multiple certifications maintain that the best preparation for a Scrum.org PSK I professional certification exam is practical experience, hands-on training and practice exam. This is the most effective way to gain in-depth understanding of Scrum.org PSK 1 concepts. When you understand techniques, it helps you retain Scrum.org Professional Scrum with Kanban knowledge and recall that when needed.