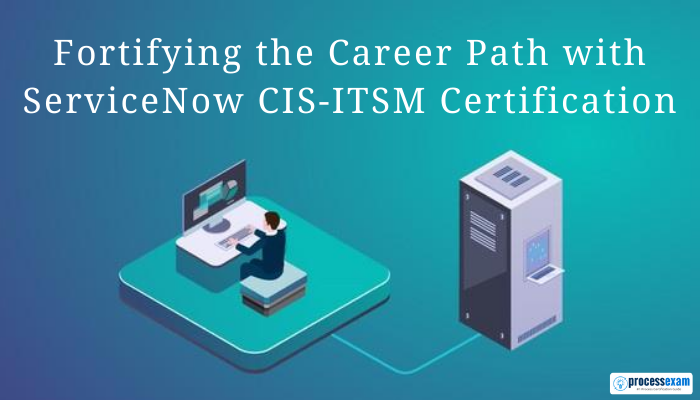 ServiceNow Certified Implementation Specialist CIS-ITSM exam offers numerous advantages, mainly in the ServiceNow profession & that is why they are very costly. Therefore, if CIS-ITSM exam candidates are planning to get a bright and successful ServiceNow career, they should opt for the ServiceNow CIS-ITSM exam.
It is worth considering that CIS-ITSM Certified Implementation Specialist - IT Service Management Exam has introduced new dimensions for the IT industry. It is regarded as a life-changing platform that can lead to a successful career.
ServiceNow, a global multibillion-dollar giant, gives one of the markets leading IT service management solutions. ServiceNow provides ITSM and SAM solutions for end-to-end software life cycle management on a single platform. ServiceNow aids you in optimizing your IT resources that reduce your costs and compliance through automated procurement, power, and optimization and aligns your software needs with your overall business goals.
The demand for ServiceNow experts is increasing. ServiceNow certification gives attendees the knowledge and courage to take full benefit of the ServiceNow platform. During the training and certification programs, attendees get to configure, customize, and design real world examples and a hands on approach.
ServiceNow's ITSM & Service Portal solution can assist Simplify user experience with a unique interface for IT. ServiceNow ITSM is available in two types of products – ITSM (Gain Control and Modernize IT) and ITSM Pro (Expedite Digital Transformation and IT Modernization with Additional Intelligence). These modules cover Processes like Incident, Problem, Change, Service Request, Knowledge, and Release, etc., where ITSM Pro gives additional benefits of Performance Analytics, Predictive intelligence, and Vendor Manager Workspace and Service Owner workspace.
CIS-ITSM: Prerequisites
To be successful on this CIS-ITSM exam, attendees require to be a ServiceNow Certified System Administrator, have experience with at least two end to end implementations with ServiceNow, and have enough proficiency in ServiceNow Scripting. ServiceNow also offers an Implementation Boot camp to help prepare attendees to become successful implementation consultants.
What to Expect During the ServiceNow CIS-ITSM Exam?
ServiceNow makes CIS-ITSM exam blueprints available online for each certification exam to download and review them before the test. The blueprint gives general information about the CIS-ITSM exam and information on the exam structure and question formats.
While taking the CIS-ITSM exam, you will need a quiet room with a strong internet connection since it is online. It is also mandatory to use a standalone webcam (one that is not combined into a computer or laptop). The webcam has to be set up, so the proctors can watch you during the CIS-ITSM exam.
ServiceNow Certification exams are computer based, multiple choice exams performed by ServiceNow testing partner Kryterion, in a proctored situation. Online proctoring is also available.
ServiceNow Certified Implementation Specialist - IT Service Management (CIS-ITSM) Checklist: Preparation is Key
There are a few things you can do to make confident your ServiceNow investment delivers value and savings for the long-term:
1. Have a Study Plan for CIS-ITSM Exam
You bought a ServiceNow CIS-ITSM for a reason. Form an implementation plan based on your top use cases. The aim is to get the tool implemented and adopted. Stick to the next six months' timeframe to get the foundation set, then grow from there.
2. Time to Value
ServiceNow and its partners help Agile-style implementation to gain quick user adoption. This is a proven methodology and much more useful than an elongated, boil-the-ocean approach. A side tip is that if your organization is not experienced with agile implementations, this is a great way to get publicity and training.
3. Choose Where ServiceNow Ownership Will Reside
Where ServiceNow oversight lives and who is on the team will significantly affect adoption within your organization. The team should have direct exposure to business lines because it is an enterprise service management platform, not just an IT operations tool. The team should comprise people who have scripting capability and work with IT and business areas to identify how current processes can be readily automated.
4. Start with the Basics: The Common Approach
Companies buy ServiceNow for different reasons. Even though it is an enterprise service management suite, the typical initial use case still centers on following an outdated, cumbersome legacy IT service management (ITSM) application. By taking this approach, your organization will concentrate on first getting the IT organization right, allowing you to then replicate the process to other business areas such as HR, finance, or customer service.
Wrapping It Up
ServiceNow CIS-ITSM has grown from a simple ticketing application to a robust collection of fully functional business process management solutions. Initially intended for IT, the ServiceNow application suite now includes modules for IT, HR, and Customer Service management.