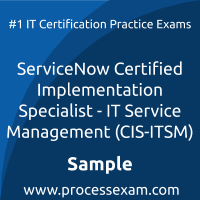 You have to pass the CIS-ITSM exam to receive the certification from ServiceNow. To increase the effectiveness of your study and make you familiar with the actual exam pattern, we have prepared this sample questions. Our Sample ServiceNow Certified Implementation Specialist - IT Service Management Practice Exam will give you more insight about both the type and the difficulty level of the questions on the ServiceNow CIS-ITSM exam.
However, we are strongly recommending practice with our Premium ServiceNow Certified Implementation Specialist - IT Service Management (CIS-ITSM) Practice Exam to achieve the best score in your actual ServiceNow CIS-ITSM Exam. The premium practice exam questions are more comprehensive, exam oriented, scenario-based and exact match of ServiceNow Certified Implementation Specialist - IT Service Management exam questions.
ServiceNow IT Service Management Implementation Specialist Sample Questions:
01. A record is added to the _______ table each time a Knowledge article is viewed. The record includes fields to identify the user who viewed the article and whether the article was attached to a Task.
a) Knowledge Use [kb_use]
b) Knowledge Feedback [kb_feedback]
c) Knowledge [kb_knowledge]
d) Knowledge Search Log [ts_query_kb]
02. What can you use to explore the CMDB hierarchy and table definitions?
a) CI Manager
b) CMDB Manager
c) CMDB Schema
d) CI Class Manager
03. Which field on a Configuration Item (CI) may be used to route Incidents to the appropriate group to quickly resolve Incidents related to the CI?
a) Assignment Group
b) Support Group
c) Change Control
d) Managed By
04. A parent Incident is updated to reflect a new Assignment Group, Work Notes, and related Problem. Corresponding field updates to child Incidents include ________.
a) Assignment Group, Work Notes, and related Problem
b) Assignment Group and Work Notes
c) Work Notes
d) No updates are made to child Incidents
05. How to modify the attributes copied from a problem into a change when creating a change from a problem?
a) Modify the "com.snc.change.copy_from_from.attributes" property in Change properties
b) Modify the "com.snc.change.create_from_problem.attributes" property in Change properties
c) Modify the UI Action script that is used to create change
d) Modify the "com.snc.problem.create_change.attributes" property in Problem properties
06. A customer has a requirement to allow staff to copy existing Changes. However, they want to add the Work Notes List field to the fields included in the copy operation.
Which approach is recommended to satisfy this requirement?
a) Edit the code in the Copy Change UI Action to include the new field and validate that the UI Action is Active
b) Validate that the 'Enable Copy Change feature' property is set to true and add the field to the 'List of attributes (comma-separated) that will be copied from the originating change' property
c) Edit the ChangeUtils Script Include to add the new field to the CHANGE_REQUEST_DEFAULT_ATTR_VALUE Constant that defines fields to include in Copy operation
d) Override the Dictionary attributes for the Work Notes List field on Change to add the 'Include in Record Copy' attribute set to true
07.
On an incident, which of the following conditions will trigger the Reopen Count field value to be incremented?
a) Submission of an incident by the same Caller with an identical short description
b) Assignment group changes from Service Desk to Software Group
c) Update to an associated problem record
d) State changes from Resolved to On Hold
08. When should a Problem be put in a State of Known Error?
a) The cause of the Problem has been determined, but there is no permanent fix
b) The Problem has been acknowledged, but a root cause has not yet been identified
c) A fix for the Problem is pending implementation of a Change
d) The Problem is actively being investigated, but a workaround has been identified
09. Which one of the following is proper syntax for accessing values of variables from a Record Producer script field?
a) g_form.getReference('variable_name')
b) g_form.getVariable('variable_name')
c) producer.variable_name
d) current.variable_name
10. In the Content item, what is the "Catalog content" option in "Content type" used for?
a) Grouping more than one catalog item in one request
b) Cross-reference among catalogs
c) Reference to a catalog item that doesn't have a record producer linked to it
d) To show an article about a specific catalog item
Answers:
Question: 01




Answer: a

Question: 02




Answer: d

Question: 03




Answer: b

Question: 04




Answer: d

Question: 05




Answer: c

Question: 06




Answer: b

Question: 07




Answer: d

Question: 08




Answer: a

Question: 09




Answer: c

Question: 10




Answer: b
If you find any errors or typos in ServiceNow Certified Implementation Specialist - IT Service Management (CIS-ITSM) sample question-answers, please report them to us on feedback@processexam.com