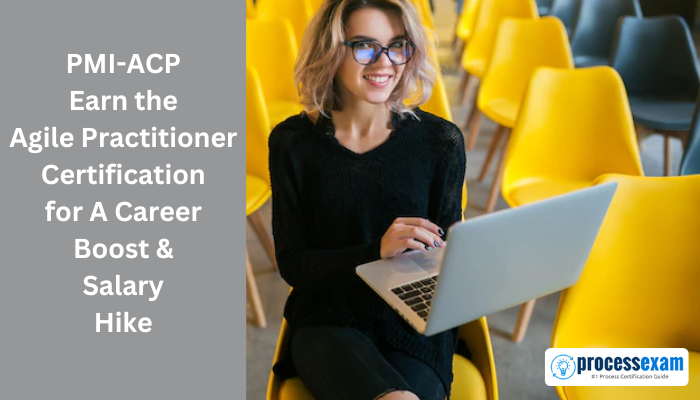 PMI-ACP, or the Agile Certified Practitioner, is a promising certification for a lucrative career and earning a higher salary. With PMI-ACP certification, you can earn an average median salary of up to $108,000. Therefore, make your preparation stronger with practice tests to gain career benefits.
What Is the PMI-ACP Certification All About?
PMI-ACP, or the Agile Certified Practitioner, formally recognizes your skills regarding agile principles and your skill with the agile method. You can prove to your peers, employers, and stakeholders that your agile knowledge runs deep through the PMI-ACP certification.
Agilists made PMI-ACP certification for agility. According to different surveys, organizations that are knowledgeable, agile, and responsive to market dynamics accomplish more of their projects successfully than their slower-moving counterparts.
Who Should Apply?
The PMI-ACP certification is suitable for you if you are part of agile team or your organization uses agile practices. The certification is proof of your real-world, practical experience and skill as part of an agile team.
What Is the PMI-ACP Exam Structure?
The PMI-ACP certification exam is a 120 questions long multiple-choice exam, which you need to take within 3 hours. To maintain your PMI-ACP, you must earn 30 professional development units (PDUs) in agile topics every three years.
What Qualities Should You Possess to Take the PMI-ACP Certification?
You must have a Secondary degree.

The aspirant must have 21 contact hours of training in agile practices.

One year of general project experience within the last five years.

Eight months of agile project experience within the last three years.
How to Prepare for the PMI-ACP Certification Exam?
Clear Your Visions Regarding the Syllabus:
Only going through the syllabus of the PMI-ACP Agile practitioner exam won't help. Make sure to learn the syllabus domains from the core. The more you are good with the Agile domains, the more scope you have to get better marks in the exam.
Take the Exam Preparation Seriously:
You can't think randomly to take the Agile Practitioner exam and jump for it. Try to consistently devote quality time to exam preparation and study for two to three hours daily.
Take Up Practice Tests:
If you are familiar with the exam structure, it helps you a lot in exam preparation. Therefore, join the real exam-like PMI-ACP practice tests and, through rigorous practice, discover more on your strengths and weaknesses.
Who Is An Agile Practitioner?
An Agile practitioner is an individual who is well-versed in Agile techniques. They possess an Agile mindset, can embrace new scopes, and adapt easily to change. Agile practitioners work on the principles and work ethics outlined in the Agile Manifesto. They understand the relationship between Agile and Lean project management and know well about Agile frameworks, including Kanban, Scrum, and Extreme Programming.
How Do Agile Practitioners Benefit Organizations?
Agile practitioners play a major role in Agile transformation. They use their knowledge to advise teams on Agile best uses and guide them as they navigate their new techniques. Agile practitioners are responsible in figuring out which Agile practices work best for an organization. They help to assess the team's current working model and chalk out the areas they want to improve. The Agile Practitioners will also identify potential benefits and challenges before helping the team to guide regarding an appropriate framework. The Agile practitioner's goal is to make sure that organizations fully enjoy Agile so they can experience all the associated benefits.
Here Are the Career Benefits of the PMI-ACP Certification:
Get Industry Recognition:
As a project manager, you might need to go through different challenges and expectations depending on the demographics. But, with the PMI Agile Practitioner certification, proof of your global professional achievement, you don't need to worry about anything. PMI-ACP certification boosts you the freedom to work anywhere across the globe. It proves your expertise and skill-set level in agile project management, which will immediately capture the employer's attention. The job market is highly competitive, and the certification keeps you ahead of your peers.
Stand Out in the Crowd with the PMI-ACP Certification
Many project managers are working in the job field, and you need to stand out to get better opportunities. What could be better than becoming PMI-ACP certified? The certification makes your resume more attractive to employers. More significantly, the certification teaches you essential skills to excel in your career. PMI-ACP certification has high standards, and it is not easy to pass the exam without proper preparation. Moreover, it needs you to grasp the practical application of the material. Through your certification preparation, you will have many hard and soft skills. The certification boosts your fundamental project management skills and helps you stand out.
Contributes to Higher Income:
The biggest draw of PMI-ACP certification is the higher salary it may offer to the project managers. The salary of a PMI-ACP is considerably high in comparison to other professionals. A recent PMI survey mentioned that the average median salary for a PMI-ACP project manager is $ 108,000. In contrast, the median income for a non-certified project manager is only $91,000. What's more? PMI-ACP has consistently been the highest-paid IT certification. Also, the market trend indicates that PMI-ACP salaries will only continue to grow. PMI-ACP not only offers higher salaries but it boosts job stability.
Bottom Line:
The Agile methodology is highly used across organizations to improve project management and boost businesses. Therefore, there is high demand for skilled professionals. So, hurry up and grab your PMI-ACP certification for maximum benefit.