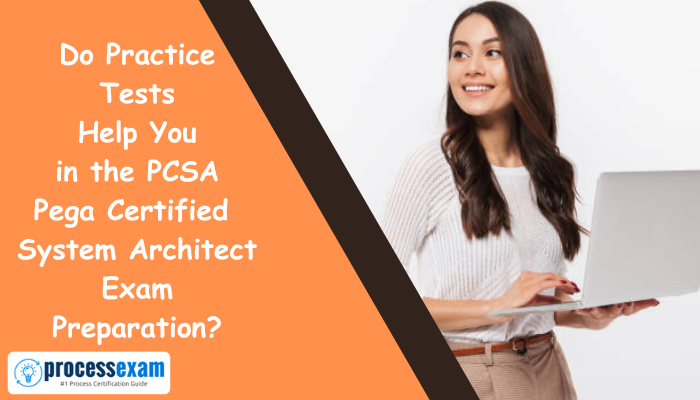 Getting a high Pega Certified System Architect certification score is no longer a dream. You must start practicing with the actual exam like practice test questions, to familiarize yourself with the exam pattern. This article describes some of the most effective study tips to pass the exam.
The Pega Certified System Architect (PCSA) certification, specifically version 8.6, is designed for individuals in developer and technical roles seeking to enhance their skills in Pega application development. As an introductory certification in the System Architect pathway, it serves as a fundamental assessment of your understanding of Pega applications. The PCSA Version 8.6 exam evaluates your knowledge through scenario-based questions, multiple-choice questions, and drag-and-drop items.
Preparing for the Pega Certified System Architect (PCSA) certification requires a strategic approach to ensure success.
Valuable Tips to Get Ready for the PCSA Exam:
Understand the Pega Certified System Architect Exam Blueprint:
Familiarize yourself with the Pega Certified System Architect PCSA exam blueprint provided by Pega. It outlines the topics and domains that will be covered in the exam. Pay close attention to the percentage weightage assigned to each topic to prioritize your study efforts accordingly.
Study the Official Documentation:
Pega provides comprehensive documentation and study materials, including system architecture, user, and application development guides. These resources explain Pega's platform features, best practices, and implementation guidelines. Review and understand these documents to build a strong foundation of knowledge regarding the Pega Certified System Architect certification.
Take Advantage of Pega Academy to Cover the Pega Certified System Architect Certification Preparation:
Pega Academy offers a variety of training courses specifically designed to prepare you for Pega certifications. Enroll in the System Architect Essentials course, which covers essential topics relevant to the PCSA exam. The course includes lectures, hands-on exercises, and quizzes to reinforce your understanding.
Practice with Pega Exercise Systems:
Pega provides exercise systems that allow you to gain hands-on experience with the platform. Use these systems to practice building applications, configuring rules, and solving real-world scenarios. The more you interact with the platform, the better you'll understand its capabilities.
Join the Pega Community:
Engage with the Pega community forums, discussion boards, and online groups to prepare for the Pega Certified System Architect. These platforms are excellent resources for asking questions, seeking guidance, and learning from experienced professionals. Active participation in the community can provide valuable insights and help you expand your knowledge base.
Utilize Sample Questions and Practice Exams:
There are sample questions and practice exams that mimic the format and difficulty level of the actual PCSA exam. Solve these questions to assess your readiness and identify areas where you need to improve. Pay attention to the explanations provided for each question to enhance your understanding. Preparing with the Pega Certified System Architect certification practice questions will make you aware of your strengths and weaknesses, and through continuous practice, you can score higher.
Hands-on Application Development:
Develop real-world applications using Pega's platform. The practical experience will strengthen your skills and expose you to different scenarios and challenges that may be encountered in the exam. Focus on implementing best practices and leveraging platform capabilities effectively.
Time Management:
Plan your study schedule wisely. Allocate dedicated time for each exam topic based on its weightage. Break down your study sessions into manageable chunks and set achievable goals. Consistent and structured studying will help you cover all the necessary material and avoid last-minute cramming.
Review and Revision:
Regularly review the concepts, tools, and techniques you have learned. Create concise notes or flashcards for quick revision. Summarize key points, formulas, and essential details to reinforce your memory and understanding.
Stay Calm and Confident During the Pega Certified System Architect Certification:
On the exam day, maintain a positive mindset and stay calm. Read each question carefully, analyze the provided scenarios, and eliminate any incorrect options. Trust in your preparation and answer confidently.
Why Should You Become A Pega Certified System Architect?
Pega certifications are globally recognized and highly regarded by employers. Being a Pega Certified System Architect showcases your commitment to professional development and ability to deliver high-quality solutions. It gives you a competitive edge over non-certified candidates and increases your chances of getting hired by employers.

Obtaining the Pega Certified System Architect certification opens up a world of exciting career opportunities. Pega technology is widely adopted across various industries, including banking, healthcare, insurance, and telecommunications. As a certified professional, you can pursue roles such as System Architect, Application Developer, Business Analyst, or Consultant. These positions often come with attractive salaries, benefits, and growth prospects.
Concluding Thoughts:
By following these tips and adopting a systematic approach, you can enhance your chances of success in the Pega Certified System Architect certification exam. Remember, practice, persistence, and a thorough understanding of Pega's platform will increase your confidence and readiness for the certification. Therefore, study hard and solve practice exam questions to pass the PCSA exam in no time.