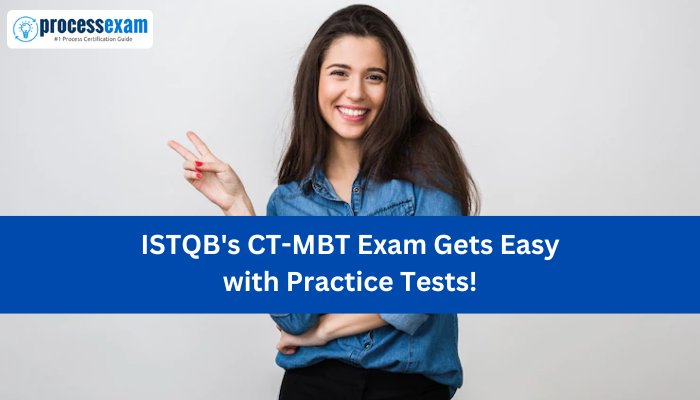 You could be a CT-MBT or ISTQB Certified Tester Foundation Level Model-Based Tester in no time with proper strategies and exploring materials like sample questions and practice tests. Therefore, expand your knowledge about the certification and preparation strategies through this blog.
What Is the CT-MBT Certification All About?
ISTQB's CT-MBT or Model-Based Tester certification talks about an advanced test approach of using models for testing. The certification extends and supports classic test design methods such as boundary value analysis, equivalence partitioning, decision table testing, use case testing, and state transition testing. Model Base Testing is an innovative approach to improve the quality and efficiency of the test process.
Who Should Take the CT-MBT Certification?
The CT-MBT, Model-Based Testing certification suits testers, test analysts, technical test analysts, test managers, software developers, systems, and architects. It is also beneficial for anyone who wants a deeper understanding of software testing and the use of models for test generation, such as project managers, quality managers, product managers, business analysts, and business process experts.
This section lists the Business Outcomes expected of a candidate who has achieved the Foundation Level Model-Based Tester certification.
Best Thing About Taking the CT-MBT Exam:
No experience bar or minimum qualification is needed to take the Foundation Level CT-MBT exam.

It opens up the opportunity for freshers and college-goers to take the exam. If you are between jobs, then also you can take the exam.

ISTQB certifications are comparatively less expensive than other IT certifications.

You can be from the IT field or non-IT field, but that does not stop you from taking the online based CT-MBT exam.

With your foundation-level CT-MBT certification, you become eligible to get a testing job anywhere in this world, unlike the other certificates recognized country-wise.
Can Anyone Take the ISTQB CT-MBT Exam?
Yes, the ISTQB CT-MBT exam is suitable for any candidate as there are no prerequisites and no pre-set qualifications to take the test. The aspirant does not need mandatory job experience to appear for the exam. Any member from the software family, such as QA testers, test engineers, software developers, software analysts, etc., can take the foundation level test as their interest in working on software works the eligibility.
Who Is A Model-Based Tester?
Model-based testing is an ingenious method to improve the functions and efficiency of test operations. As a model-based tester you will be using models to drive test analysis and design in the projects and keeps the advantage of the models for other testing activities, such as test implementation and reporting works.
As A Model-Based Tester, You Can Do the Following-
Integrate and Apply model-based testing in a test process.

Blend a model-based testing team using standard terms and established MBT concepts, strategies and techniques.

The CT-MBT can effectively make and maintain MBT models using established methods and best practices of model-based testing.

The aspirants learn to select, create and maintain test artifacts from MBT models' risk and value of the features tested.

You can support the organization in improving the quality assurance process to become more efficient and constructive.

In general, an ISTQB Model-Based Tester CT-MBT has earned the necessary knowledge to contribute to MBT projects in a given context successfully.
How to Prepare for the CT-MBT Certification?
Get Accustomed with the CT-MBT Syllabus:
The first and common tip to0 get ready for the ISTQB CT-MBT examination is that the resources like syllabus and glossary available over the internet should be in grasp. An individual should follow the concept of self-guided and self-study as well. Get the online or offline resources first, then study the essential concepts of software testing on your own will work in achieving the goal.
Set Specific Time for Studying:
You must understand the syllabus domains better to score well in the CT-MBT exam. Set a time and set your goal to cover the syllabus domains. Make notes for better memorization and accomplish your daily study goals.
Learn from Sample Questions & Practice Tests:
Only studying the syllabus domains should be something other than your goal; you must expand your knowledge with other resources like sample questions. Taking CT-MBT practice tests would familiarize you with the exam domains and improve your speed management ability. Therefore, explore more of the practice tests and prepare better.
Why Should You Get the ISTQB CT-MBT Certification?
Software is getting highly complicated due to its high use and growth. In terms of coding or programming, software testing is also getting far more technical and needs nothing other than a specialization in the respective field. ISTQB grants you the required qualification to showcase your skills with the CT-MBT certification.
ISTQB certifications are one of the very few certifications which are recognized and valued across the globe. Therefore, the CT-MBT certification will boost your confidence and give you an edge over your competitors while helping you apply your skills in your practical work.
The foundation-level certification will take you to a higher step in your career, and you will be able to use the 'certified tester' logo with pride. Through your skills and knowledge, you will make your organization reach a new height.
Bottom Line:
There is no need to say how important certifications are for building one's career. Foundation-level certifications are building blocks of your career and prove your credibility; therefore, study hard and earn the CT-MBT certification.