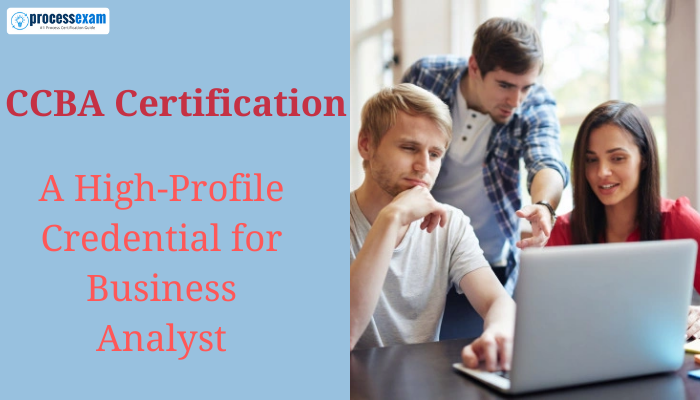 The IIBA Certification of Capability in Business Analysis CCBA Certification is for Business Analysis practitioners who desire recognition for their expertise and skills in the business analysis field. The CCBA highlights your capability to work effectively with stakeholders, model business processes, and identify and evaluate opportunities for better business outcomes. CCBA certification represents your skills and knowledge applied to real-life scenarios and fortifies you for career advancement.
CCBA Certification would provide your career with a distinct edge. The certification process for Business Analysts is rigorous and extensive, but the time spent on training will pay off. The hard work to obtain a BA Certificate never goes unnoticed by potential employers! With a BA certificate in hand, employers are more likely to hire you over someone who has no credentials or lesser qualifications, such as an MBA degree from business administration.
The CCBA aspirants require to gain the ECBA certification before applying for the CCBA certification. As the CCBA certification is an associate-level certification, there is no possibility of preparing for the CCBA examination. The CCBA certification exam is tough to pass, but passing the CCBA certification exam will become a no-brainer with proper guidance and tricks. This article will discuss some tips to conquer the CCBA examination hassle-free.
Ways to Pass the IIBA CCBA Certification Exam
Those who plan to take the CCBA exam must be familiar with the recommendations and prohibitions to help them prepare.
1. Discover from the IIBA Website
When it comes to cracking any professional certification, visiting the official IIBA website of the certification provider is the best method to kick start the preparation. Likewise, you must take a tour of the official website of IIBA. You can search for the conditions for CCBA certification, and they have mentioned every required info about correct methods to apply for the CCBA certification. From the IIBA website, you will have to obtain the Business Analysis Body of Knowledge (BABoK). It is a guide that consists of various areas of Business Analysis, and being careful with BABoK will give you the idea to start your CCBA exam prep journey.
2. Observe the CCBA Certification Exam Structure
Before starting the preparation for the CCBA exam, you should observe the CCBA exam structure. By keenly regarding the exam structure, you can understand the weightage and the importance of various topics of the CCBA certification course. This observation will also help you calculate the number of questions from each area of BABoK.
3. Online Flash Cards will Always Come In-handy
After getting the CCBA exam structure, you should move on to the following preparation phase, exchanging the flashcards. You can visit the CCBA flashcard exchange website, and there you will find tens of thousands of CCBA questions essential to crack the CCBA exam.
Not only that, but you will also get other exam strategies to pass the exam. There are various blogs exclusively for the CCBA exam and course, and you can go through those blogs to get some additional pieces of advice to begin your preparation for the CCBA exam.
4. BABoK is the Ultimate Guide
BABoK is the ultimate guide to pass any Business Analyst exam, and you can call it the mother guide for Business Analysis. It would be best to buy the BABoK guide because it includes all the CCBA exam topics needed to pass the exam. Besides, it also marks out the question scheme and weightage to prepare for the CCBA certification exam in a well-planned manner.
5. Take the CCBA Practice Exams
Practice exams give you confidence and help to analyze your velocity. As you know, the time control is steep, and you get only 1.3 minutes per question. So you have to be very adaptable to attain all the 130 questions within 180 minutes. Here practicing CCBA sample questions and appearing practice exams comes to the rescue. But when you go for free tests, you do not get the proper context. Each year the IIBA adds new questions to its database, and every applicant undergoes a unique exam with unidentical sets.
6. Study Group
Study groups are one of the most effective methods to motivate many people to study. For one thing, being part of a group that meets regularly may be something most participants are looking forward to. Apart from that, some participants learn by teaching and brainstorming. These are just some of the most useful but helpful learning aids. In addition, you can benefit from research groups using conceptual flashcards and critical terms. Working with a group or partner is a great way to encourage each other.
7. Make the Final CCBA Preparation
It does not matter which way you prefer. Whatever it is, you should spend your final preparation focusing on areas where you are demanding or need further improvement. By paying close attention to this, you can focus your last preparation time on areas of technique, tasks, and knowledge that are very difficult for you. Read BABoK many times, even if you seem to understand everything, as you may have missed something.
Finally, as a final preparatory step, ensure you have plenty of rest the night before taking the CCBA certification exam. It is much better to have a relaxed and peaceful mind than staying overnight to stuff.
Final Idea
Undoubtedly, preparing for the CCBA certification exam can take considerable time. So do not be surprised if you have spent more than 8 hours completing the online application process. Similarly, it is essential to memorize BABoK as much as possible and read it many times before the exam. You do not need to purchase additional resources to pass the CCBA certification exam.
All you need to do is be familiar with the areas you need to focus on and think this is an effective way to prepare has been done. By doing this, you are very likely to pass. Also, once you take the exam, you may pass the certification exam.