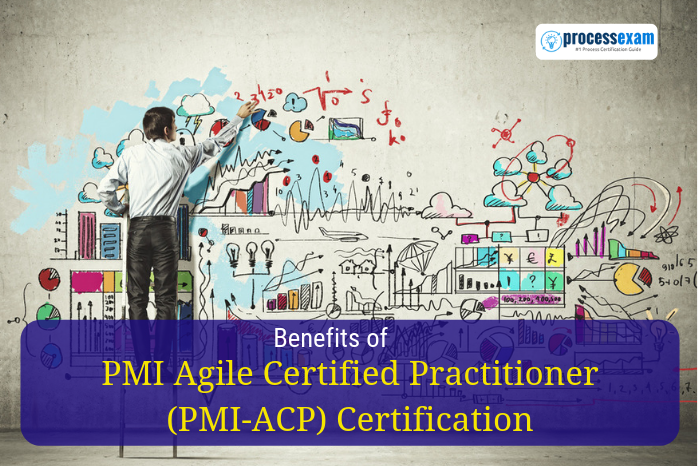 Agile development process came into view as a substitute to established 'plan-driven' Waterfall model of project management methodology in the early 1990s. This approach works well for small projects with a restricted scope of work and a few variables.
The PMI Agile Certified Practitioner (PMI-ACP) is a professional certification designed for agile practitioners presented by the Project Management Institute (PMI). Project management practitioners are increasingly adopting the Agile techniques for effective projects management. As the Agile community is developing and organizations have started to greatly implement the Agile methodology to accomplish their projects in a dynamic environment, the PMI-ACP is becoming a popular and a fast-growing certification.
The PMI-ACP certification will give you an edge over your peers by officially recognizing your knowledge of agile principles and your skill with agile tools and techniques. The PMI-ACP certification is a blend of agile training, working experience in an agile environment and an assessment of agile principles and practices. The organizations often depend on project practitioners for application of diverse methods to the project management and PMI-ACP is one such global certification that allows professionals to support that require.
Looking at the movement of implementation of Agile and the growing popularity of it, it is quite obvious as to why you should go for PMI-ACP. Here are benefits of PMI-ACP certification, which validate your decision to go for it. The number of ideas here is staggering and provides you the fact to go ahead and learn PMI-ACP.
Benefits of PMI ACP Certification
1. High Demand
All across the world, there is a high demand for proficient project managers in industries. Apart from an academic qualifications, a valid certification will prove your expertise on the project management skills. With the organizations widely executing agile techniques, there is a lack of professionals who can understand and apply the agile methodology in the current project management sense. So for the professionals who already have experience working in an agile environment as developers and project managers, a PMI-ACP certification will provide a platform to boost their certifications.
2. Wide Scope
PMI-ACP is not restricted to a single method but covers a broad range of agile methodologies like Scrum, FDD, XP, DSDM, Crystal, Kanban, etc. The objective of this certification offered by PMI is being able to choose the professionals practicing the Agile approaches, tools, and techniques in their work. It showcases the employers that the professional has hands-on experience working in an Agile environment. It is becoming a popular and much sought-after certification from the PMI. Within a year, it has exceeded the Scheduling, Risk, and Program Management certifications.
3. Professional Growth
Earning the PMI-ACP certification plays an important role in your professional growth. It proves to the employers your level of professionalism in Agile practices expected in the project management, enhances your professional versatility in project management tools and techniques, helps you learn about different Agile methods and improves your adaptability in Agile technologies which eventually improves the customer satisfaction and team potency. The PMI-ACP certification confirms that you have the necessary experience in Agile, ultimate knowledge on Agile tools and techniques and that you have professional sources to take up any project based on Agile methodology.
4. Makes You Marketable
A PMI-ACP certification boosts your resume, gets you recognized in your organization as well as with other organizations and provides you with better job opportunities for career progression. It turns out to be extremely beneficial to your career in agile project management. It opens doors to many more project development methodologies, collaborations and better job prospects. This certification makes you a marketable employee. With the increasing need for professionals working in an agile environment, a certification like PMI-ACP will have employers follow you, given your proficiency in project management.
5. Globally Accepted
PMI-ACP certification is accepted in many counties. You can apply for this certification almost from anywhere in the world, and you can pass your certification exam in English, Arabic, Japanese, Korean, Portuguese, and Spanish languages. Once you obtain the PMI-ACP certification, you can employ in any of the organizations that require PMI-ACP certification. This certification is merely an investment for your present as well as your future.
6. Benefits the Organization
Today more and more organizations are adopting the agile approach rather than the conventional waterfall model. The PMI-ACP certification helps determine techniques to actively manage project scope and learn agile principles and practices that strengthen the team performance and collaboration that eventually assures better outcomes.
Conclusion
The PMI-ACP is the most competent and effective certification among all the other agile practices as it comprises all the aspects of Agile Methodology. It concentrates on all the agile practices, its approaches and the differences among them. It gives you many opportunities for professional growth. The PMI-ACP certification exam might be challenging, but its benefits are many even after achieving the certification as mentioned above.