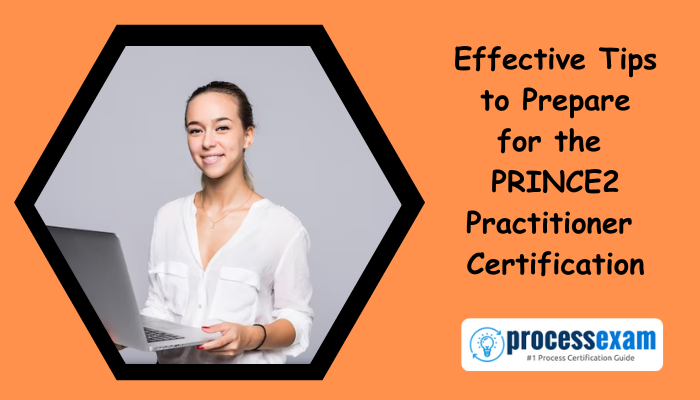 Master the art of project management with our comprehensive PRINCE2 Practitioner certification preparation guide. Elevate your skills and get exam-ready with expert insights and tips.
What Is the PRINCE2 Practitioner Certification All About?
The PRINCE2 Practitioner certification is ideal for anyone involved in project management, whether it's their primary role or a part of their daily responsibilities. This certification will validate your knowledge and skills to adapt and apply the methodology in various project settings and situations.
However, earning the Practitioner credential is a component of becoming an adept project manager. Coupling this certification with hands-on project experience and continuously investing in your professional growth through further training and development is essential.
Who Are the Target Audiences for the PRINCE2 Practitioner Certification?
The certification is designed for current project managers, those looking to become project managers, and anyone overseeing projects. It's also pertinent to other essential personnel engaged in project conceptualization, creation, and execution, such as Project Board members like Senior Responsible Owners, Team Managers like Product Delivery Managers, Project Assurance roles like Business Change Analysts, Project Support roles including Project and Programme Office staff, and operational managers or team members.
Study Tips to Prepare for the PRINCE2 Practitioner Certification:
1. Understand the PRINCE2 Practitioner Certification Requirements:
Before you embark on your journey to acquire the PRINCE2 Practitioner certification, it's crucial to understand the prerequisites and requirements. This certification is not for beginners; it's aimed at those with some experience in project management. Familiarize yourself with the eligibility criteria, which often include having a foundational certification in PRINCE2 or an equivalent qualification. Knowing what is expected will help you set achievable goals and timelines.
2. Choose the Right Training Provider:
The next step in your PRINCE2 Practitioner certification journey is to choose a reputable training provider. There are numerous options available, both online and in-person. Ensure the training provider you select is accredited by the relevant authorities to ensure the training material is up-to-date and aligns with the PRINCE2 framework. Reviews and testimonials can also provide valuable insights into the quality of the training.
3. Invest in Quality PRINCE2 Practitioner Study Material:
For the PRINCE2 Practitioner certification, you'll need to invest in quality study material that covers the PRINCE2 framework comprehensively. This could include textbooks, online courses, and practice exams. Make sure that the material you choose is current and aligns with the latest version of the PRINCE2 framework to ensure that you're studying the most relevant information.
4. Create a Study Plan for the PRINCE2 Practitioner Certification Exam:
A well-structured study plan is essential for successfully obtaining your PRINCE2 Practitioner certification. Break down the syllabus into manageable sections and allocate specific time slots for each. Make sure to include time for revision and practice exams. Stick to your study plan as much as possible, but be flexible enough to adjust it as you progress.
5. Engage in Practical Exercises:
The certification is not just about theoretical knowledge; it also tests your ability to apply PRINCE2 principles in real-world scenarios. Engage in practical exercises that mimic real project management situations. This will help you understand the framework better and prepare you for the scenario-based questions in the exam.
6. Join Study Groups or Forums for Better Discussing the PRINCE2 Practitioner Certification Topics:
Sometimes, studying for the PRINCE2 Practitioner certification can feel isolating. Joining study groups or online forums can provide the support and motivation you need. These platforms allow you to share resources, discuss difficult concepts, and get answers to your questions, making your preparation more interactive and enriching.
7. Simulate the Exam Condition with the PRINCE2 Practitioner Practice Test:
One of the most effective ways to prepare for the PRINCE2 Practitioner certification is by taking practice exams. These exams simulate the test environment and question format, helping you gauge your readiness. Review your answers, focus on your weak areas, and retake the practice exams until you consistently score well.
8. Review and Revise:
As the exam date for your PRINCE2 Practitioner certification approaches, it's crucial to allocate time for review and revision. Go through your study materials, focusing on the fundamental principles, themes, and processes of the PRINCE2 framework. Use this time to clarify doubts and solidify your understanding of the material.
9. Take Care of Logistics:
Consider the importance of logistical preparations for your PRINCE2 Practitioner certification exam. Make sure you know the exam location, what identification you'll need, and what materials you're allowed to bring. If you're taking the exam online, ensure your computer and internet connection meet the required specifications.
10. Relax Before the Exam:
Finally, the day before your PRINCE2 Practitioner certification exam, take some time to relax and unwind. You've put in the hard work, and stressing out at the last minute is unlikely to help. Get a good night's sleep, eat a healthy meal, and arrive at the exam center (or login online) with a positive mindset.
Bottom Line:
PRINCE2 Practitioner certification is an excellent certification for improving your project management skills. Passing the exam needs serious effort and an effective preparation strategy. By following these tips, you'll be well-prepared to take on the challenges of the certification exam and succeed.