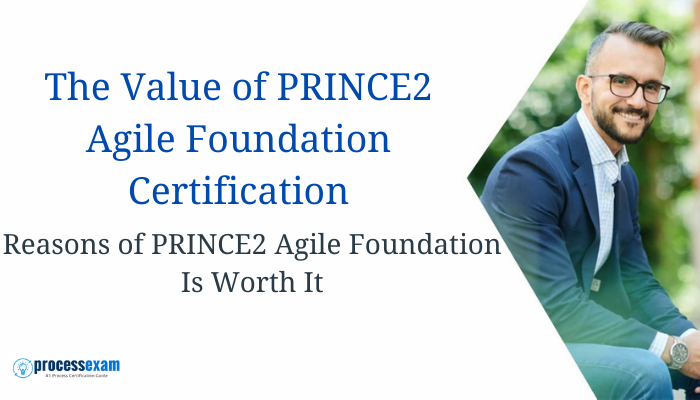 As the name may recommend, PRINCE2 Agile combines the 'Agile method' and 'PRojects IN Controlled Environments 2', better understood as PRINCE2.
The PRINCE2 Agile Foundation Certification exam covers the basics of the PRINCE2 Agile methodology, including the essentials of each project management approach and the logic behind combining them. Students will require explicit knowledge of elements such as tailoring PRINCE2 Themes and Processes to suit Agile, fixing and flexing the PRINCE2 Agile model, and Agile focus areas.
PRINCE2 Agile Foundation Certification: Exam Overview
PRINCE2 Agile Foundation helps professionals in delivering agile projects by modifying PRINCE2 management controls. This includes a broad toolset of agile delivery techniques and frameworks. This certification also allows you to:
Firstly, understand PRINCE2 governance requirements clearly and comprehensively.

Secondly, gain a broad range of knowledge of agile concepts and techniques. This includes Scrum, Kanban, Lean Start-up, and Cynefin.

Lastly, explore the interface between PRINCE2 and agile ways of working.
Is PRINCE2 Agile Foundation Certification Worth It?
With newer opportunities coming at the helm, companies are bound to make changes that will demand flexibility in handling the projects and enhancing the project's outcome. As the companies better, the number of projects operating in the company will also increase, leading to more demands from the employees. One of the primary reasons companies grow so fast is that they understand how to approach a project. They have given project managers who can handle things with ease.
As project managers, companies did not look at any certification of the sort in the past. They were happy to allow employees to work on the projects based on their experience. But, with time, companies recognized that project management in the corporate world needs specific skills. Without them, their task will face certain risks which they probably cannot afford. Also, many projects had different considerations and requirements. To fulfill that, a certified professional is required. That is why the value of project management certifications grew.
If you are a project manager and require to get certified as a project manager, you have to make sure that you get the proper Certification. There are many options obtainable to you when you look for a project management certification. But, if you talk about the complete project management certification at the present age, then that would undoubtedly be PRINCE2 Certification.
However, most people are still skeptical regarding the PRINCE2 Agile Foundation certification because PRINCE2 and Agile are two separate things. But once they are combined, they make a potent combination. It can play an essential role in your career growth.
Here are some thoughts that PRINCE2 Agile Foundation certification can give you as a project manager and make your career as a project manager skyrocket:
1. A Huge Demand in the Market
You get a certification, but that does not demand in the market; it is something that you probably would not want. You would wish for your Certification to be in demand to get a good job after completing your Certification. The best piece of the PRINCE2 Agile Foundation certification; is one such Certification that has a massive demand in the market.
Companies are looking for professionals who have got PRINCE2 Agile Foundation certification, and the reason for that is such professionals can do a better job than most. The PRINCE2 principles and the Agile project performance can be a compelling combination that most other project management certifications will not give. That is why companies are looking for PRINCE2 Agile Foundation certification professionals to add value to the companies.
2. Demand Encompassing Outlines
There was a time when most of the project management professionals thought that the PRINCE2 principles are only applicable to a limited boundary. But actually, it is not. PRINCE2 Agile Foundation certification has a huge demand not only in the Commonwealth countries but also in other countries where this Certification is hugely in need. Because of that, this Certification becomes essential for you and your career. That is why you cannot ignore it if you require to see growth in your career.
3. Gain Ability to Manage Large Projects
One of the reasons why many large companies look for professionals with PRINCE2 Agile Foundation certification because these professionals can manage larger projects with expertise. The origins of PRINCE2 project management are tailored to help the requirements of larger companies where projects are delivered in larger quantities. The 7 PRINCE2 guides help the project managers to execute every project with perfection, and Agile encourages the swift delivery of the projects. That is why it is a great relief for the big companies to have project managers well-versed with PRINCE2 Agile Foundation.
4. Acquire Man Management Skill
An essential part of project management is man-management skills, except that you will have difficulty managing a project. So, when you move to a big company as a project manager and contain a considerable number of projects, you must have certain traits in your armory to handle that number of human resources. With PRINCE2 Agile Foundation certification, you will get that skill as well. This skill will make sure that you are taking many people in the projects with prowess.
5. Get Selected by a Large Company Easily
It is pretty fair to say that most project management professionals dream of getting selected in larger organizations. But, only a few of them get established. The reason for that is some project management professionals take innovative measures at the right time of their careers. With PRINCE2 Agile Foundation certification, you will also take a vital step towards achieving your dream because most larger organizations look for professionals with this Certification.
6. Improve Earning with PRINCE2 Agile Foundation Certification Quite a Notch
There can be no argument that the larger and the more influential organizations will spend a lot more on a project manager than the more modest companies. When you get PRINCE2 Agile Foundation certification, you will get into a more prominent organization with a broader scope quite quickly. You will become a sought-after professional for the companies. This means you will be building you are earning quite a groove through this Certification.
Final Thoughts
Now you will not have any uncertainty as to whether PRINCE2 certification worth it or not. If you want tremendous career growth, then this Certification is your gateway towards achieving it. Unless and until you can show your excellent skill with Certification, your value will not go up. Also, PRINCE2 Agile Foundation certification will add content to your career. Therefore, you should go for this Certification at the earliest.