The nature of today's job market is that for certain types of jobs many employers require some level of Six Sigma certification as a minimum for consideration. Although having a certification is no guarantee that the holder is actually competent or is the right fit for achieving an organization's goals, it is a starting point for many companies. Even if you already have a job, in some organizations Six Sigma certifications are a plus for consideration of higher level positions.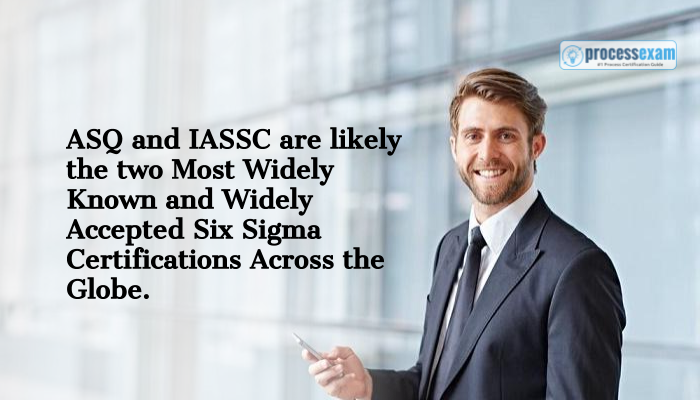 There a many ways to earn your six sigma certification but there are only a few affordable ways to earn a credible certification. We are going to discuss two methods of getting certified by the most common certification entities in the industry. These methods also happen to be the most affordable too!
ASQ and IASSC seem to be leaders in Six Sigma Black Belt Certification. Facts: IASSC exam is a closed book exam, while ASQ exam is an open book and BoK looks pretty much the same. I am looking at either option. Unlike many other certifications such as Project Management (PMI), there is no one authorizing agency which lists a body of knowledge (BOK) and a set of requirements for Six Sigma certification. Although the American Society for Quality (ASQ) BOK is nearly universal, there are still many variations to the Six Sigma body of knowledge that are very comprehensive but have a different emphasis – adding to and deleting parts of the ASQ BOK. The requirements for certification vary widely. This leads to a confusing number of methods and options for certification with many attributes to be considered and compared before embarking on the path to certification.
The IASSC Certification Exam:
The most affordable Six Sigma certification that can be attained is through the IASSC or International Association for Six Sigma Certifications. The IASSC claims to be the only completely independent certification entity in the industry (they only certify, they don't sell training or preparation guide). The IASSC offers Black Belt certification, Green Belt certification, and Yellow Belt certification. They have partnered with People cert and Pearson View to enable proctored exams in over 8,000 testing centers globally.
With this approach, you will need to learn the content and fully comprehend the body of knowledge (BOK) for the certification exam you intend to take. You're in luck, however! ProcessExam study guides have been perfectly modeled according to BOK of the IASSC. At ProcessExam we offer online practice exam for Black Belt and Green Belt with fully cover and comprehensively meet all IASSC BOK requirements. It's also the most affordable sample questions and practice exam that you can use to perform the exercises found in the training material.
The IASSC provide accreditation to training centers and learning institutions aside from certifying individuals. The IASSC is where education providers go to accredit their own courses to be included in the recognized trainers for Lean, Six Sigma, Kanban and a host of other process improvement methods and management approach.
According to the IASSC website, they are Professional Association dedicated to growing and enhancing the standards within the Lean Six Sigma Community.
The ASQ Certification Exam:
ASQ is the American Society for Quality. This organization is one of the most widely recognized Six Sigma and Lean Six Sigma associations. ASQ offers Black Belt certification as well as Green Belt certification through their exam program.
As you might expect, you will need to prepare for this exam and it's not easy to pass. Therefore, we have prepared a package that was specifically intended to help you successfully pass the ASQ exam. At ProcessExam we offer online practice exam for Black Belt and Green Belt which are the most comprehensive and most affordable Six Sigma practice material available on the open market. It even comes with Blogs and Tutorials.
At the End:
Fortunately, ASQ and IASSC are likely the two most widely known and widely accepted certifications across the globe. Knowing this, we have designed tutorials around their certification requirements. If you have prepared for either exam and wish to test your knowledge before sitting for the exam, you can simply purchase Six Sigma Certification Practice Exams from processexam site. This will certainly help prepare you for successfully achieving your six sigma certification.
As you can see, the fact that Lean Six Sigma Certifications are not standardized to one agency, it's important that you research which ones have the best program for your industry and needs. ProcessExam experts work rigorously on six sigma certification (BOK). Now you have to decide which certification is the best suited for your job needs and projects.