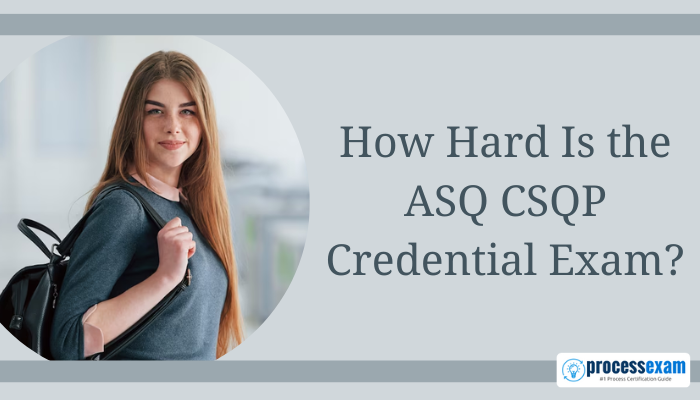 The ASQ CSQP (Certified Supplier Quality Professional) certification is a prestigious credential that validates the knowledge and expertise of professionals involved in managing supplier quality. The American Society for Quality (ASQ) offers the CSQP certification, which is highly regarded in the industry and signifies a professional's commitment to excellence in supplier quality management.
ASQ CSQP Certification Overview
The ASQ CSQP certification is designed for professionals responsible for developing, implementing, and maintaining supplier quality management systems. It thoroughly understands supplier quality concepts, tools, and techniques for ensuring high-quality products and services.
To be eligible for the CSQP certification, candidates must have at least eight years of work experience and three years in a decision-making role. Additionally, applicants must possess a bachelor's degree or at least ten years of appropriate work experience.
Benefits of CSQP Certification
The CSQP certification offers numerous advantages for professionals seeking career growth in supplier quality management. Some key benefits include:
Industry Recognition: The CSQP certification is widely recognized and respected by employers globally, providing a competitive edge in the job market.

Expanded Opportunities: CSQP Certified Professionals have the knowledge and skills to excel in roles such as supplier quality managers, consultants, auditors, and more.

Enhanced Credibility: The CSQP designation demonstrates a commitment to continuous improvement and professional development, establishing credibility among colleagues and stakeholders.

Network Expansion: ASQ provides a vibrant professional community, offering networking opportunities with other quality professionals, access to industry events, and the latest resources.
ASQ CSQP Exam Preparation
Familiarize Yourself with the Body of Knowledge: Review the CSQP Body of Knowledge (BoK), which outlines the topics and subtopics covered in the exam. Use this as a guide to structure your study plan.

Utilize Study Resources: ASQ provides study materials, including textbooks, webinars, practice questions, and sample exams. Make use of these resources to gain a comprehensive understanding of the subject matter.

Form Study Groups: Collaborating with other professionals preparing for the CSQP exam can provide valuable insights and foster a supportive learning environment.

Create a Study Schedule: Develop a plan incorporating regular study sessions, allowing sufficient time for each topic. Break down your study sessions into manageable chunks to avoid feeling overwhelmed.

Practice with Sample Exams: Utilize practice tests and sample exams to familiarize yourself with the exam format, assess your knowledge gaps, and improve your time management skills.

Analyze and Learn from Mistakes: After completing practice tests, thoroughly review the answers and explanations. Identify areas where you made mistakes and focus on understanding the underlying concepts.

Simulate CSQP Exam Conditions: Practice solving questions within a time constraint to simulate the exam environment. This will help you build confidence and enhance your pacing during the exam.

Review and Revise: Allocate dedicated time for review and revision before the exam. Focus on key concepts, formulas, and techniques to reinforce your understanding.
ASQ CSQP Certification Preparation Tips on Aid the Help of Practice Test
Preparing for the ASQ CSQP certification exam requires a comprehensive study plan, and practice tests can benefit your preparation. Remember, practice tests are an essential component of your CSQP exam preparation. By incorporating them into your study plan and following these tips, you can enhance your understanding of the subject matter, improve your test-taking skills, and increase your chances of obtaining the CSQP certification.
Certified Supplier Quality Professional Certification: Career Prospects
The ASQ Certified Supplier Quality Professional certification can significantly enhance your career prospects in supplier quality management. Here are some key career benefits associated with earning the CSQP certification:
Industry Recognition: The CSQP certification is widely recognized and respected by employers in various industries. It is a testament to your expertise and commitment to supplier quality management. The CSQP designation on your resume can give you a competitive edge when applying for job opportunities.

Expanded Job Opportunities: The CSQP certification opens doors to a wide range of job roles and positions related to supplier quality management. These may include Supplier Quality Engineer, Supplier Quality Manager, Supplier Development Specialist, Supplier Auditor, and Supply Chain Manager, among others. The certification demonstrates your competency and makes you a preferred candidate for organizations seeking professionals with specialized skills in managing supplier quality.

Career Advancement: Earning the CSQP certification can accelerate your career progression. It positions you as a subject matter expert in supplier quality management, increasing your chances of promotions and higher-level responsibilities within your organization. The advanced knowledge and skills acquired through the certification can contribute to your professional growth and help you stand out among your peers.

Increased Earning Potential: CSQP Certified Professionals enjoy higher earning potential than their non-certified counterparts. The certification indicates expertise in a specialized area, which employers value. As a result, you may negotiate better compensation packages, salary increases, or bonuses based on your certification and the value you bring to an organization.

Global Recognition: The CSQP certification is internationally recognized, which can grow your career opportunities beyond your local market. It demonstrates your ability to meet globally accepted standards in supplier quality management, making you an attractive candidate for organizations operating in diverse geographical regions.

Professional Network: Obtaining the CSQP certification provides opportunities to connect with a network of professionals in the quality management field. ASQ, the certifying body for CSQP, offers access to a vibrant community of quality professionals through events, conferences, forums, and local chapters. Networking with industry experts can provide valuable insights, mentoring, and potential career opportunities.

Continuous Learning and Development: Maintaining the CSQP certification requires earning recertification units (RUs) through continuing education and professional activities. This commitment to ongoing learning ensures that CSQP Certified professionals stay updated with the latest trends, best practices, and advancements in supplier quality management. Continuous professional development enhances your knowledge and skills, keeping you at the forefront of your field.
Conclusion
The ASQ CSQP certification is an esteemed credential that highlights professionals' expertise in supplier quality management. It provides a competitive edge, improves career opportunities, and establishes credibility within the industry. By following a structured study plan, utilizing available resources, and practicing with sample exams, candidates can maximize their chances of success in the CSQP exam. Remember, dedication, consistent effort, and a solid knowledge of supplier quality management principles are the keys to earning the CSQP certification and advancing your career.