What is a CQE?
The Certified Quality Engineer is a professional who understands the principles of product and service excellence evaluation and control applying the Quality Principles outlined by the American Society for Quality (ASQ).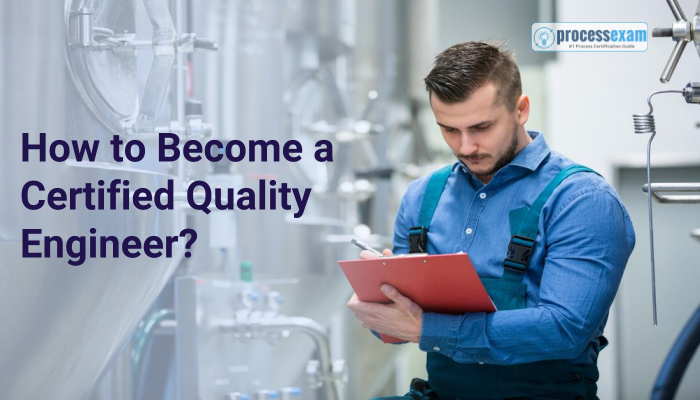 Reasons to Choose CQE for Your Career
Quality engineers use numerous methods to identify and correct ineffective quality control procedures. This can involve developing quality control systems, testing products and analyzing the results to maximize product quality.
Industries that employ CQE's
Following is a list of industries that historically have maintained a Quality System and therefore employ Quality Engineers.
Manufacturing Industries

Automotive

Aviation, Space & Defense

Pharmaceutical Manufacturers

Biomedical (Medical Devices)

Industrial Equipment

Energy Industry (Oil & Gas, Nuclear, Chemical, etc)

Engineering & Construction Firms
5 Steps to Become A Certified Quality Engineer
Step 1: Get Experience Required for Certified Quality Engineer Certification
Candidate must have the following experience for Certified Quality Engineer Certification
Candidate must have eight years of on-the-job experience in at least the one areas of the Certified Quality Engineer Body of Knowledge.

Candidate must have at least three years of decision-making position experience.
(You must have worked in a full-time, paid intern, co-op or any other coursework cannot be applied approaching the work experience requirement.)
Taking post-secondary education to reduces the number of years candidates need to qualify for certification (8 years)
Having a diploma from a technical school degree reduces the eight-year experience requirement by one year

Having an associate's degree reduces it by two years, and having a bachelor's degree reduces it by four years

A master's or a doctorate reduces the ASQ's experience requirement by five years
Step 2: Apply for the Exam and Become a CQE Member
Are you ready for apply for CQE exam? Here you can choose, either become an ASQ member or not if you want to remain a non-member then you will have to register with ASQ, which is free but requires an email address.
You have to decide first if you want to become an ASQ member or not, and I would highly recommend becoming a member.
You can save $150 certification fees if you become a member
Non-Member Certification Cost: $498

Member Certification Cost: $348
Step 3: Prepare for the CQE Certification Exam
The examination for CQE certification measures knowledge of subjects relevant to quality engineering. These topics are documented in the organization's Body of Knowledge. The Body of Knowledge is revised every five years, The Body of Knowledge also includes a list of sources that were used to create the test.
Following are the ASQ Body of Knowledge topics:
Management & Leadership

The Quality System

Product and Process Design

Product and Process Control

Continuous Improvement

Quantitative Methods & Tools

Risk Management
Step 4: Take the Exam
After preparing for the exam, you can choose an exam date and apply to attend the exam. You can apply for the exam online or can be download, completed and mailed to the ASQ. After application, your application for the certification has been approved, and you will be informed of the examination location.
There are 160 multiple-choice questions in the test. You have to complete an exam within 5 hours. The ASQ emails the results within 6-7 business days. To pass the test and become certified, you need to score at least 550 points out 750 possible points.
Step 5: Recertification
CQE certification must be renewed every three years to ensure that you maintain the same level of knowledge demonstrated in your first exam. To become recertified, CQE's must obtain 18 recertification units within the prior three years or Retake the certification exam at the end of the three years recertification period. Recertification Units can be earned by completing activities such as professional development, conducting courses or working in the field.
Learn more about CQE Recertification here.