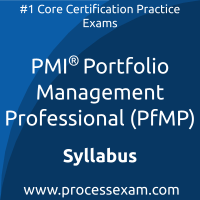 To achieve the professional designation of PMI Portfolio Management Professional from the PMI, candidates must clear the PfMP Exam with the minimum cut-off score. For those who wish to pass the PMI Portfolio Management certification exam with good percentage, please take a look at the following reference document detailing what should be included in PMI Portfolio Management Exam preparation.
The PMI PfMP Exam Summary, Body of Knowledge (BOK), Sample Question Bank and Practice Exam provide the basis for the real PMI Portfolio Management Professional (PfMP) exam. We have designed these resources to help you get ready to take PMI Portfolio Management Professional (PfMP) exam. If you have made the decision to become a certified professional, we suggest you take authorized training and prepare with our online premium PMI Portfolio Management Practice Exam to achieve the best result.
PMI PfMP Exam Summary:
PMI Portfolio Management Syllabus Topics:
Domain
Details

Domain 1: Strategic Alignment 25%

Task 1

Evaluate organizational strategic goals and objectives using document reviews, interviewing, and other information gathering techniques in order to understand the strategic priorities.

Task 2

Identify prioritization criteria (e.g., legislative, dependencies, ROI, stakeholder expectations, strategic fit) using information gathering and analysis techniques in order to create a basis for decision making.

Task 3

Rank strategic priorities working with key stakeholders and using qualitative and quantitative analyses in order to provide a guiding framework to operationalize the organizational strategic goals and objectives.

Task 4

Identify existing and potential portfolio components by reviewing documentation such as business plans/proposals in order to create portfolio scenarios.

Task 5

Create portfolio scenarios (what-if analysis) by reviewing components against prioritization criteria and using analysis techniques (e.g., options analysis, risk analysis, SWOT analysis, financial analysis) in order to evaluate and select viable options.

Task 6

Recommend portfolio scenario(s) and related components, based on prioritization analysis/criteria, in order to provide governance with a rationale for decision making.

Task 7

Determine the impact to portfolio and portfolio components due to changes in strategic goals and objectives, in order to sustain strategic alignment.

Task 8

Create high level portfolio roadmap working with key stakeholders using prioritization, interdependency analysis, and organizational constraints in order to confirm and communicate the portfolio components sequencing, dependencies, and strategic alignment.

Domain 2: Governance 20%

Task 1

Define and establish a governance model including the structure (including but not limited to steering committees, governance boards), policies, and decision-making roles, responsibilities, rights and authorities in order to support effective decision-making and achieve strategic goals.

Task 2

Determine portfolio management standards, protocols, rules, and best practices, using organizational assets (such as information systems, subjectmatter experts) and industry standards in order to establish consistent portfolio management practices.

Task 3

Define and/or modify portfolio processes and procedures including but not limited to benefits realization planning, information management, performance, communication, risk management, stakeholder engagement, resource management, and change management in order to manage the portfolio efficiently and effectively.

Task 4

Create the portfolio management plan including, but not limited to, roles and responsibilities, governance model, escalation procedures, risk tolerances, and governance thresholds, change control and management, key performance indicators, prioritization model, and communication procedures using standards, models, and other organizational assets in order to ensure effective and efficient portfolio management.

Task 5

Make recommendations and obtain approval regarding portfolio decisions (e.g, components, plans, budget, roadmap) through communication with key decision makers as defined by the governance model, in order to authorize the execution of the portfolio.

Domain 3: Portfolio Performance 25%

Task 1

Initiate the portfolio using the portfolio roadmap and supporting artifacts in order to authorize the portfolio structure and activate the components.

Task 2

Collect and consolidate key performance metric data, as defined by portfolio governance and using various techniques, in order to measure the health of the portfolio.

Task 3

Monitor the portfolio performance on an ongoing basis, using reports, conversations, dashboards, and auditing techniques in order to ensure portfolio effectiveness and efficiency and maintain strategic alignment.

Task 4

Manage and escalate issues by communicating recommended actions to appropriate decision makers for timely approval and implementation of proposed solution(s).

Task 5

Manage portfolio changes using change management techniques, in order to improve portfolio performance and maintain strategic alignment.

Task 6

Balance portfolio and prioritize portfolio components, using established criteria and methods in order to optimize resource utilization and achieve strategic portfolio objectives.

Task 7

Analyze and optimize the consolidated allocation/reallocation of capacity (e.g., people, tools, materials, technology, facilities, financial) using supply/demand management and scenario analysis techniques to ensure portfolio efficiency and effectiveness.

Task 8

Update and refine existing portfolio road maps, using change analysis in order to facilitate re-allocation of organizational resources to the portfolio.

Task 9

Measure the aggregated portfolio performance results against the defined business or strategic goals and objectives in order to demonstrate progress toward the achievement of business or strategic goals.

Task 10

Maintain records by capturing portfolio artifacts, such as approvals, prioritizations, and other decisions, in order to ensure compliance with organizational policies, regulatory requirements, and portfolio management standards.

Domain 4: Portfolio Risk Management 15%

Task 1

Determine acceptable level of risk for the portfolio, based on organizational and stakeholder risk tolerances, in order to provide input to governance.

Task 2

Develop the portfolio risk management plan, using governance risk guidelines, processes, and procedures and other organizational assets in order to capitalize on opportunities, and respond to risks.

Task 3

Perform dependency analysis to identify and monitor risks related to the interdependencies and intradependencies within or across portfolios in order to support decision-making.

Task 4

Develop, monitor, and maintain portfolio-level risk register, including risks to strategic goals and objectives, to business value, and escalated from portfolio components, using risk management processes in order to support decision making.

Task 5

Promote common understanding and stakeholder ownership of portfolio risks, through communications with stakeholders, in order to facilitate risk response.

Task 6

Provide recommendation and obtain approval for a portfolio management reserve, based on aggregate portfolio risk exposure, in order to optimize portfolio strategic goals and objectives.

Domain 5: Communications Management 15%

Task 1

Analyze internal and external stakeholders using techniques such as meetings, interviews, surveys/questionnaires, in order to identify stakeholder expectations, interests, and influence on the success of the portfolio.

Task 2

Create the aggregate communication strategy and plan, including methods, recipients, vehicles, timelines and frequencies in order to enable effective communication to stakeholders.

Task 3

Engage stakeholders, through oral and written communication, to ensure awareness, manage expectations, foster support, and build relationships and collaboration for the success of the portfolio roadmap.

Task 4

Maintain the communication strategy and plan by evaluating current communications capabilities, identifying gaps, and documenting communications plan to meet stakeholder requirements.

Task 5

Prepare and/or facilitate stakeholder understanding of portfolio managementrelated processes, procedures, and protocols using organizational assets (e.g., information systems, training delivery methods) in order to promote common understanding and application of the portfolio management process.

Task 6

Verify accuracy, consistency, and completeness of portfolio communication, utilizing governance guidelines, to maintain credibility and satisfaction with all stakeholders.
Both PMI and veterans who've earned multiple certifications maintain that the best preparation for a PMI PfMP professional certification exam is practical experience, hands-on training and practice exam. This is the most effective way to gain in-depth understanding of PMI Portfolio Management concepts. When you understand techniques, it helps you retain PMI Portfolio Management knowledge and recall that when needed.