ASQ Certified Reliability Engineer
A Certified Reliability Engineer is a professional who knows the principles of performance evaluation and prediction to enhance product/systems safety, reliability, and maintainability.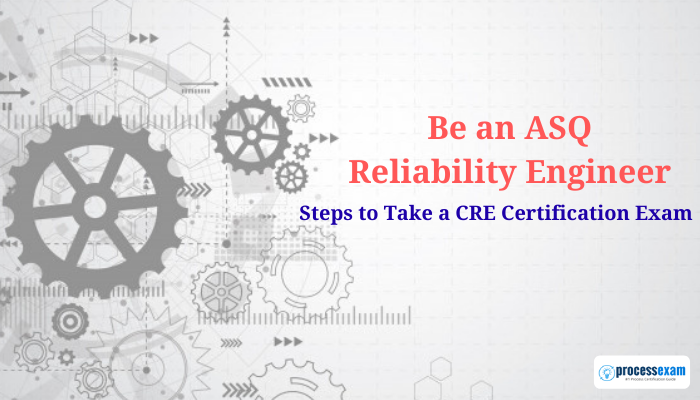 How to Become a Reliability Engineer?
Reliability engineers utilize principles of math, science, and engineering to make industrial manufacturing and production processes and products more effective and dependable.
A reliability engineer's primary job is to test modern processes and note any failures. They also look for ways to cut costs while keeping reliable products and production methods, such as adjusting materials, equipment, and employees used in the production process.
Reliability engineers might work in an office, but they are just as likely to be out in the field, making observations directly, so travel is sometimes required in this job. These professionals might get work with a broad array of companies, such as aerospace products and elements manufacturers, architectural and engineering firms, and management companies.
Requirements for CRE Certification
Here are the experience and exam details for the Certified Reliability Engineer.
Education:
Candidates who have gained a degree from a college, university or technical school with accreditation affirmed by ASQ will have part of the eight-year experience requirement waived, as regards (only one of these waivers may be claimed):
Diploma from a technical or trade school: One year will be waived

Associate degree: Two years waived

Bachelor's degree: Four years waived

Master's or doctorate: Five years waived
Degrees or diplomas from educational institutions outside the United States must be similar to degrees from U.S. educational institutions.
Work Experience:
Candidates must have served in a full-time, paid role. Paid intern, co-op, or any other fieldwork cannot be applied to the work experience necessary.

Candidates must have eight years of on-the-job experience in one or more of the fields of the Certified Reliability Engineer Body of Knowledge.

At least three years of this experience must be in a decision-making position. Decision-making is described as the authority to define, execute, or control projects and to be responsible for the outcome. This may or may not involve management or supervisory positions.
Candidates who were earlier certified by ASQ as a quality engineer, quality auditor, software quality engineer, or quality manager, experience used to pass for CRE certification in these areas often applies to certification as a reliability engineer.
Expectations:
Here are the least expectations of a Certified Reliability Engineer:
Will understand strategic management features of reliability engineering, its relationship to safety and quality, its influence on warranty programs and customer satisfaction, the importance of failure, and the potential for liability. I will understand requirements planning for reliability programs and how different engineering and operational systems must be combined to achieve overall program goals and association with organizational goals.

We will use risk analysis tools and techniques to assess product and system safety issues. Will remain by the ASQ Code of Ethics.

Will use probability and statistical tools to investigate product lifecycle, conduct hypothesis testing, get appropriate mathematical models, tolerance and confidence intervals, sample size ascertainment, and regression analysis.

Will develop product and process reliability specifications using reliability and design techniques such as failure mode results analysis (FMEA), fault tolerance, optimization, and design of experiments (DOE). Will improve systems for material selection, derating methods, and production control.

Will develop models to analyze and divine reliability performance using block diagrams, physics of failure, allotment, dynamic reliability, and simulations.

Will develop honesty test plans that describe the required use environment and operational conditions. Will select, analyze, and interpret the results of different test methods to be used during product development and end-product testing.

Will use the principles of maintainability and availability over the lifecycle of the goods, process, or system and will recognize and support suitable testability methods and maintenance activities.

Will identify, collect, analyze, and manage different types of data to reduce failures and enhance execution, and will use failure analysis, FRACAS, and other types of root problem analysis in support of reliability.
Steps for Gaining ASQ CRE Exam
1. Get a Bachelor's Degree in Engineering:
Bachelor's programs emphasize manufacturing, design principles, and computer-aided design. These programs also include advanced math and science elements like calculus, physics, and differential equations.
Success Tips:
Consider an advanced degree. Some employers may favor candidates who hold a master's degree. There are graduate degree programs available in reliability engineering at some universities, or one could seek advanced education in mechanical engineering or a related area. These programs usually last two years and may require the completion of a research project or thesis.

Consider an internship. While in school, engineering students may consider completing a course to gain practical experience. Internships often take place in the summer and recognize students to work full-time under the supervision of practicing engineers.
2. Gain Work Experience:
The job listings cited also needed a minimum of 2-5 years of related experience. The BLS noted that many engineers begin their careers under the supervision of more experienced colleagues before advancing with knowledge and taking on greater responsibilities.
Additionally, the BLS indicated that industrial engineers might finally take managerial positions at their company since much of their job relates to management.
3. Achieve a License:
Many engineers become licensed. While requirements vary by state, licensure typically includes completing an ABET-accredited engineering program, taking four years of work experience, and passing a state examination. College students close to graduation may take the Fundamentals of Engineering exam. Individuals who pass this CRE exam are related to engineers-in-training.
Once an EIT has accumulated four years of documented work experience, they may take the Principles and Practice of Engineering exam. The successful completion of this exam results in the Professional Engineer designation.
Success Tip:
Get professional certification. The American Society for Quality (ASQ) allows voluntary professional accreditations, such as the Certified Reliability Engineer (CRE) designation. Individuals must meet particular educational and professional terms to sit for the CRE exam. Certification specifications may include eight years of engineering practice or postgraduate study instead of experience.
4. Move Getting an Education:
PEs must meet continuing education standards to keep their licenses in most states. The specific requirements differ by state, but continuing education credits may be earned through different activities, including attending seminars or completing workshops. Renewal typically occurs on an annual or biannual basis. Some professional certifications may want advancing education, as well.
5. Become a Technical Specialist:
According to the BLS, industrial engineers can get advancement opportunities as technical specialists. With this position, they would be managing teams of technicians or engineers, helping to plan and coordinate.
Summary
Glad to see ASQ looking at the CRE and exam process. From experience with ASQ, I know they will move slowly. It may require some time before any change happens.
In the meantime, if pursuing a CRE is your plan, keep in mind that the CRE is a milestone and should be done for personal satisfaction. The process of learning as a reliability engineer will continue beyond becoming certified. And, hopefully, you will become involved when allowed to improve your profession and the CRE certification.