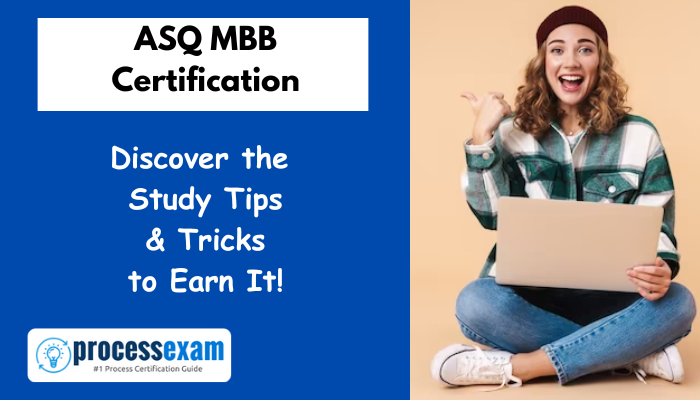 The ASQ Master Black Belt MBB certification is a pinnacle achievement that stands out amongst the rest in professional advancement and career growth. The prestigious certification holds the key to unlocking new avenues of success and recognition within the field of quality management. It is a journey that combines expertise, leadership, and a commitment to continuous improvement. The ASQ MBB certification isn't just a testament to one's capabilities; it's a statement of excellence that resonates throughout the world of quality control. Explore study tips, sample questions, and practice test materials that would take you one step further in your certification journey.
ASQ MBB, Master Black Belt Certification Overview:
The ASQ Master Black Belt (MBB) certification is designed for individuals with deep knowledge and comprehension of current industry norms. These MBB-certified professionals are acknowledged for their exceptional leadership, innovative thinking, and steadfast commitment to elevating quality standards and driving progress. Attaining the ASQ Master Black Belt certification stands as a testament to recognition and esteem from peers in the field.
Overview of MBB Exam Structure:
The examination format for the Master Black Belt, MBB certification includes 110 multiple-choice questions, out of which 100 are subject to grading, while the remaining 10 are not scored. Additionally, a performance-based assessment gauges the candidate's understanding of the MBB Body of Knowledge. This performance segment provides candidates with particular scenarios to analyze and resolve. The entire examination is conducted in English and spans five hours and 18 minutes, with the total appointment time being five and a half hours.
The second section, lasting for two and a half hours, is a comprehensive assessment of the MBB Body of Knowledge. It presents candidates with specific scenarios for evaluation and resolution, following an open-book format.
Qualification Requirements for Obtaining the ASQ MBB Certification:
To achieve the ASQ Master Black Belt (MBB) certification, individuals need to satisfy specific conditions. Initially, they must hold a valid ASQ Certified Six Sigma Black Belt (CSSBB) credential. Additionally, they are expected to meet either of the following two criteria:
Possess at least five years of experience in a Six Sigma Black Belt (SSBB) or Master Black Belt (MBB) role. OR

Have completed 10 Six Sigma Black Belt projects.
Only those who fulfill these prerequisites will have their portfolios evaluated.
Undergo Portfolio Assessment:
Upon meeting the eligibility standards, candidates thoroughly assess their work portfolio in the field of Six Sigma Black Belt or Master Black Belt. The candidate can register for the MBB exam if the review panel endorses the portfolio. The MBB certification is earned only upon successful navigation through all stages, including passing the examination.
Tips for ASQ MBB Certification Preparation:
Understanding the Scope:
The ASQ MBB certification is not a mere accolade; it's a comprehensive demonstration of knowledge across various domains. From statistical tools to leadership skills, an MBB holder must possess an all-encompassing understanding of quality management. This breadth of knowledge empowers professionals to contribute effectively to their organizations' success.
Dive into the ASQ MBB Syllabus Topics:
At the core of the ASQ MBB certification lies the principles and topics of the syllabus. This structured approach is the backbone of process improvement, enabling MBB-certified individuals to dissect complex problems, identify root causes, and implement sustainable solutions. Gain core knowledge on all the syllabus domains to utilize your knowledge theoretically and practically.
In-Depth Knowledge:
To navigate the intricacies of quality management, aspiring MBB candidates must delve into the world of statistical tools and techniques. A solid grasp of advanced statistics empowers MBB holders to make informed decisions, validate hypotheses, and drive continuous improvement with precision.
Real-world Application of ASQ MBB Certification Knowledge:
While theoretical knowledge is essential, the actual value of the ASQ MBB certification emerges when concepts are applied to real-world scenarios. Quality improvement projects become the canvas upon which MBB holders paint their expertise. MBB professionals create tangible, lasting change within their organizations by implementing solutions and measuring their impact.
Gauge Your Preparedness with the MBB Practice Test:
Preparation is key to success, and MBB candidates can enhance their readiness by taking mock exams. These practice assessments simulate the certification exam, enabling candidates to identify strengths and areas that require further improvement. MBB certification mock exams refine test-taking strategies and build confidence in tackling the rigorous certification process.
Time Management Is Crucial During the ASQ MBB Certification Preparation:
Balancing MBB certification preparation with existing commitments demands effective time management. Candidates can optimize their learning journey by devising strategies to allocate time for studying, practicing, and maintaining a work-life balance. Time-saving techniques ensure that each moment invested in preparation contributes to achieving the desired outcome.
Maintain Health During ASQ MBB Certification Preparation:
Amidst the intensity of certification preparation, self-care remains paramount. Nurturing physical and mental well-being ensures that candidates approach the journey with clarity and resilience. Maintaining confidence in one's abilities fuels determination, enabling MBB aspirants to overcome challenges and emerge triumphant.
Connect with ASQ MBB Professionals for Sharing Your Knowledge:
To elevate one's expertise, connecting with fellow professionals is indispensable. By sharing MBB certification insights, exchanging best practices, and learning from each other's experiences, MBB aspirants enrich their knowledge and broaden their perspectives. Networking opens collaboration opportunities and provides access to a supportive community of like-minded professionals.
Benefits of ASQ MBB Certification:
The ASQ MBB certification isn't merely a testament to knowledge; it's a gateway to unparalleled career advantages. Holding the certification positions individuals as leaders in quality management, capable of driving transformative change within their organizations. The ASQ MBB certification opens doors to elevated job prospects, increased responsibilities, and recognition as a quality expert. With the ASQ Master Black Belt certification, professionals can expect potential salary increments that reflect their elevated expertise and contributions.
Has the ASQ MBB Certification Helped Individuals?
Real-life success stories underscore the transformative power of the ASQ MBB certification. After certification attainment, individuals from diverse backgrounds, industries, and roles have witnessed remarkable career growth. From quality engineers to project managers, the ASQ certification has empowered professionals to lead projects, guide teams, and shape organizational success.
Frequently Asked Questions (FAQs)
How Can Networking Benefit MBB Certification Candidates?
Networking facilitates knowledge exchange, collaborative opportunities, and access to a supportive community of quality professionals.
How Do Mock Exams Enhance Certification Preparation?
Mock exams simulate the certification test environment, aiding candidates in identifying areas for improvement and refining their test-taking strategies.
Concluding Thoughts:
In quality management, the ASQ Master Black Belt certification is a journey that transcends boundaries and redefines possibilities. From technical mastery to leadership excellence, MBB-certified professionals are beacons of quality and innovation. The comprehensive knowledge, skills, and mindset cultivated through this certification journey empower individuals to elevate their careers, transform organizations, and leave an indelible mark on the world of quality control.
Embarking on the ASQ MBB certification journey is a commitment to continuous improvement, a dedication to excellence, and a stride toward shaping a brighter future. Therefore, follow the mentioned study path and earn success.