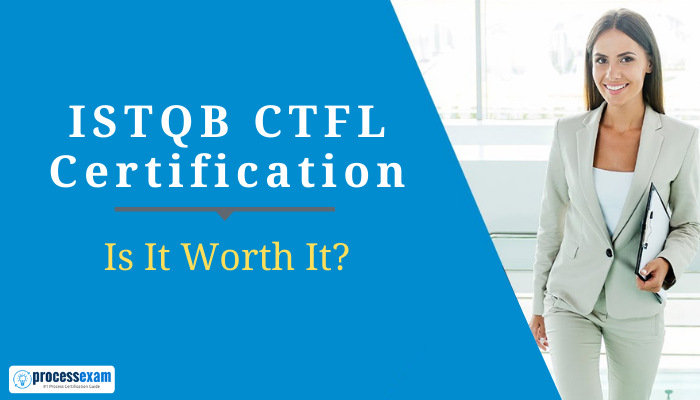 CTFL certification is the certification exam conducted by the International Software Testing Qualifications Board (ISTQB). ISTQB certification exams are performed internationally.
Certified Tester Foundation Level (CTFL) is one of the most common credentials in software testing. It is a severe, examination-based, professional certification program. CTFL Certification is given to candidates who successfully cleared the International Software Testing Qualifications Board (ISTQB) Certified Tester Foundation Level (CTFL) Exam.
The Foundation Certification is the entry-level certification designed for fresher and experienced practitioners wishing to start moving up the ladder of ISTQB certifications. The Foundation Certification goals are to ensure a broad understanding of the fundamental best practices and critical software testing ideas and provide a foundation for professional growth.
The CTFL syllabus covers six main topics:
Fundamentals of Testing

Testing Throughout the Software Development Lifecycle

Static Testing

Test Techniques

Test Management

Tool Support for Testing
What Is the Aim of the CTFL Exam?
Although today's diplomas and certificates almost do not influence QA specialists' remuneration, many specialists find ways to get international proof of their expertise. Speaking about the ISTQB CTFL Certification importance is one of the most popular methods to obtain such evidence in more than 100 countries.
ISTQB certification is a complex exam. Are you interested in how many levels there are? You can get tested in an expert, advanced, and foundation levels in agile, core, and specialist directions. In particular, the ISTQB Foundation level CTFL certification is a base of higher-level certificates. Does the ISTQB certification staff get a promotion or a better salary? It does not, but it gives more chances to grow professionally.
To pass the ISTQB CTFL certification exam, you require at least two things. Firstly, you should be informed of the chosen area of knowledge. Secondly, you need to be skillful in completing the certification. It is not enough to be good at testing and know the SDLC. It is essential to think like the creators of the test.
The tests are not as simple as they might appear at first glance. The majority of questions may confuse you. There can be questions with either two correct answers or no right answer at all.
What to Start for CTFL Certification?
At the beginning of preparation, we recommend looking through Certified Tester Foundation Level Syllabus and just skimming because a thoughtful reading will not assist you in answering the test questions successfully at once. You will spend a lot of time, but this method produces little results. When you have read the syllabus for the first time, you should take Sample Exam ISTQB Foundation Level - this exam leads to the theory. Consequently, you will be able to examine the studied way with fundamental questions on the exam.
If you do not understand the answer to the question, you can use the software testing book's Foundations. This book will help you leave a lot of information and pay attention to more critical and complicated issues. The most significant thing is that the book has the same structure as the test, and you can find Sample CTFL exam questions after each chapter.
After you have learned both the syllabus and testing book, you have to practice as much as possible. Do not forget to leave sufficient time for the Glossary - it is an essential part of the test.
To Get ISTQB CTFL Certification, One Should:
Thoroughly study the material. This information can be used to pass the CTFL exam and for accurate usability testing, functional testing, user interface testing, and so on.
Practice training papers many times. This helps to get used to questions of that kind and apply the correct logic.
Carefully read every question and its options several times to make sure everything is clear. The possibilities are very similar; if one tries answering the questions as soon as possible, they may overlook important details and choose the wrong answers in a hurry.
One should keep in mind that several or none correct answers for a question among the options may be one. That is why an explicit knowledge of the answer's questions and variants is of the first importance.
This CTFL certification is apt for bagging foundational testing roles, such as testers, test analysts, and testing consultants. There are no qualification criteria for the ISTQB Foundation Level certification.
Conclusion
While the community is polarized on the importance of a certification, if it gives you courage and motivates you, there is no need to take a step back from gaining a software testing certification.