A common conversation among testers is certification, and whether it's worth it!!
The answer is YES!! especially for people who are new to testing - less than a year - I would definitely recommend that if given the opportunity to sit the ISTQB, they should take it.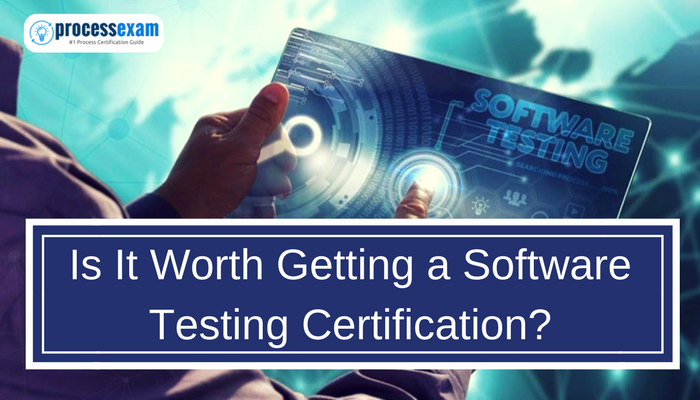 There is one primary certifying body in software testing: the International Software Testing Qualifications Board (ISTQB). Introduced in November 2002, the board allows a series of certifications across three levels: Foundation CTFL, Advanced CTAL, and Expert CTEL. Moreover, it is possible to take ISTQB exams in over 120 countries, making it a globally recognized designation.
Why is Certification Important?
In today's economy, certification has become an essential medium to reach knowledgeable and skilled employee base.
Certification helps you gain practical skills that you use on the field.

Certification curriculum to focus on the skills and knowledge that needed in the work world.

Certification helps bridge educational/theoretical gaps.

Learning is a lifelong process. Certification not only helps professionals refresh their basic knowledge but also to keep up with new processes/techniques coming in.
Benefits of Earning Software Testing Certification:
1) Earning software testing certification gives you the opportunity to stand out of the crowd – Real-time knowledge is, of course, essential but certification will make you stand out in a crowd. The majority of the candidates you will struggle against for testing jobs may not be certified. Hence, those who are certified will have the best advantage.
2) It helps your resume to be chosen during Initial Screening – Most of the hiring managers consider certification as primary criteria in their initial screening of resumes. A Foundation Level certificate encourages confidence in the candidate before the actual interview happens.
Certification assures that even if the candidate does not have any experience in Testing, he/she has a basic knowledge of testing concepts and understanding of standard testing terminology.
In most of the firms, initial screening of resumes is done by a non-technical person and having Certification will make a difference. It will build your resume look more professional.
3) If you are looking for growth in the same firm - It's nice to be leading of your competitors. Likewise, it's still better to perfect what you do. Certification gives you this confidence. Certification across an organization ensures in-depth testing knowledge and testing practices.
The fundamental benefit is – it allows skilled testers to find the right defects with the right amount of effort.
4) If you are looking for extra opportunities in the market - You are an expert in Software testing field for several years, and now you decide to look for new opportunities in the market. Many of the skilled professional testers are limited only to what they test every day.
In other words, if a person is acting in Functional Testing for a longer period, he/she may lose touch with all different types of testing which will eventually obstruct them in a longer run. Similarly, a person working in waterfall model has no idea about an agile model. This can be quite harmful to both.
Certification will retain you updated about the standard testing definitions and updated technology. So even if you haven't worked on it, you obtain the knowledge about it.
Salary Aspect of Certification:
No direct evidence relates a salary hike to a certification. However, Certification surely helps in career development. According to the effectiveness survey done by ISTQB, Test Managers would like to have approximately 75% of their staff certified at the Foundation Level.
According to Indeed the average salary for "software tester" ranges from approximately $67,099 per year for Quality Assurance Analyst to $98,194 per year for Software Engineer.
Job Vacancy Trends in The UK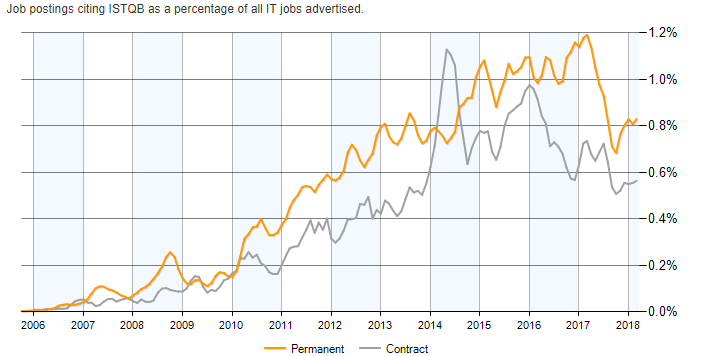 Other benefits
Of course, not all benefits of taking a certification are quantifiable. Earning professional designations is an excellent way of proving to employers a high-level of commitment to your career. When it comes to deciding a candidate for a promotion, raise or other accolades, having a certification will help you stand out. For those without an IT-related university degree or higher education, earning a foundation, expert or advanced level certification is a cost-effective way of showing that you are knowledgeable in your field.
Conclusion:
It is good to get the ISTQB certification if you plan to look for a job in the future and you can afford the cost. Otherwise, in my opinion, the experience is of higher value. A wide variety of software development QA experience is likely more valuable than any number of certifications. However, the people reviewing resumes aren't going to see your experience; they see the software testing certification. Although QA certification gives employers more confidence in your abilities, having more than one certification can be a mask for a low-performing employee. The intangible benefits alone make studying for the exam worthwhile. Furthermore, at $200, the Foundation Level test is a relatively inexpensive investment in your career.