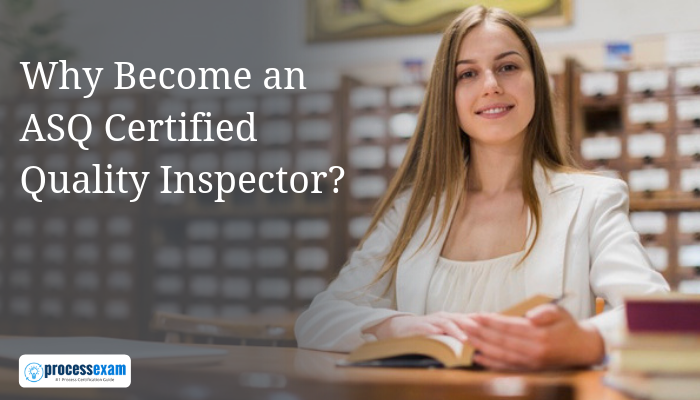 Why Become A Certified Quality Inspector?
As a Certified Quality Inspector (CQI) you can, in aid of and under the direction of quality engineers, supervisors, or technicians, use the shown techniques involved in the body of knowledge. Under professional guidance, the quality inspector evaluates hardware documentation, performs laboratory procedures, inspects products, measures process performance, records data, and prepares formal reports.
Becoming a Quality Assurance Inspector
Quality assurance inspectors examine products to assure that they meet manufacturer guidelines and do not contain defects. Their job duties may include monitoring operations, reading blueprints, testing materials, measuring outcomes, rejecting defective products, and reporting on product suitability to managers or other responsible parties.
Quality assurance inspectors, like other quality control inspectors, spend time in an office setting as well as on-site, making evaluations of products and goods. They may be exposed to some dangerous locations and materials and must wear appropriate clothing and protective gear when completing their inspections. The majority work full-time during business days, although some night and weekend hours may be required.
Get a High School Diploma:
So, what are the specific steps expected to get started in this field? A minimum of a high school diploma is required to work as a quality assurance inspector.
Therefore, graduating from high school or earning a GED certificate is the first step to a career in the field. Elective math and science high school-level courses give education about measurement, testing, and scientific techniques. Because much of a QA inspector's job responsibilities include measuring and testing products, these courses can provide a solid foundation for the types of assignments an individual will complete in his or her future career.
Gain Experience as QA Inspector:
Many employers prefer candidates with at least 1-2 years of experience. In a QA inspector position, an individual may inspect electronic devices, correspondent quality control with other departments, and maintain accurate testing records.
Additionally, individuals can become knowledgeable about the production processes used in a particular field, such as medical equipment manufacturing.
Get Certification:
The American Society for Quality provides multiple certifications to workers in the industry. Examples of these certifications include quality technician, quality inspector, reliability engineer, quality engineer, quality auditor, and calibration technician, to name a few. Getting these certifications usually involves having related work experience and passing an exam.
Earn a

Bachelor's Degree:
Although not always required to work in the field, an associate's or bachelor's degree can lead to increased employment or advancement opportunities.
Associate's degree programs are available in quality assurance, quality control, and management or quality assurance technician. These 2-year programs may combine courses in inspection methods and techniques, non-destructive testing, quality planning, preparing for six sigma, blueprint reading, sustainability, and machine shop calculations.
Bachelor's degree programs are available in areas such as quality assurance and manufacturing management.
Classes in these 4-year programs could cover topics like physics, quality control, total quality management, quality auditing, and planning, reading technical documentation, and quality improvement. Some programs may demand students to complete a capstone project before graduation.
Some degree programs enable students to complete internships with local businesses. These internships give students hands-on experience working in the field and may provide for networking opportunities that could guide to employment opportunities after graduation.
Students in bachelor's degree programs are sometimes allowed to conduct research independently. Experience studying problems and discovering solutions to them may be a skill that impresses employers during job interviews.
What Is the Value to Your Company?
Have faith in the results from your test equipment and hardware.

Increase customer satisfaction with steady, constant, and quality output.

Reduce costs and brand cost associated with manufacturing errors.

Change processes within the application of quality tools.
What Is the Value to You?
Advanced knowledge, skills, and abilities qualify you for more positions within modern business industries that require demonstrated competency in quality inspection.
Increased Earning Potential: Certified Quality Inspectors with the job title inspector make 1,482 more per year than those without a certification.
Requirements for CQI Certification
Candidates need to have two years of on-the-job experience in one or more of the fields of the ASQ CQI Body of Knowledge or similar experience through the apprenticeship program.
Expectations for CQI Exam
Here are the minimum expectations of a Certified Quality Inspector:
Must know essential statistical terms and techniques, how to plot data, and how to recognize out-of-control conditions.

Must know basic quality terms, definitions, and concepts.

Must possess types of measurement, measurement terminology, and the different types of measurement scales.

Must know the definition of plan-do-check-act and understand the team concept.

Must know how to measure working surface plate layouts and other hand tools such as calipers, and micrometers.

Must know the difference between truth and precision and be able to select the appropriate measuring tools and techniques.

Must be able to read and interpret blueprints and understand definitions of critical, principal, and minor characteristics.

Must be able to identify or recognize inspection errors and initiate resolution.

Must have basic calibration knowledge.

Must know testing methods.

Must have a comprehensive knowledge of ASME Y14.5M, working knowledge of geometric dimensioning and tolerancing, and must understand the x, y, z coordinate system.

Must be able to use inventory planning tools and perform a product audit; learn the sample size for lots; pull random samples.

Must be able to identify and report nonconforming material.

Must get traceability.

Must have a strong knowledge of fundamental mathematical operations and perform measurement conversions; be able to determine for x; add and subtract degrees, minutes, and seconds.
Body of Knowledge of CQI
The topics in this Body of Knowledge add additional detail in the kind of subtext explanations and the cognitive level at which the questions will be written. This message will give valuable guidance for both the Exam Development Committee and the candidate preparing to take the exam.
The subtext is not intended to restrict the subject matter or be all-inclusive of what might be included in an exam. It is meant to explain the type of content to be included in the exam. The descriptor in brackets at the end of each listing refers to the maximum cognitive level at which the topic will be tested. A full description of cognitive levels is provided at the end of this document.
CQI Examination
Each certification candidate is expected to pass an exam that consists of multiple choice questions that measure comprehension of the Body of Knowledge.
Paper and Pencil:
The CQI exam is a one-part, 100-question, four-hour exam and is given in English only.
Computer-Delivered:
The CQI exam is a one-part, 110-question, four-and-a-half-hour exam and is given in English only. One hundred questions are scored, and ten are unscored.
ASQ CQI exam is an open book exam. Each participant must bring his or her reference materials.
Summing Up
Aspiring quality assurance, or QA, inspectors often only require a high school diploma and similar experience to take a position in the field. However, a degree or voluntary certification can help job candidates.