Certified Business Analysis Professional (CBAP) certification is designed to help professionals earn new skills and expertise in excellent documentation, competent planning, and creating business solutions. The CBAP certification exam preparation course aligns with the high standards set by IIBA and will assure continued progress in the field of business analysis. Professionals with CBAP business analyst certification will be qualified to stay connected with quick changes in the IT industry and competence in all phases of business analysis.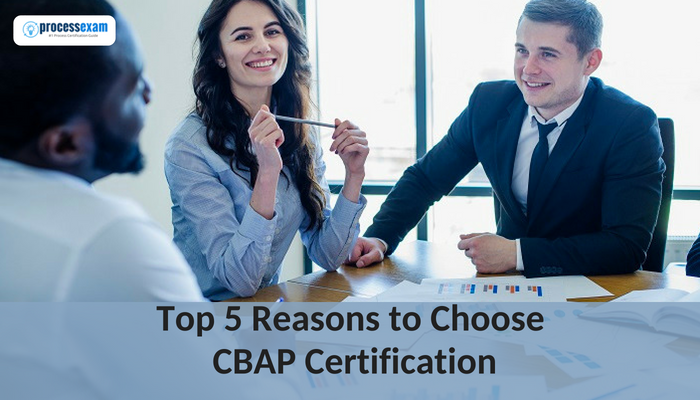 CBAP certification is the most popular business analysis certification globally, and it is aligned with the 2016 release of CBAP by IIBA. It will enable you to acquire the skills to be expert in business analysis, while also allowing you to clear your IIBA–CBAP exam on the first attempt. With this course, you will develop expertise in the six knowledge areas defined in BABOK Guide Version 3: business analysis planning & monitoring, elicitation, requirements management & communication, enterprise analysis, requirements analysis and solution assessment & validation.
Skills you will gain with CBAP Certification:
Explain and identify the most relevant elements of the Business Analysis Body of Knowledge (BABOK).

Document progress and recognize gaps in your business analysis qualifications.

Identify knowledge from the CBAP certification training course needed to pass the examinations and earn your CBAP certification.

Package your business analysis experience and education for the application process.

Apply decisive business analysis knowledge for the examinations.
Who Can Benefit with CBAP Certification:
Business Systems Analyst

Intermediate to Advanced-level Business Analyst

Systems Analyst

Systems Architect or Designer

Project Manager or Team Leader

IT Manager/Director
Why Should You Choose CBAP as a Career?
A Certified Business Analysis Professional is one who has obtained the CBAP certification, awarded by the reputed IIBA (International Institute of Business Analysis) by qualifying in the CBAP certification exam. CBAP certified owners have years of experience in business analysis and are masters in recognizing business requirements of an organization. They propose the best business solutions for companies to get the maximum benefits. Business analysis and Systems analysis are the most basic and best-suited candidates for CBAP certification program.
1. Knowledgebase Development
The complete learning process for the CBAP certification will give you the knowledge that you would have never learned through work experience alone. The integrated courseware extends across many situations and goes in-depth with concepts and solutions, and your current knowledgebase will be broadened across business and industries with an effective academic procedure.
With such a knowledgebase at your end, your career opportunities will expand beyond the extension of past organizations and roles, and you can think beyond the industries that you have worked with so far.
2. A Networking Platform
The CBAP certification process is an excellent platform for networking with industry experts. Group study sessions and interaction with other business analysts will introduce you with a wealth of prospects, ideas and most importantly relationships that will be valuable as you attempt to build your career.
3. Correlating with Other Business Analysts
The certification method tends to provide possibilities to connect with other business analysts. While it is likely to pass the exam by independent study alone, most practical study methods include either a study group or a certification preparation course.
Study groups and prep courses comprise communication with different business analysts about the BABOK Guide. As a result, you get to learn how different business analysts work and obtain a more distinct perspective on the business analysis assignments and techniques.
4. Showcase Industry Standards
Employers the world over are looking for professionals with certifications that designate specific industry standards. Client facing business analyst positions are impelled with certifications like the CBAP as it reflects the organization's commitment to maintaining global standards of process and delivery. It is a proof of efficiency to the stakeholders of the organization. Proven industry standards also go a long way in delivering dependable and higher quality results made desirable by techniques that have been attempted and tested by professionals the world over.
5. Recap Your Career Graph
Certified Business Analysis Professional (CBAP) certification will give you the confidence to build on your business analysis profile. The application method itself offers applicants an opportunity to document and recap their own business analysis experience. This is an exercise that will give your perspective on your journey in the business analysis so far and gives you a flash of how much you have received and the infinite possibilities that lie ahead.
Since Business Analysis is an essential part of any organization in recognizing the needs of the business a professional Business Analyst is a must. Due to which there is a huge requirement of highly skilled and expert analysts. Choosing CBAP as a career can confirm your skills and upgrade your profile to get selected in a reputed company.
All in all the CBAP certification is an empowering certification for any aspiring business analyst. Having this certification will ensure that you are on top of your game while also extending your platform for other industry certifications and qualifications and the rewards that come along with increased experience.