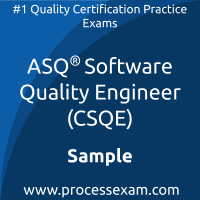 You have to pass the CSQE exam to receive the certification from ASQ. To increase the effectiveness of your study and make you familiar with the actual exam pattern, we have prepared this sample questions. Our Sample ASQ Certified Software Quality Engineer Practice Exam will give you more insight about both the type and the difficulty level of the questions on the ASQ CSQE exam.
However, we are strongly recommending practice with our Premium ASQ Certified Software Quality Engineer (CSQE) Practice Exam to achieve the best score in your actual ASQ CSQE Exam. The premium practice exam questions are more comprehensive, exam oriented, scenario-based and exact match of ASQ Certified Software Quality Engineer exam questions.
ASQ Software Quality Engineer Sample Questions:
01. Which of the following would be the most useful criterion to use when determining which subcontractor to select for a project?
a) The subcontractor's prior experience with similar applications
b) The subcontractor's process capability maturity level
c) The prime contractor's costs for evaluating and managing the subcontractor
d) The prime contractor's process capability maturity level
02. The most successful quality program requires the support of which of the following groups?
a) Software engineering process group
b) Quality assurance department
c) Upper management
d) Configuration management
03. Records of the results of inspections should include which of the following?
a) Identification of inspectors, list of defects, and date performed
b) Work product, list of defects, and configuration status
c) Identification of inspectors, their qualifications, and their training records
d) Date performed, management approval, and resources used
04. What is the standard deviation of the population below?
a) 4.47
b) 4.00
c) 16.00
d) 20.00
05. In which phase of a project's development life cycle does the lack of requirements control prove most costly?
a) Requirements
b) Design
c) Test
d) Maintenance
06. Which of the following is a primary objective of risk exposure analysis?
a) Collecting information that can be used for future risk analysis
b) Defining risk aversion steps
c) Estimating the impact of the risk on the project and the product
d) Assessing whether the identified risks should be accepted or mitigated
07. According to ISO 9001, quality records must be maintained in order to
a) demonstrate achievement of the required quality and the effective operation of the quality system
b) demonstrate progress in accordance with the associated quality plan
c) justify the current funding and staffing of the quality organization
d) demonstrate that the design and coding activities have alleviated the need for unit testing
08.
To reduce issues when collaborating with different cultures, a manager can turn to what organization for methodologies to help coordinate multinational activities?
a) FDA
b) IEEE
c) ISO
d) ACLU
09. Which of the following approaches would reduce the length of a total project schedule?
a) An overlap of activities that are on the critical path
b) An overlap of activities that are not on the critical path
c) A decrease in the duration of activities that are not on the critical path
d) A decrease in the duration of activities that are on the critical path
10. A configuration item list, a specification tree, and an equipment planning diagram are inputs to configuration
a) control
b) identification
c) baselining
d) accounting
Answers:
Question: 01




Answer: a

Question: 02




Answer: c

Question: 03




Answer: a

Question: 04




Answer: b

Question: 05




Answer: d

Question: 06




Answer: c

Question: 07




Answer: a

Question: 08




Answer: c

Question: 09




Answer: d

Question: 10




Answer: b
If you find any errors or typos in ASQ Certified Software Quality Engineer (CSQE) sample question-answers, please report them to us on feedback@processexam.com