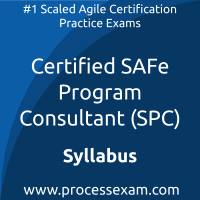 To achieve the professional designation of SAFe Program Consultant from the SAFe, candidates must clear the SPC Exam with the minimum cut-off score. For those who wish to pass the SAFe Program Consultant certification exam with good percentage, please take a look at the following reference document detailing what should be included in SAFe Program Consultant Exam preparation.
The SAFe SPC Exam Summary, Body of Knowledge (BOK), Sample Question Bank and Practice Exam provide the basis for the real Certified SAFe Program Consultant (SPC) exam. We have designed these resources to help you get ready to take SAFe Program Consultant (SPC) exam. If you have made the decision to become a certified professional, we suggest you take authorized training and prepare with our online premium SAFe Program Consultant Practice Exam to achieve the best result.
SAFe SPC Exam Summary:
SAFe Program Consultant Syllabus Topics:
Topic

Details

Weights

Thriving in the digital age with business agility

- Recognize the Problem to be Solved
- Describe SAFe as an Operating system for Business Agility
- Explain the Seven Core Competencies for Achieving Business Agility

7%

Becoming a Lean-Agile leader

- Embrace the Lean-Agile Mindset
- Apply Lean and Agile at Scale with the SAFe Principles

15%

Establishing team and technical agility

- Form cross-functional Agile teams
- Build Quality in
- Organize Agile Release Trains around the flow of value

3%

Building solutions with Agile product delivery

- Focus on Customer Centricity with Design Thinking
- Prioritize the Program Backlog
- Experience PI Planning
- Develop on Cadence; Release on Demand
- Build a Continuous Delivery Pipeline with DevOps

13%

Exploring Lean Portfolio Management

- Define a SAFe Portfolio
- Connect the Portfolio to Enterprise Strategy
- Maintain the Portfolio Vision
- Establish Portfolio Flow
- Fund Value Streams

2%

Leading the change

- Lead by Example
- Lead the Change

3%

Reaching the SAFe tipping point

- Establish the Vision for Change
- Build a Powerful Guiding Coalition

8%

Designing the implementation

- Identify Value Streams and Agile Release Trains
- Create the Implementation Plan

12%

Launching the ART

- Prepare the ART Launch
- Train Teams and Launch the ART

10%

Coaching ART execution

- Coach the Train and the Teams
- Continuously Improve Program Performance with Inspect and Adapt

13%

Extending to the portfolio

- Launch More Agile Release Trains and Value Streams
- Extend to the Portfolio
- Establish Agile Portfolio Operations
- Establish Lean Governance

5%

Accelerating to business agility

- Establish Organizational Agility
- Build a Continuous Learning Culture
- Accelerate to Business Agility

8%
Both SAFe and veterans who've earned multiple certifications maintain that the best preparation for a SAFe SPC professional certification exam is practical experience, hands-on training and practice exam. This is the most effective way to gain in-depth understanding of SAFe Program Consultant concepts. When you understand techniques, it helps you retain SAFe Program Consultant knowledge and recall that when needed.