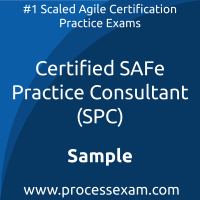 You have to pass the SPC exam to receive the certification from SAFe. To increase the effectiveness of your study and make you familiar with the actual exam pattern, we have prepared this SAFe Practice Consultant sample questions. Our Sample SAFe Practice Consultant Practice Exam will give you more insight about both the type and the difficulty level of the questions on the SAFe Practice Consultant exam.
However, we are strongly recommending practice with our Premium Certified SAFe Practice Consultant (SPC) Practice Exam to achieve the best score in your actual SAFe SPC Exam. The premium practice exam questions are more comprehensive, exam oriented, scenario-based and exact match of SAFe Practice Consultant exam questions.
SAFe Practice Consultant Sample Questions:
01. Who can the Release Train Engineer work with to help eliminate policies and procedures that demotivate employees?
a) Business Owners
b) Lean-Agile Leaders
c) Product Management
d) Portfolio Managers
02. The goal of Lean is to deliver the maximum customer value in the shortest sustainable lead time while providing what else?
a) The highest possible quality
b) Significant team contributions
c) Improved capacity allocation
d) A Continuous Delivery Pipeline
03. Which two disciplines are necessary for a learning organization?
a) Lean Budgets
b) Design Thinking
c) Personal mastery
d) Continuous Exploration
e) Mental models
04. How can a Release Train Engineer help unlock intrinsic motivation?
a) Practice healthy conflict resolution between teams and team members
b) Establish good incentives for aligning with the enterprise's goals
c) Emphasize participation from senior leadership to expedite decisions
d) Give tough feedback supportively and be willing to be more vulnerable
05. When during PI Planning is the ROAM technique used to categorize program risks?
a) After the final plan review
b) During the final plan review
c) During the draft plan review
d) During the management review and problem-solving meeting
06. According to John Kotter, what is the importance of creating a powerful guiding coalition?
a) It can help guide the transformation
b) It enables better exploration of customer needs
c) It can build connections between Business and IT
d) It creates a cross-functional team
07. Why would a Release Train Engineer use an Iteration and Program Increment Calendar?
a) To visualize the Agile Release Train's cadence and synchronization
b) To know the cycle time between important team and train events
c) To create a BVIR of the important team and ART milestones
d) To ensure that key ceremonies don't conflict with non-SAFe ceremonies
08. What is one issue when organizing around hierarchical functions?
a) It creates a dual operating system
b) It is not how value flows
c) It moves the decision to where the information is
d) It creates leaders at all levels
09. In a learning organization, who is focusing on continual learning?
a) Everyone in the organization
b) Lean-Agile leaders
c) SAFe Program Consultants
d) Enterprise LACE
10. Which tool can the Release Train Engineer use to visualize the flow of value?
a) Velocity trend charts
b) Weighted shorted job first
c) Team burn-down charts
d) Kanban systems
Answers:
Question: 01




Answer: b

Question: 02




Answer: a

Question: 03




Answer: c, e

Question: 04




Answer: d

Question: 05




Answer: a

Question: 06




Answer: c

Question: 07




Answer: a

Question: 08




Answer: b

Question: 09




Answer: a

Question: 10




Answer: d
If you find any errors or typos in Certified SAFe Practice Consultant (SPC) sample question-answers or online SAFe Practice Consultant practice exam, please report them to us on feedback@processexam.com