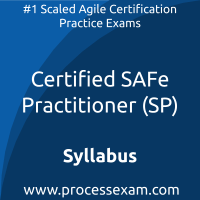 To achieve the professional designation of SAFe Practitioner from the SAFe, candidates must clear the SP Exam with the minimum cut-off score. For those who wish to pass the SAFe Practitioner certification exam with good percentage, please take a look at the following reference document detailing what should be included in SAFe for Teams Exam preparation.
The SAFe SP Exam Summary, Body of Knowledge (BOK), Sample Question Bank and Practice Exam provide the basis for the real Certified SAFe Practitioner (SP) exam. We have designed these resources to help you get ready to take SAFe Practitioner (SP) exam. If you have made the decision to become a certified professional, we suggest you take authorized training and prepare with our online premium SAFe Practitioner Practice Exam to achieve the best result.
SAFe SP Exam Summary:
SAFe Practitioner Syllabus Topics:
Topic

Details

Weights

Introducing SAFe

- Connect with SAFe and the SAFe Configurations
- Explore Lean, the Agile Manifesto, and SAFe Principles
- Identify Scrum, Kanban and Extreme Programming (XP) Practices

20%

Building an Agile team

- Build Your Team
- Explore the Scrum Master and Product Owner roles
- Meet the Teams and People on the Agile Release Train

18%

Planning the Iteration

- Prepare the Backlog
- Plan the Iteration: Purpose, Process, Result, Commitment

18%

Executing the Iteration

- Visualize the Flow of Work
- Measure the Flow of Work
- Build Quality In
- Continuously Integrate, Deploy, and Release
- Control Flow with Meetings
- Demo Value
- Retrospect and Improve

24%

Executing the PI

- Plan Together
- Integrate and Demonstrate Together
- Learn Together

20%
Both SAFe and veterans who've earned multiple certifications maintain that the best preparation for a SAFe SP professional certification exam is practical experience, hands-on training and practice exam. This is the most effective way to gain in-depth understanding of SAFe for Teams concepts. When you understand techniques, it helps you retain SAFe Practitioner knowledge and recall that when needed.