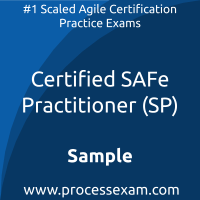 You have to pass the SP exam to receive the certification from SAFe. To increase the effectiveness of your study and make you familiar with the actual exam pattern, we have prepared this SAFe Practitioner sample questions. Our Sample SAFe Practitioner Practice Exam will give you more insight about both the type and the difficulty level of the questions on the SAFe for Teams exam.
However, we are strongly recommending practice with our Premium Certified SAFe Practitioner (SP) Practice Exam to achieve the best score in your actual SAFe SP Exam. The premium practice exam questions are more comprehensive, exam oriented, scenario-based and exact match of SAFe Practitioner exam questions.
SAFe Practitioner Sample Questions:
01. What is meant by Realistic in the SMART model used for PI Objectives?
a) factors are out of control
b)
all factors are under full control
c) factors that cannot be controlled are recognized
02. Which of the following is not one of the four activities of continuous deployment?
a) test
b) respond
c) deploy
d) Verify
03. How many are the SAFe Lean-Agile principles?
a) five
b) Four
c) twelve
d) ten
04. Who removes impediments and protects the team from outside influence?
a) Project Manager
b) Business Owner
c) Product Owner
d) Scrum Master
05. A research story, considered an exploration style Enabler is called
a) spike
b) slice
c) smell
d) stretch task
06. Which of the following are acceptable measures expressed by the M in the SMART model for PI Objectives?
a) a range
b) quantitative measures
c) descriptive measures
d) All of the above
07. What does the business value assigned to PI objective communicate?
a) the customer satisfaction of achieving the objective
b) the potential business impact of achieving the objective
c) the monetary gain of achieving the objective
d) the cost of achieving the objective
08. In which backlog are features identified, prioritized, estimated and Maintained?
a) Solution backlog
b) Program backlog
c) Portfolio backlog
d) Team backlog
09. Which artifact shows the progress being made toward the Target work done?
a) Burnup chart
b) Cumulative Flow Diagram
c) WIP Limits
d) Lead time diagram
10. What is at the base of the House of Lean?
a) Innovation
b) Value
c) Leadership
d) Relentless Improvement
Answers:
Question: 01




Answer: b

Question: 02




Answer: a

Question: 03




Answer: d

Question: 04




Answer: d

Question: 05




Answer: a

Question: 06




Answer: d

Question: 07




Answer: b

Question: 08




Answer: b

Question: 09




Answer: a

Question: 10




Answer: c
If you find any errors or typos in Certified SAFe Practitioner (SP) sample question-answers or online SAFe for Teams practice exam, please report them to us on feedback@processexam.com