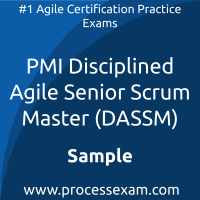 You have to pass the DASSM exam to receive the certification from PMI. To increase the effectiveness of your study and make you familiar with the actual exam pattern, we have prepared this PMI Disciplined Agile Senior Scrum Master sample questions. Our Sample PMI Disciplined Agile Senior Scrum Master (DASSM) Practice Exam will give you more insight about both the type and the difficulty level of the questions on the PMI DA exam.
However, we are strongly recommending practice with our Premium PMI Disciplined Agile Senior Scrum Master (DASSM) Practice Exam to achieve the best score in your actual PMI DASSM Exam. The premium practice exam questions are more comprehensive, exam oriented, scenario-based and exact match of PMI Disciplined Agile Senior Scrum Master (DASSM) exam questions.
PMI Disciplined Agile Senior Scrum Master Sample Questions:
01. What is not correct about Emotional Quotient and/or Intelligence Quotient?
a)
IQ needs not to improve as you become more experienced.
b)
EQ develops in early adult age and throughout life through learning and practice.
c) EQ will improve with time.
d) IQ peaks in early adult age.
02. Senior management has decided to outsource the business analysis work. What should be the most important thing to consider?
a) Ask the team to leverage and Enhance Existing Infrastructure.
b) Govern the team more closely.
c) Identify Architecture strategy.
d) Prove Architecture early.
03. How do you measure sufficient functionality?
a) MVI
b) MMF
c) MSF
d) MBI
04. In disciplined agile, coordination meetings can be conducted:
a) Just in time manner.
b) On regular cadence.
c) Both ways.
d) None of these
05. On an enterprise level, we can optimise the generation of the value, when we focus on the following except:
a)
Prefer project teams over product teams.
b) Enable diversity among the team and allow them to organize according to their context.
c)
Invest in process or environment improvements.
d) Align teams to value streams.
06. The DA team is demonstrating the evidence of Proven Architecture because:
a) It is work assigned by the team leader.
b) Proven Architecture is a light risk-based milestone.
c) Proven Architecture is prioritised by the product owner.
d) It is a part of team performance measurement.
07. Which team has significant overhead in team gelling?
a) Program team
b) Long standing team
c) Portfolio team
d) Project Team
08. DAD milestones are light weight, which means?
a) DAD Milestones are merely placeholders for discussions regarding the status and health of the initiative
b) DAD Milestones are having codes which are very light in their weight
c) DAD Milestones are easy and never decay
d) DAD Milestones are points where the formal bureaucratic review of the artifacts take place
09. The status meeting is one way of team coordination. This is an example of:
a) Agile planning strategy.
b) Look back at coordination strategy.
c) Look ahead coordination strategy.
d) Just in time coordination strategy.
10. When you can start using the DA tool kit?
a) Start at where you are currently
b) If you are any enterprise and do not know about Agile
c) When you have basic knowledge in Agile
d) All of these
Answers:
Question: 01




Answer: a

Question: 02




Answer: b

Question: 03




Answer: d

Question: 04




Answer: c

Question: 05




Answer: a

Question: 06




Answer: b

Question: 07




Answer: d

Question: 08




Answer: a

Question: 09




Answer: b

Question: 10




Answer: d
If you find any errors or typos in PMI Disciplined Agile Senior Scrum Master (DASSM) sample question-answers or online PMI DA practice exam, please report them to us on feedback@processexam.com