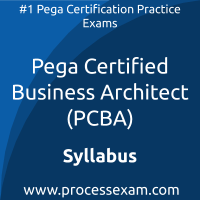 To achieve the professional designation of Pega Certified Business Architect from the Pega, candidates must clear the PCBA Exam with the minimum cut-off score. For those who wish to pass the Pega Business Architect certification exam with good percentage, please take a look at the following reference document detailing what should be included in Pega PEGAPCBA87V1 Exam preparation.
The Pega PCBA Exam Summary, Body of Knowledge (BOK), Sample Question Bank and Practice Exam provide the basis for the real Pega Certified Business Architect (PCBA) exam. We have designed these resources to help you get ready to take Pega Certified Business Architect (PCBA) exam. If you have made the decision to become a certified professional, we suggest you take authorized training and prepare with our online premium Pega Business Architect Practice Exam to achieve the best result.
Pega PCBA Exam Summary:
Pega Business Architect Syllabus Topics:
Topic

Details

Weights

Pega Express

- Describe the four phases of a Pega Express Delivery and terminology
- Articulate the benefits and best practices of Pega Express delivery
- Fill the backlog with stories that are ready to be built
- Describe the process and benefits of Directly Capture Objectives (DCO)
- Document decisions and actions to confirm the technical architecture

12%

Case Management

- Design a case lifecycle: stages, case statuses, add instructions to assignments
- Add a service level agreement: urgency, goals, deadlines
- Route assignments to users, work queues
- Design an approval process
- Configure and send email correspondence
- Identify duplicate cases
- Add optional actions to a workflow
- Understand when to use automation shapes
- Skip a stage or process
- Create a child case
- Automate workflow decisions using conditions
- Pause and resume case processing: wait steps
- Calculating fields using decision tables

38%

Data and Integration

- Create data objects, data relationships, and field types
- Identify and create calculated values
- Identify the role of data records in applications
- Validate data; create and configure data validation rules using business logic
- Capture and present data: fields and views

15%

Security

- Manage user and role assignments

2%

User Experience

- Customize user interface elements: dashboards, portal content
- Configure action sets

9%

Application Development

- Manage application development: user stories, feedback, bugs
- Use the Estimator to scope a Pega Platform project

9%

Reporting

- Create business reports
- Identify types of reports
- Use columns and filters
- Describe the benefits of using Insights

9%

Mobility

- Configure mobile app channels
- Use of Pega Mobile Preview

6%
Both Pega and veterans who've earned multiple certifications maintain that the best preparation for a Pega PCBA professional certification exam is practical experience, hands-on training and practice exam. This is the most effective way to gain in-depth understanding of Pega PEGAPCBA87V1 concepts. When you understand techniques, it helps you retain Pega Business Architect knowledge and recall that when needed.