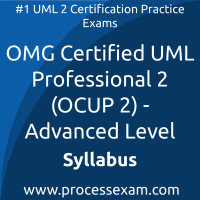 To achieve the professional designation of OMG Certified UML Professional 2 - Advanced from the OMG, candidates must clear the OMG-OCUP2-ADV300 Exam with the minimum cut-off score. For those who wish to pass the OMG OCUP 2 Advanced certification exam with good percentage, please take a look at the following reference document detailing what should be included in OMG OCUP 2 Advanced Exam preparation.
The OMG-OCUP2-ADV300 Exam Summary, Body of Knowledge (BOK), Sample Question Bank and Practice Exam provide the basis for the real OMG Certified UML Professional 2 (OCUP 2) - Advanced Level exam. We have designed these resources to help you get ready to take OMG Certified UML Professional 2 - Advanced (OMG-OCUP2-ADV300) exam. If you have made the decision to become a certified professional, we suggest you take authorized training and prepare with our online premium OMG OCUP 2 Advanced Practice Exam to achieve the best result.
OMG-OCUP2-ADV300 Exam Summary:
OMG OCUP 2 Advanced Syllabus Topics:
Topic

Details

Weights

Common Structure

- Information Flows
- Name Expression
- Profiles
- Realization
- Templates

21%

Classification

- Classifiers
- Classifier Templates
- Features
- Generalization Sets
- Operations
- Properties

14%

The MOF and Metamodeling

- Architectural alignment
- Metamodels
- Models
- Models and what they model
- Semantics of languages
- The MOF

12%

Activities

- Activities
- Activity Groups
- Control Nodes
- Exception
- Executable Nodes
- Object Nodes

9%

Interactions

- Fragments
- Interaction Overview
- Interactions
- Interaction Uses
- Lifelines
- Messages
- Occurrences

9%

Structured Classifiers

- Associations
- Collaborations
- Components

8%

Actions

- Accept Event Actions
- Invocation Actions
- Structured Actions
- Raised Exception Actions
- Object Actions
- Value Specification Actions

7%

Alf

- Integration with UML Models
- Lexical Structure
- Scope
- Semantic Conformance

6%

fUML

- Behavioral Semantics
- Overviews of Abstract Syntax and Execution Model
- Scope
- Terms and Definitions

6%

State Machines

- Behavior State Machines
- Protocol State Machines
- State Machine Redefinition

5%

Common Behavior

- Behaviors-Reentrant
- Events-Event Pool
- Function Behavior

3%
Both OMG and veterans who've earned multiple certifications maintain that the best preparation for a OMG-OCUP2-ADV300 professional certification exam is practical experience, hands-on training and practice exam. This is the most effective way to gain in-depth understanding of OMG OCUP 2 Advanced concepts. When you understand techniques, it helps you retain OMG OCUP 2 Advanced knowledge and recall that when needed.