Presenting quality is a powerful differentiator in a marketplace where high-quality software is now the exception rather than the rule. As an ASQ Certified Software Quality Engineer (CSQE) you will stand out as a professional who has proficient in comprehensive understanding of software quality development and implementation; have a thorough knowledge of software inspection, verification, testing, and validation; and be able to implement software development and maintenance processes and techniques that add value for end users of products.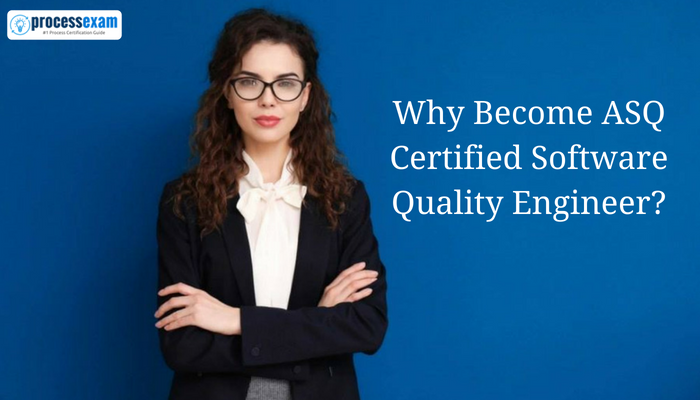 What Are the Core Competencies of a Certified Software Quality Engineer (CSQE)?
Enhanced significant understanding of quality philosophies, principles, tools, methods, standards, organizational and team dynamics, professional ethics, interpersonal relationships, and legal and regulatory provisions.

Thorough understanding of systems architecture and how to implement software development and maintenance processes to decrease the risks connected with several software development methodologies.

Define, select, and apply product and process metrics and analytical techniques, and have a sound understanding of measurement theory and how to deliver results.

In-depth understanding of verification and validation processes, including early software defect detection and removal, inspection, and testing methods.

For ASQ CSQE the advanced knowledge of configuration management processes, including planning, configuration identification, configuration control and change management, status accounting, auditing, and reporting.
What Is the Value to the Company?
CSQEs who increase software quality drive real business benefits. Spending in this area for better tools, better training, or better processes can yield meaningful returns. Some of these returns are financial—your organization can dodge losses due to quality problems. Others are harder to quantify but no less valuable, such as avoiding the brand damage created by quality problems.

Possess advanced skills that allow them to prevent low-quality software performance while troubleshooting problems and estimating potential solutions within development teams.

Assure that new products work before they are passed on to the customer and that the software adheres to the standards introduced by the development company.
How is the Worth to You?
Enhanced skill set qualifies you for more jobs positions within business environments where you can improve your creative and technical expertise to give innovative ideas.

CSQEs with three to five years of experience make an average salary of $105k per year; compared to those without who make approximately $88k.

The global engineering software market is anticipated to reach $50 billion by 2022.

Growing demand for automation across different end-use sectors such as automotive, utility and energy and telecom and IT, media and entertainment, and geology and science is promoting the adoption of engineering software worldwide.

The U.S. Bureau of Labor Statistics projects a 19% employment growth for software developers between 2014 and 2024, which is greatly faster than average for all occupations. In that period, an estimated 135,300 jobs will open up.
Requirements and Qualifications for CSQE Certification Exam
Candidates must have eight years of on-the-job experience in one or more of the areas of the CSQE Body of Knowledge. A minimum of three years of this experience must be in a decision-making position.
Education Requirement
Candidates who have completed a degree from a college, university, or technical school can waive some part of the eight-year experience requirement as follows:
Candidate with Diploma from a technical or trade school— one year waived

Candidate with the associate degree—two years waived

Candidate with bachelor degree—four years waived

Candidate with master or doctorate—five years waived
Recertification
To maintain CSQE certification, ASQ requires that you recertify every three years.
Common Job Functions for CSQEs
Auditor

Inspector Computer Systems Analyst Consultant Director Program Manager,

Quality Analyst,

Quality Manager,

Software Development Engineer,

Software Quality Engineer,

Software Test Engineer.
Common Industries with Software Quality Engineer
Energy

Financial

Government

Healthcare

Manufacturing

Medical Devices/Pharmaceutical

Military

Pharmaceutical

Telecommunications

Transportation