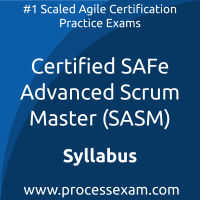 To achieve the professional designation of SAFe Advanced Scrum Master from the SAFe, candidates must clear the SASM Exam with the minimum cut-off score. For those who wish to pass the SAFe Advanced Scrum Master certification exam with good percentage, please take a look at the following reference document detailing what should be included in SAFe Advanced Scrum Master Exam preparation.
The SAFe SASM Exam Summary, Body of Knowledge (BOK), Sample Question Bank and Practice Exam provide the basis for the real Certified SAFe Advanced Scrum Master (SASM) exam. We have designed these resources to help you get ready to take SAFe Advanced Scrum Master (SASM) exam. If you have made the decision to become a certified professional, we suggest you take authorized training and prepare with our online premium SAFe Advanced Scrum Master Practice Exam to achieve the best result.
SAFe SASM Exam Summary:
SAFe Advanced Scrum Master Syllabus Topics:
Topic

Details

Weights

Exploring the Scrum Master role

- Explore Scrum Master challenges in the Enterprise
- Explain the purpose and basic constructs of SAFe
- Establish Scrum Master connections in SAFe

15%

Applying SAFe Principles

- #1 - Take an economic view
- #2 - Apply systems thinking
- #3 - Assume variability; preserve options
- #4 - Build incrementally with fast, integrated learning cycles
- #5 - Base milestones on objective evaluation of working systems
- #6 - Visualize and limit WIP, reduce batch sizes, and manage queue lengths
- #7 - Apply cadence, synchronize with cross-domain planning
- #8 - Unlock the intrinsic motivation of knowledge workers
- #9 - Decentralize decision-making

15%

Exploring Agile and Scrum anti-patterns

- Explore anti-patterns associated with the Product Owner role
- Explain how Stories and tasks may lead to anti-patterns
- Identify context-specific anti-patterns in your environment

13%

Facilitating program execution

- Synchronize development with the Agile Release Train
- Organize teams on the Train
- Plan the Program Increment
- Execute the Program Increment
- Release value on demand
- Prepare for the next PI Planning session

15%

Improving flow with Kanban and XP

- Build your Kanban board
- Measure and optimize flow
- Build quality in
- Foster engineering craftsmanship
- Facilitate collaboration with Architects, System Team, and Operations

13%

Building high-performing teams

- Foster collaboration on the team
- Facilitate cross-team collaboration
- Build trust with stakeholders
- Develop team skill set
- Create an Improvement Backlog

17%

Improving program performance

- Explore the Inspect and Adapt process
- Apply problem-solving workshop

12%
Both SAFe and veterans who've earned multiple certifications maintain that the best preparation for a SAFe SASM professional certification exam is practical experience, hands-on training and practice exam. This is the most effective way to gain in-depth understanding of SAFe Advanced Scrum Master concepts. When you understand techniques, it helps you retain SAFe Advanced Scrum Master knowledge and recall that when needed.