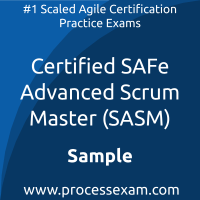 You have to pass the SASM exam to receive the certification from SAFe. To increase the effectiveness of your study and make you familiar with the actual exam pattern, we have prepared this SAFe Advanced Scrum Master sample questions. Our Sample SAFe Advanced Scrum Master Practice Exam will give you more insight about both the type and the difficulty level of the questions on the SAFe Advanced Scrum Master exam.
However, we are strongly recommending practice with our Premium Certified SAFe Advanced Scrum Master (SASM) Practice Exam to achieve the best score in your actual SAFe SASM Exam. The premium practice exam questions are more comprehensive, exam oriented, scenario-based and exact match of SAFe Advanced Scrum Master exam questions.
SAFe Advanced Scrum Master Sample Questions:
01. What is an example of Scrum Master servant leader behavior?
a) Focuses on the day-to-day team activities
b) Keeps their opinions to themselves
c) Strives to create a conflict-free environment
d) Uses persuasion instead of authority
02. In complex systems development, what do local integration points ensure?
a) That a common understanding of the system design is distributed to the entire team
b) That an application passes all quality assurance (QA) tests before being released to production
c) That each Capability of the system is meeting its responsibilities in contributing to the overall Solution Intent
d) That all team members have access to the current product status
03. Which pillar of the SAFe House of Lean supports building long-term partnerships based on trust?
a) Flow
b) Respect for People and Culture
c) Lean-Agile Leadership
d) Innovation
04. How are the program risks, that have been identified during Pl Planning, categorized?
a) Resolved, Owned, Acknowledged, Managed
b) Removed, Owned, Accepted, Managed
c) Resolved, Owned, Accepted, Mitigated
d) Removed, Owned, Acknowledged, Mitigated
05. When is collaboration with System Architects and the Systems Team likely to have the greatest impact on Solution development?
a) At the Inspect and Adapt event
b) During the daily stand-up
c) At the System Demo
d) During Pl Planning
06. What should be the first step a team should take to feed potential problems into the Problem Solving workshop?
a)
Identify enablers needed to build out the Architectural Runway
b) Analyze quantitative & qualitative metrics
c)
Conduct a short team retrospective
d) Review feedback from the System Demo
07. Achieving the goals of Release on Demand requires an understanding of how to decouple what?
a) The release from deployment
b) The release from System Demos
c) The release from lteration Demos
d) The release from Program Increments
08. Who is responsible for assisting to establish Continuous Integration in SAFe?
a) Agile Teams
b) The System Architect/Engineer
c) Shared Services
d) The System Team
09. How does a Scrum Master lead a team's efforts in relentless improvement?
a)
By facilitating the Iteration Retrospective
b) By focusing on the Iteration goals
c)
By eliminating impediments
d) By facilitating a team meeting
10. What action should be taken on relentless improvement backlog items from the problem-solving workshop?
a) Assign the items to the team best suited to solve them
b) Assign points or prioritization levels for each item
c) Use the items as direct input into the Pl Planning event that follows
d) Calculate item cost before continuing
Answers:
Question: 01




Answer: d

Question: 02




Answer: c

Question: 03




Answer: b

Question: 04




Answer: c

Question: 05




Answer: d

Question: 06




Answer: c

Question: 07




Answer: a

Question: 08




Answer: d

Question: 09




Answer: a

Question: 10




Answer: c
If you find any errors or typos in Certified SAFe Advanced Scrum Master (SASM) sample question-answers or online SAFe Advanced Scrum Master practice exam, please report them to us on feedback@processexam.com