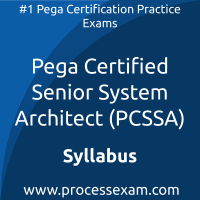 To achieve the professional designation of Pega Certified Senior System Architect from the Pega, candidates must clear the PCSSA Exam with the minimum cut-off score. For those who wish to pass the Pega Senior System Architect certification exam with good percentage, please take a look at the following reference document detailing what should be included in Pega PEGAPCSSA85V1 Exam preparation.
The Pega PCSSA Exam Summary, Body of Knowledge (BOK), Sample Question Bank and Practice Exam provide the basis for the real Pega Certified Senior System Architect (PCSSA) exam. We have designed these resources to help you get ready to take Pega Certified Senior System Architect (PCSSA) exam. If you have made the decision to become a certified professional, we suggest you take authorized training and prepare with our online premium Pega Senior System Architect Practice Exam to achieve the best result.
Pega PCSSA Exam Summary:
Pega Senior System Architect Syllabus Topics:
Topic

Details

Weights

Application Development

- Enterprise Class Structure: Implementation and framework layers
- Understand the rule resolution process; Adjust rule availability
- Identify how circumstancing affects application behavior
- Circumstance rules on a single variable or multiple variables
- Differentiate between a queue processor and a job scheduler
- Identify the role and elements of activities in case processing
- Promote rule reuse with relevant records
- Review Log Files: Distinguish system events and performance events

17%

Case Management

- Differentiate between work groups and organizational structures
- Configure parallel processing for cases
- Manage concurrent case access; Locking strategies
- Configure flow action pre- and post- processing
- Extend service-level agreement configurations

17%

Data and Integration

- Configure Field Values
- Validate data against a pattern
- Identify use cases for Keyed Data Pages
- Exchange data with other applications
- Manage integration settings
- Address integration errors in connectors

17%

User Interface

- Create and customize Pega Web Mashups
- Configure Pega Web Mashup authentication

7%

Reporting

- Design reports with multiple sources; associations and joins

6%

Performance

- Measure System Performance; use of performance-related tools
- Debug system performance

10%

Security

- Distinguish between role-based and attribute-based access controls
- Identify the role of access control policies in securing an application
- Organize and manage case attachments

11%

Deployments

- Identify the role and impacts of application versioning; Use of ruleset skimming
- Configure and validate application rulesets
- Branch rulesets for parallel development
- Migrate an application; Use of product rules

10%

Mobility

- Differentiate between the delivery options for mobile devices
- Design applications for mobile use; use of certificate sets

5%
Both Pega and veterans who've earned multiple certifications maintain that the best preparation for a Pega PCSSA professional certification exam is practical experience, hands-on training and practice exam. This is the most effective way to gain in-depth understanding of Pega PEGAPCSSA85V1 concepts. When you understand techniques, it helps you retain Pega Senior System Architect knowledge and recall that when needed.