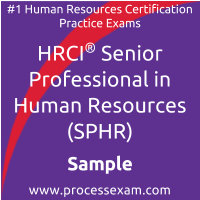 You have to pass the SPHR exam to receive the certification from HRCI. To increase the effectiveness of your study and make you familiar with the actual exam pattern, we have prepared this HRCI HR Senior Professional sample questions. Our Sample HRCI Senior Professional in Human Resources Practice Exam will give you more insight about both the type and the difficulty level of the questions on the HRCI HR Senior Professional exam.
However, we are strongly recommending practice with our Premium HRCI Senior Professional in Human Resources (SPHR) Practice Exam to achieve the best score in your actual HRCI SPHR Exam. The premium practice exam questions are more comprehensive, exam oriented, scenario-based and exact match of HRCI Senior Professional in Human Resources exam questions.
HRCI HR Senior Professional Sample Questions:
01. According to situational theorists, which of the following leadership style is the most effective in managing unskilled, entry-level workers?
a) Selling
b) Telling
c) Participating
d) Delegating
02. In which stage of project management are the plan deliverables and timelines most likely to be established?
a) Implementation
b) Evaluation
c) Initiation
d) Planning
03. Analyzing the future hiring needs for an annual strategic plan is the best example of which of the following?
a) The Delphi technique
b) The nominal technique
c) Forecasting
d) Cost–benefit analysis
04. Which of the following processes is the LEAST likely to be used in a non-union environment?
a) Compulsory arbitration
b) Mediation
c) Open door policy
d) Peer review
05. In what succession plan approach are three or more potential candidates identified, all with various levels of readiness for promotion?
a) Co-sourcing
b) Labor market
c) Replacement plans
d) Talent pool
06. The cost of living in the Silicon Valley of California has made it difficult for educational institutions to recruit teachers. This is because teachers cannot typically afford the housing costs in the areas where the schools are located. This is the best example of which of element of a SWOT audit?
b) Weakness
c) Opportunity
07. The large auto parts manufacturer for which you work has recently purchased land in an adjacent city and plans to build an additional warehouse. This is the best example of which of the following?
a) A brownfield operation
b) A greenfield operation
c) A workforce plan
d) An acquisition
08. What is the purpose of the Generally Accepted Accounting Principles (GAAP)?
a) To create the body of knowledge for accounting professionals
b) To guide the competencies required of certified public accountants
c) To establish consequences for accounting professionals who behave in an unlawful manner
d) To create checks and balances within accounting departments
09. Which of the following describes an employee involvement strategy which requires organizational commitment at all levels of the organization, especially management, for it to be effective?
a)
Employee suggestion systems
b) Alternate work schedules
c)
Participative management
d) Teams
10. What is the primary way a human capital management plan may be effective?
a) If it aligns with the company's strategic plans
b) If it properly forecasts the talent necessary to achieve company goals
c) If it creates a competitive advantage for organizations
d) All of the above
Answers:
Question: 01




Answer: b

Question: 02




Answer: d

Question: 03




Answer: c

Question: 04




Answer: a

Question: 05




Answer: d

Question: 06




Answer: a

Question: 07




Answer: b

Question: 08




Answer: d

Question: 09




Answer: c

Question: 10




Answer: d
If you find any errors or typos in HRCI Senior Professional in Human Resources (SPHR) sample question-answers or online HRCI HR Senior Professional practice exam, please report them to us on feedback@processexam.com