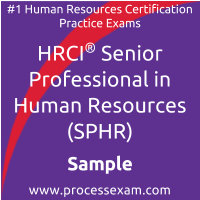 You have to pass the SPHR exam to receive the certification from HRCI. To increase the effectiveness of your study and make you familiar with the actual exam pattern, we have prepared this sample questions. Our Sample HRCI Senior Professional in Human Resources Practice Exam will give you more insight about both the type and the difficulty level of the questions on the HRCI SPHR exam.
However, we are strongly recommending practice with our Premium HRCI Senior Professional in Human Resources (SPHR) Practice Exam to achieve the best score in your actual HRCI SPHR Exam. The premium practice exam questions are more comprehensive, exam oriented, scenario-based and exact match of HRCI Senior Professional in Human Resources exam questions.
HRCI HR Senior Professional Sample Questions:
01. Which of the following is not an HR data indicator?
a) Turnover rates
b) Retention rates
c) Production rates
d) Cost per hire
02. What action should the HR manager take if the findings from the benefits needs assessment showed "benefits that are too costly but are heavily used by employees"?
a) Institute cost-containment strategies
b) Revise benefits that are not meeting needs
c) Research new benefits
d) Drop underutilized benefits
03. Maintaining eye contact is an example of which facilitation technique?
a) Reflection
b) Active listening
c) Pausing
d) Closure
04. Which of the following publishes standards for developing service delivery plans?
a) United Nations Standards Publishing Organization (UNSPO)
b) Universal Business Standards Development Organization (UBSDO)
c) National Occupational Standards (NOS)
d) American National Standards Institute (ANSI)
05. A document released by the Department of Labor's Wage and Hour Division that describes how a particular law applies in a specific circumstance is called which of the following?
a) A penalty letter
b) An engagement survey
c) An opinion letter
d) An audit letter
06. HR is asked to review overall turnover throughout a company. The current retention strategy was implemented four years ago, and turnover is still high. As the HR director, what would you recommend going forward to ensure the company reaches its retention goals?
a) Recommend periodic review and adjustments to the retention strategy
b) Recommend more team-building activities to keep employees engaged
c) Recommend an overhaul of the total rewards program to remain competitive
d) Recommend a review of the recruitment and selection process
07. Content chunking is a concept that has particular application in what type of training?
a) Internet based
b) Classroom based
c) Self-paced books
d) Job based
08. What is the compa-ratio of an employee's salary if she is paid $60,000 per year and the midpoint of the salary range for that position is $65,000 per year?
a) 1.08
b) 1.02
c) 0.92
d) 0.96
09. You are preparing a business case for the senior leadership team on implementing a diversity program. Which of the following is one of the key strategic advantages of implementing an effective diversity program?
a) It will result in enhanced compliance with Equal Employment Opportunity Commission (EEOC) workplace requirements
b) Employees are less likely to file complaints based on discrimination
c) It will satisfy corporate social responsibility requirements
d) It will increase market share and a satisfied diverse customer base
10. Which of the following are the best two options to close a job offer with a high-potential candidate for manager position?
a) Offer her extra vacation days.
b) Build her a larger office space.
c) Offer her a signing bonus.
d) Offer her a salary above the maximum pay rate for the job.
Answers:
Question: 01




Answer: c

Question: 02




Answer: a

Question: 03




Answer: b

Question: 04




Answer: c, d

Question: 05




Answer: c

Question: 06




Answer: a

Question: 07




Answer: a

Question: 08




Answer: c

Question: 09




Answer: d

Question: 10




Answer: a, c
If you find any errors or typos in HRCI Senior Professional in Human Resources (SPHR) sample question-answers, please report them to us on feedback@processexam.com