Business analysis is a significant aspect of any project. A business analyst is someone who helps to convert ideas into reality by connecting the passage between real-time scenarios and expected scenarios. Furthermore, business analysis is a risky task because the entire solution can turn wrong if the requirements are not precise. It may lead to generating business a substantial financial loss in the future. Hence, now, with more recognization in the industry, business analysis certifications have become hugely popular among the professionals for a better profession.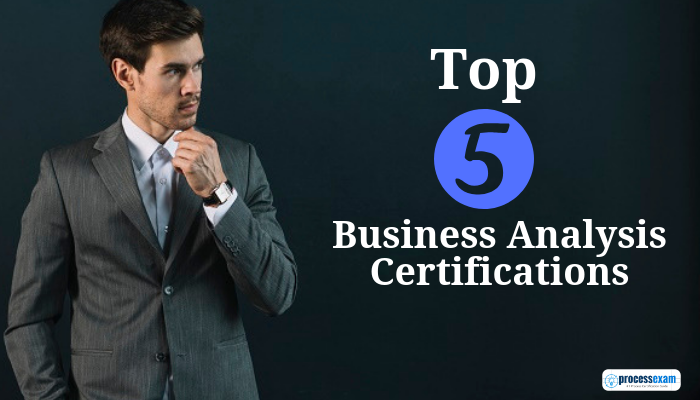 Moreover, it is not just about doing a high salaried safe job, and the best business analysis certifications help you build skills alike leadership, problem-solving and supporting processes in business analysis. Hence, if you are a business analyst or a professional who requires to continue a business analysis career and moved in top business analysis certifications, you are likely questioning which one would be the best business analysis certification for you.
What are the Roles of Business Analyst?
As most of today's business is tightly linked with IT solutions, not to suggest every business solution is technology based. Hence, the business analyst is professional who works multiple jobs, i.e., the business analyst is multi-tasker.
The roles of a business analyst are:
Requirement analysis

Researching the solutions

Understanding Functional and Technical Requirements

Leading a team

Documenting project needs

Organizing meetings

Communicating and presenting the settlements with the client
In a general sense, business analyst roles can be categorized into two types:
Functional Analyst: If you want to concentrate on any particular technology or domain.

IT Business Analyst: A mediator role between business and technology and starts up the scope towards managerial upward. Hence, if you want to move on to project management path, it is ideal for you.
What are the 5 Best Business Analysis Certifications in the Business?
According to three institutes provide the best business analysis certifications:
1) IIBA (International Institute of Business Analysis)
2) PMI (Project Management Institute)
3) IREB (International Requirements Engineering Board)
Here, We have described various business analysis certifications in 2 different scenarios by experience level.
Let's find the details below:
Scenario 1: If you have intermediate-level experience in the business analyst position
You have following two choices of best business analysis certifications if you have a reasonable level BA experience, like a composite business analyst including a mix of uses project management and tester:
1) IIBA CCBA Certification
This is primarily for business analyst professionals satisfying the requirements as mentioned in the above table simultaneously with the following eligibility criteria:
Two managerial recommendations from past work experience or a CBAP recipient

Agree to the CCBA code of conduct
If you have 2-3 years of experience or have 3750 hours or extra experience, then CCBA is the best choice for you.
2) PMI-PBA Certification
If you are in project management, then it is the high-grade fit for you presented you meet the criteria stated in the above simultaneously with 2000 hours working on projects.
If you have 2-3 years of experience and 4500+ hours of experience as BA, then PMI-PBA is the appropriate option for you.
Scenario 2: If you desire to expertise at a high level in a business analyst position
If you have more than 7500 hours of experience as BA, later you can pick any one of the following business analysis certifications:
However, there is a fundamental difference here while you select one of these certifications.
If you aspire to continue as a business analyst in a long-term career then investing in CBAP is deserving for you. Apart from the criteria mentioned in the preceding table, the other eligibility criteria are the same as discussed for CCBA.
What are the Significant Differences between IIBA and PMI Certifications Program?
Though both PMI-PBA and IIBA are amongst the best business analysis certifications, there are some critical differences between PMI certification and IIBA certification paths which are also a considerable area while you select them as your certification choice.
The fundamental differences are as follows:
PMI is broader in scope concerning the Evaluation duties which additionally include some areas of Quality Assurance. However, the BABOK Guide of PMI specifically defines the business analyst role in this matter.

In contrast, the IIBA approach does not restrain business analysis to programs or projects. Furthermore, IIBA explicitly describes the business analysis activities that go beyond the project. Moreover, these activities apply to overall organizational development.

PMI business analysis approach is more practical and in-place at current organizations. However, for future career aspect and opportunities, IIBA approaches are more considerable.

The PMI-PBA outline for requires Assessment is much also limited in scope while connected with the Enterprise Analysis Knowledge area of its BABOK Guide. The guide covers some further tasks to determine the current capabilities and business needs conclusively. Furthermore, it defines the business case, rather than to clarify and review the existing business case. The task additionally includes activity rather than to meet with stakeholders for fundamental analysis.

PMI-PBA outline defines evocation within the Analysis knowledge area, and it does not recognize it as a discrete Knowledge Area which refers to a wide variety of different business analysis activities.

PMI-PBA outline defines the planning task to the Requirements Management space, in spite of it gives a full view of the BABOK Guide in the Business Analysis Planning & Monitoring Knowledge area.

In distinction, IIBA BABOK Guide gives business analysts the use in identifying the best possible techniques, approach, and activities to the whole business analysis work.
Bottom Line
To conclude, business analysis certification is specific learning which works as a credential for a business analyst professional. No doubt, a formal recognization from the reputed and authorized body changes an individual in the market regarding both skills and salary. Both IIBA and PMI are internationally known organizations that measure the expertise of professionals in a precise way. Hence, the certifications for business analyst professionals from these organizations are highly skilled among the certified professionals.