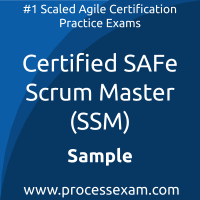 You have to pass the SSM exam to receive the certification from SAFe. To increase the effectiveness of your study and make you familiar with the actual exam pattern, we have prepared this SAFe Scrum Master sample questions. Our Sample SAFe Scrum Master Practice Exam will give you more insight about both the type and the difficulty level of the questions on the SAFe Scrum Master exam.
However, we are strongly recommending practice with our Premium Certified SAFe Scrum Master (SSM) Practice Exam to achieve the best score in your actual SAFe SSM Exam. The premium practice exam questions are more comprehensive, exam oriented, scenario-based and exact match of SAFe Scrum Master exam questions.
SAFe Scrum Master Sample Questions:
01. What is the main reason for the System Demo?
a) To provide an optional quality check
b) To fulfill the SAFe PI Planning requirements
c) To enable faster feedback by integration across teams
d) To give Product Owners the opportunity to provide feedback on the team increment
02. The Scrum Master facilitates which three events in SAFe?
a) System Demo
b) Retrospective
c) Daily stand-up
d) Scrum of Scrums
e) Iteration Planning
f) LPM Backlog Refinement
03. Who defines the final scope of a committed Iteration?
a) The Agile Team
b) The Scrum Master
c) The Product Owner
d) The Solution Owner
04. How many Iterations would it take for a team with a velocity of 20 story points per Iteration to finish a backlog of 60 story points?
a) 1 Iteration
b) 2 Iterations
c) 3 Iterations
d) 4 Iterations
05. The three pillars of Scrum are transparency, inspection, and what else?
a) Respect
b) Adaptation
c) Collaboration
d) Self organization
06. Who facilitates the PO Sync meeting?
a) Scrum Master
b) Product Owner
c) Business Owners
d) Release Train Engineer
07. Why is it important to organize the work for Iteration Planning?
a) So the team can load balance
b) So the backlog can be prepared
c) So a realistic work scope can be defined
d) So the Scrum Master can prepare workload for the Continuous Delivery Pipeline
08. What are the two inputs to PI Planning?
a) Vision
b) Ready user stories
c) Program Roadmap
d) Top-10 Features list
e) A set of PI Objectives
09. In the context of a Team Increment, every Iteration each team plans, builds, tests, integrates, and?
a) Reorganizes
b) Review their work
c) Sets new objectives
d) Clears out the backlog
10. Which two options are considered Agile practices?
a) Timeboxing
b) Building GANTT charts
c) Test-Driven Development
d) Batching work for testing efficiency
e) Making sure requirements are complete prior to development
Answers:
Question: 01




Answer: c

Question: 02




Answer: b, c, e

Question: 03




Answer: a

Question: 04




Answer: c

Question: 05




Answer: b

Question: 06




Answer: d

Question: 07




Answer: c

Question: 08




Answer: a, d

Question: 09




Answer: b

Question: 10




Answer: a, c
If you find any errors or typos in Certified SAFe Scrum Master (SSM) sample question-answers or online SAFe Scrum Master practice exam, please report them to us on feedback@processexam.com