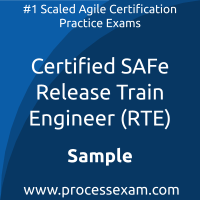 You have to pass the RTE exam to receive the certification from SAFe. To increase the effectiveness of your study and make you familiar with the actual exam pattern, we have prepared this SAFe Release Train Engineer sample questions. Our Sample SAFe Release Train Engineer Practice Exam will give you more insight about both the type and the difficulty level of the questions on the SAFe Release Train Engineer exam.
However, we are strongly recommending practice with our Premium Certified SAFe Release Train Engineer (RTE) Practice Exam to achieve the best score in your actual SAFe RTE Exam. The premium practice exam questions are more comprehensive, exam oriented, scenario-based and exact match of SAFe Release Train Engineer exam questions.
SAFe Release Train Engineer Sample Questions:
01. What should the Release Train Engineer do during the final plan review on Day two of Program Increment (PI) Planning?
a) Verify that each team's uncommitted objectives have lower business value than the committed PI Objectives in order to reflect proper prioritization
b) Facilitate the ROAMing of each team's risks
c) Encourage discussion of each team's product Vision as part of the final plan review
d) Facilitate all teams when they are presenting their final plans to the entire Agile Release Train
02. Program Increment (PI) Objectives should be written in the SMART format. What does the "R" in SMART stand for?
a) Realistic
b) Rationalized
c) Random
d) Required
03. Why would a Release Train Engineer use an Iteration and Program Increment Calendar?
a) To know the cycle time between important team and train events
b) To create a BVIR of the important team and ART milestones
c) To ensure that key ceremonies don't conflict with non-SAFe ceremonies
d) To visualize the Agile Release Train's cadence and synchronization
04. Who can the Release Train Engineer work with to help eliminate policies and procedures that demotivate employees?
a) Product Management
b) Lean-Agile Leaders
c) Business Owners
d) Portfolio Managers
05. In systems thinking, value of a system passes through its what?
a) Integrations
b) Interactions
c) Interconnections
d) Interdependencies
06. What can a Release Train Engineer use to support relentless improvement for the Program Increment?
a) Inspect and Adapt event
b) Release management meeting
c) Product Owner sync
d) Iteration retrospective
07. Which two behaviors are an important part of the Release Train Engineer role?
a) Coach leaders to increase alignment
b) Provide answers about Features
c) Manage dependencies for teams
d) Encourage teams to self-organize
e) Drive teams to specific outcomes
08. The goal of Lean is to deliver the maximum customer value in the shortest sustainable lead time while providing what else?
a)
Significant team contributions
b) A Continuous Delivery Pipeline
c)
The highest possible quality
d) Improved capacity allocation
09. What is the main reason why some teams never reach Stage 4 (Performing) in the stages of high performing teams?
a) Because no one guides them
b) Because leadership is spontaneous
c) Because there are conflicts
d) Because the team is not structured correctly
10. When should a Product Owner (PO) develop preliminary Iteration Goals?
a) During PI Planning
b) Prior to iteration planning
c) After PI Planning
d) During backlog refinement
Answers:
Question: 01




Answer: d

Question: 02




Answer: a

Question: 03




Answer: d

Question: 04




Answer: b

Question: 05




Answer: c

Question: 06




Answer: a

Question: 07




Answer: a, d

Question: 08




Answer: c

Question: 09




Answer: a

Question: 10




Answer: b
If you find any errors or typos in Certified SAFe Release Train Engineer (RTE) sample question-answers or online SAFe Release Train Engineer practice exam, please report them to us on feedback@processexam.com