Project management is a very multifaceted method that is practiced by most organizations despite their employee base. Project management certifications have maintained a place in every top IT certification list for years. That's because project managers are significant to IT operations of all kinds. Whether you're interested in becoming an IT project manager or wish to add project management to the record of your soft skills, project management certifications will help you complement those skills, and, in accomplishment, improve your advantage.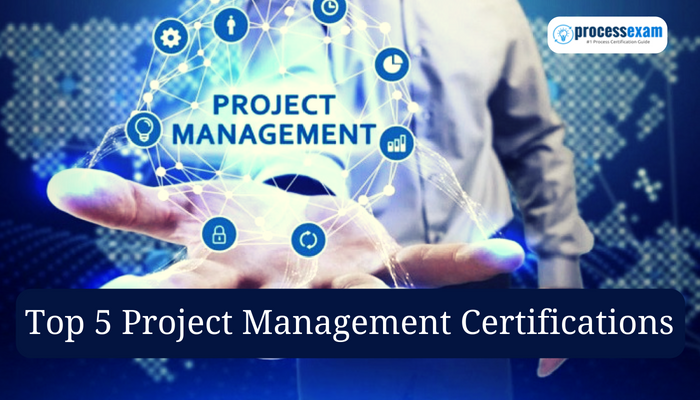 With more and more businesses drifting towards structured project management, now is the time to ultimately get that certification and make yourself a key, worthy asset that the company will acknowledge for years to come. Almost any IT professional can avail from adding a project management certification to their list of IT certifications; confirming knowledge about how to plan, schedule, and budget, perform, present and then report on IT leadership. Here we have outlined top 5 project management certifications to advance your management career.
Top 5 project management certifications
CSM: Certified Scrum Master
1) PMP: Project Management Professional
The ideal in project management certification, the Project Management Professional certification is a precise certification that includes thoroughly everything you require to validate your knowledge and ability in managing the time, cost and scope. The PMP certification is offered by Project Management Institute (PMI) and works continuously with academia and businesses to assure significance for the certification.
The PMP indicates that you can speak and understand the universal language of project management and unites you with a community of professionals, organizations, and experts globally.
Requirements
Four-year bachelor's degree plus three years of project management work experience, 4,500 hours managing and directing projects, and 35 hours project management education OR a high-school diploma, five years of project management experience, 7,500 hours managing and directing projects, and 35 hours of project management education.
2) CAPM: Certified Associate in Project Management
The CAPM certification is offered and backed by the Project Management Institute (PMI). This certification is recognized as an entry-level certification for project managers and the first step for experts looking to receive their PMP certification. It approves that professionals have the basic skills and knowledge of a competent project manager.
The CAPM certification is one of the small set of entry-level project management certifications that IT experts moved in project management might prefer to pursue.
Requirements
The High-school diploma, bachelor's degree or equivalent and minimum 1,500 hours of project management work experience or 23 hours of project management education.
3) CSM: Certified Scrum Master
The CSM certification is offered by GAQM and designed for project managers looking to manage teams that use Scrum, an agile framework for executing complex projects. The CSM is an entry-level certification that proves a working knowledge of Scrum principles and methods.
For project managers want to work as Scrum practitioners, the CSM is a great certification. It will demonstrate applicants' perception of Scrum principles and benefits, but they'll earn knowledge about how to perform and apply Scrum in practice. The Scrum Alliance provides CSMs with various resources as well as agenda and information about the dependent leader part of the Scrum master.
Requirements
Basic knowledge of the scrum; completion of a two-day Certified ScrumMaster training course.
4) PRINCE2 Certification
PRINCE2 is an acronym for Projects in Controlled Environments. It was developed in England and is more popular in Europe, where it's practiced by most governmental organizations. PRINCE2 certification is the world's most practiced project management certification and used widely by project managers around the world. There are two primary certifications, PRINCE2 Foundation and PRINCE2 Practitioner. The Foundation certification is an entry-level certification that approves basic project management terminology and technique, while the Practitioner certification tests advanced project managers who have already obtained the PRINCE2 Foundation. The PRINCE2 certifications sharpen on your skills in leading, executing and presenting projects across all aspects, pre-project, introduction, delivery and closing delivery.
Requirements
PRINCE2 Foundation requires Complete the 3-day PRINCE2 Foundation certified training course and Pass the PRINCE2 Foundation Certification exam; PRINCE2 Practitioner requires PRINCE2 Foundation; Project Management Professional (PMP); or Certified Associate in Project Management (CAPM) certification.
5) PMI-ACP: Agile Certified Practitioner
ACP is an initial of Agile Certified Practitioner. This certification is given by Project Management Institute PMI, and so it is PMI-ACP. ACP Certification conveys a high level of professional sincerity as it is a blend of agile training working on Agile projects and exploring Agile fundamentals and tools. This certification is globally recognized and helps people by directing the demands of associations that depend on certified Agile practitioners to apply their diverse expertise to commence the projects skillfully.
Requirements
PMI-ACP certification exam requires 2,000 hours of extensive project experience, 21 contact hours of agile practice training, and 1,500 hours working on agile project teams (or organization).
With one or more of the above certifications on your CV, you'll not only designate to management you're sincere about your management career; you'll also be able to describe to co-workers the type of quick thinking and decisive management that will make you an excellent professional in any organization.