If you're in the project management field, or if you've always wanted to immerse yourself in this thriving discipline, you've probably wondered about what steps you need to take to get certified to advance your career. Both the PMP and PRINCE2 certifications are highly reputed in the field and can validate for employers your understanding of fundamental project management concepts and how to apply them to the project management lifecycle.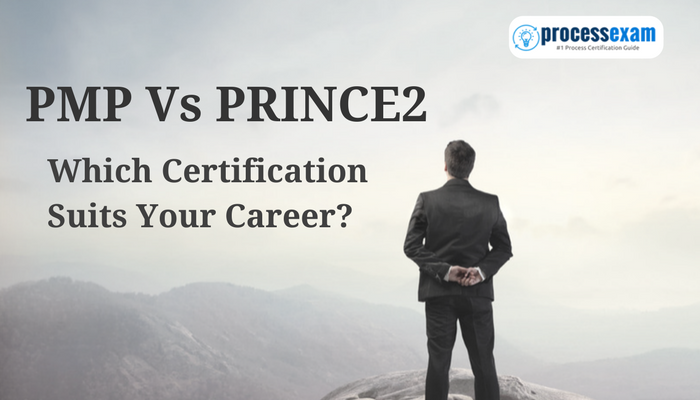 Which project management certification is right for you? This question is not an easy to answer. In this article, you can get an overview of the two certifications, essential benefits and job prospects for each one. Read on to make the right choice!
A Brief Summary of PMP:
PMP is certification issued by PMI org and is a popular project management certification that can be used across industries, domains, and geographies.

PMI stands for Project Management Institute, and PMP stands for Project Management Professional.

PMP is directed by a framework known as Project Management Book Of Knowledge (PMBoK).

PMBoK gives techniques and tools for different circumstances and phases of the project, and it provides freedom to the project manager to choose which one to use in a particular case reliant upon the conditions, future aspects, and history.

PMI guides the project manager on every kind of role he/she should play in the success of projects, and this lays down multiple directions for them to be followed in spirit.

PMP places an obligation on professional Ethics, Integrity, Communication, and transparency.
A Brief Summary of Prince 2:
Prince2 stands for "Projects in Controlled Environment" version2.

It also can be utilized for any project in the world.

It mainly two levels of certification: Foundation, Practitioner.

It lays out the roles and responsibilities of the team members of the project members.

The project is divided into smaller manageable groups and has well laid out processes to be followed by the project manager.

Practical, to-do format, clear-cut items to be assigned, tracked and delivered are laid out in this AXELOS owned world famous certification.

Hence, the name "Projects In Controlled Environment."
Salary Prospects
Some studies and surveys show that certified professionals in project management earn much more than their non-certified persons. Taking a project management certification, especially ones like PMP or PRINCE2, shows that an individual understands and knows the universal language of project management.
In the USA, the average annual salary of a certified PMP is $103,195 per year. They receive an average of 20% more than non-certified persons. The average maximum salary for PMPs is in Switzerland at $132,000. The average salary for professional with PRINCE2 certification is $80,800.
The PMI Project Management Salary Survey – Ninth Edition, states that the salaries of project managers around the world remain to hike.
Benefits of Getting a PMP vs. Getting a PRINCE2
Benefits of Earning the PRINCE2 certification:
Exhaustive Body of Knowledge: The PRINCE2 body of knowledge prepares credential-holders with the tools to analyze a project from all perspectives, ensuring its viability before it is started. Factor like user requirements and possible risks are taken thought, ensuring that a project that is sure to meet hurdles is addressed in the planning stages.

Standard Approach: Confusion in project execution is executed since the same, standard approach is used throughout, with conventional filing systems, procedures, and documents.

Laid-out Methodology: A lot of time and resources are saved during the completion of a unique project since the certification has a laid out methodology.

Raise Your Pay Scale: There is a higher chance of landing a better job that pays well, in countries like the United Kingdom. Your employer is provided with enough justification of your skills to give you a pay raise.

Driven by Business Case: PRINCE2 requires users to self-assess and provide updates on business cases at defined points to ensure that a project will deliver value to the organization and its customers. Failure to do so will eliminate the justification for the continuity of the project.
Benefits of Earning the PMP Certification:
Got High Salary: Certified PMP professionals get more significant and more frequent pay raises than their non-certified peers.

Better Employment Prospects: As the world's most popular project management certification, the PMP credential is recognized and trusted by employers worldwide.

Networking Opportunities: To obtain a PMP certification is suggested that you become a member of PMI. Once you become a member, you have entree to a massive network of professionals with similar qualifications. These contacts can prove crucial in helping you land a project management job.
The Exams Summary
PMP Exam Contains 200 questions, and you have finished within four hours. It is divided into the areas like Project Execution, Project Planning, Project Initiation, Monitoring and Controlling, and Project Closing. Within these five larger domains are a multitude of other skills like risk identification, quality management, change management, materials management, and much more.
The PRINCE2 Foundation exam tests the individual with 75 multiple-choice questions for 60 minutes. Out of the 75 questions, five is a trial based and not counted during the scoring process.
The Practitioner exam is an objective, scenario-based paper. The individual is tested based on nine questions with a time limit of 2.5 hours.
The Exam Cost
The cost of the PMP exam - through a little expensive - is well worth the investment. For members of the PMI, it is $405, while for non-members it is $555.
The cost of the PRINCE2 to exam varies according to the region you are taking the exam in.
Maintaining Your Credential
To maintain the PMP certification, you will need to attain 60 PDUs or Professional Development Units every three years.
The PRINCE2 Foundation exam needs no renewal. The Practitioner exam, however, is valid for three years, after which it will become invalid. You can either re-sit the Practitioner exam or you can maintain your certificate through membership.
Key Difference Between PMP & PRINCE2
PMP deals with a broad-level framework that believes in empowering you with the best tools and techniques but leaves the implementation and decision making to you as per your thought process.

Prince2 restricts your ability to change things because every process is laid out with specific roles for team members and hence, well-defined project success.

PMP believes that project manager is an enabler whereas Prince2 visualizes project manager as an enforcer.

PMP needs to be renewed every three years through contribution to the arena of project management; whereas Prince2 relies on making you appear for examination every 3-5 years.

The terminologies used by each of the certifications is different, but I think you knew this would happen.
Is It Worthwhile to Do Both?
Many people opinion the PMP and PRINCE2 and certifications as different, which is why there is a clash between the two certifications.
PRINCE2 is focused mostly on the processes and the framework to execute specific types of projects in controlled environments successfully.
The PMP is connected to the knowledge and skills necessary to successfully manage a project and its delivery.
Therefore, it is desirable that you do both of these certifications as it helps in the development of the professional's excellent project management skills.
There are also some drawbacks to this-
Different Techniques: Some techniques differ vastly, such as the categorization of risk.

Conflicting language: The two courses use different terminologies, which can be confusing at first. For example, project charter in PMP is what is known as project brief in PRINCE2.
Conclusion
The certification you choose should be determined by your job prospects and the region you are working in. PMP and PRINCE2 are not competing for credentials in all areas. A professional would benefit from the knowledge and skills that both of these certifications offer.